Hotel Front Desk Representative like front desk agent, guest service officer or reservation agent or receptionist establishes the first point of contact with clients and deals with nearly everything related to the stay of the guests. Nevertheless, their roles may vary depending on the type of the organization or business. For instance, the tasks of a front desk agent in a guesthouse may entail recording guests in and out of their rooms, as well as accommodating special clients. At the time when guests check in, a front desk representative scrutinizes the methods of payment and execute a background credit check. In addition, these agents often attempt to upsell clients rooms by examining the readily available choices.
Download our premium training manuals from here
In most cases, managing hotel or restaurant front desk does not require specific education, perhaps a high school diploma may be enough. Nevertheless, most of the employees opt for individuals with hotel-related experience, though we all start at a point. Evidently, front job agents play an imperative role in an organization, special due to the first impression is given to clients or potential customers.  Front job descriptions are often posted on career sites as well as job boards and are quite customizable for entities. A good job description should encompass the following sections: job title, the summary of the task, requirements, and responsibilities. In most cases, details of the application are usually included.  Let us review a hotel front desk job description.
Hotel Front Desk Agent Job Description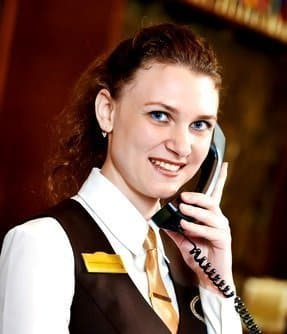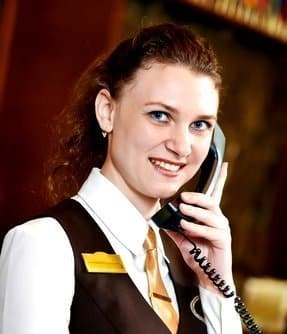 The parallel job titles in this regard include Hotel Receptionist and Guest Relation Agent. The common responsibilities include carrying out check-in and check-out duties, controlling both online and phone reservations, and giving clients accurate information regarding payment methods as well as verification of their credit card data. The following is an example of a full hotel front desk job description:
Hotel Front Desk Agent Job Brief
A Hotel Front Desk Agent is guests' initial point of contact as well as to control all issues related to their accommodation. The main responsibilities will comprise registering clients, dealing with reservations and availing information about rooms, charges, and facilities. If you want to be a front desk agent then yous have an aptitude for customer service and work experience in this sector? You will be helpful in creating a pleasant and memorable experience for our customers.
Hotel Front Desk Agent Job Responsibilities
Carrying out entire check-in and check-out duties

Handling online and telephone reservations

Updating clients about payment strategies as well as verifying credit card data

Registering incoming clients and recording all the necessary information including contact delays and the duration of their stay.

Availing information about the hotel, charges, facilities and available rooms.

Giving timely responses to clients' dissatisfactions in an appropriate and timely manner.

Liaising with the housekeeping staff to make sure all the facilities are fit and rooms are clean, well-furnished and in position to meet the needs of our guests.

Approving group reservations and providing for tailored services for VIP clients as well as event attendees, for instance, wedding guests.

Upsell extra amenities when needed

Updating records on bookings as well as payments.
Hotel Front Desk Agent Job Requirements
Have at least some working experience as a front desk representative, receptionist, or any role similar to these ones

Have experience with reservations software such as Clouds

Be acquainted with the manner in which travel planning websites work, for instance, booking and TripAdvisor.

Customer service assertiveness

Have exceptional communication as well as organizational skills.

A certificate in hotel management will be an added advantage.
Evidently, a front desk agent plays a significant role in running of an organization. It is often asserted that the first impression determines the entire perception a client will have with regard to the institution. It is therefore very important for entities to ensure they have the right people in such posts like hotel front of the house. It is important to focus on the qualifications of the applicants to these positions. It will be unwise to opt for someone who has got no experience at all, though this does not mean that individuals with no working experience cannot be fruitful. Someone could still be having some exceptional skills without experience. Therefore, recruitment should be on merit. Well, the above job description is specifically for a hotel front desk agent. Closely related to that is a receptionist in organizations. The following section examines the receptionist job description.
Front Desk Receptionist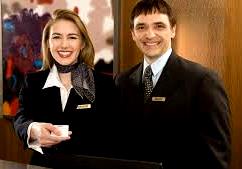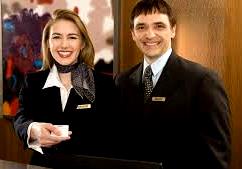 A receptionist has diverse responsibilities in an organization. Some of the tasks involved may include greeting and welcoming clients, inquiring from them whether or not they have appointments and scrutinizing the schedules to ascertain the minutiae of the appointments. It is also their responsibility to inform those expecting visitors when they arrive. If allowed, they guide the guests to the apt place within the organization. In addition, front desk receptionists are tasked with the responsibility of monitoring logbooks of guests and abiding by all security measures, including the issuance of visitors' badges where necessary. Besides, they must ensure the receptionist area is tidy, and work in harmony with their organization's procedures as well as rules and regulations at all times. Also, it is the responsibility of a front desk receptionist to answer phone calls at the front desk and responding to all questions.
Academic Qualifications
In most cases, a high school diploma or its equivalent is perceived the minimum educational prerequisite for the position. A certificate from a relevant field is often an added advantage. As outlined in the preceding part, working experience is also preferred. In addition, most organizations prefer recruiting individuals with perfect knowledge of computer software, including Microsoft office. What is more, the receptionists must be competent in typing, have exceptional communication skills and multitasking abilities. They also need to have team spirit and ability to work with others. At this point, it is prudent to look at an example of a receptionist front desk job description
Receptionist Job Description
Receptionist Job Brief
Any organization hires a receptionist to control our front desk and perform other administrative duties. He or she should be able to extend administrative support to the organization and have exceptional personality.  He should be in a position to handle emergencies in good time and commendably, while at the same time rationalizing office operations. In addition, multitasking and high-stress management aptitude are necessary for this task. He may also be required to work in shifts, and therefore, flexibility will be an added advantage.
Receptionist Job Responsibilities
Greet and welcome visitors once they get to the office.

Guide visitors to the right person and office

Be able to answer, examine, and forward phone calls.

Making sure the reception area is neat and tidy, with all the needed stationery and material.

Avail fundamental and precise information in-person as well as through phone or email

Receive, categorize and dole out daily deliveries.

Uphold office security by abiding by all the established safety measures and procedures

Place orders of front office supplies as well as keep inventory of stock

Organizing travels and accommodation and structure vouchers.

Updating all the office expenditures

Performing other clerical receptionist tasks including filing, photocopying and faxing among others

Finalize procedures when visitors arrive and depart

Handle special requests from visitors

Prepare bills as well as taking payments

Create and control both hard- and soft copy filling systems for all the parties.

Deal with guests' complaints and all the issues raised.

Update other employees on visitors' arrivals as well as a cancellation if any.

Record customers' data and send correspondence.
Receptionist Job Requirements
Verified work experience as a front desk receptionist or an equal role.

Be knowledgeable in Microsoft Office Suite.

Have a professional attitude and a right disposition to work

Exceptional writing and communication skills

Be a resourceful individual as well as a problem solver

Outstanding Organizational skills

Must have a customer service attitude

Be in [possession of a high school degree. A certificate in office management or related field will be an added advantage

Must be able to multitask, have time-management skills, and be in a position to prioritize duties appropriately.
Receptionist Required Job Skills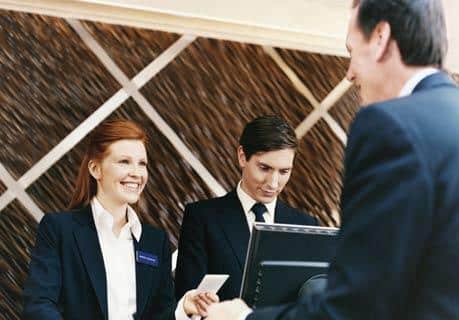 The receptionist is important members of staff in all organizations. As highlighted earlier, they make the first contact with guests. For this reason, they need to be polite and presentable. The following are additional skills good receptionists should have:
High degree of professionalism

Adaptable

Tolerance

Work ethic

Exactness and focus to detail

Telephone expertise

Friendliness

Supply management

Microsoft Office Abilities
Receptionist Salary
Remunerations given varies with the region and organizations, though an average hourly pay is $ 12.03. Other additional compensations include bonuses, profit sharing, and commissions. 
Conclusion
It is very important that a receptionist have displayed an appropriate telephone manner, and be presentable always. Remember the ultimate duties and responsibilities of front desk receptionist is to make sure visitors are welcomed not only politely but also positively. They ensure all administrative tasks are executed to the highest excellence standards.