Are you looking for job or searching for an awesome job training guide? First of all congratulation. You have made the right decision by coming this web page. Hospitality Career Opportunities: Learn Secrets to Get Jobs in Hotel, Restaurant & Cruise Industry is undoubtedly the BEST Job training manual in the market written only for hospitality management students & workers. This book provides solid information about a variety of careers within the hospitality industry and includes training and education requirements, salary statistics, and professional and Internet resources.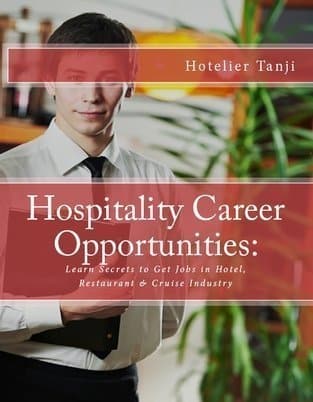 You may wonder why I am claiming this manual as the BEST HOTEL & RESTAURANT MANAGEMENT JOB TRAINING GUIDE. Simply because of these following unique features that this book provides:
Exclusive List of questions that are asked in Hotel & Restaurant Job Interviews.

Most complete & updated list of Hotel, Restaurant & Cruise Industry related web sites, Official career pages, and relevant social networking links for getting Jobs.

Detail instructions on how to prepare hospitality industry standard resume, cover letter, thank you letter and many more.

Detail descriptions on all proven job hunting strategies.

Complete guideline on how to manage both advertised and non-advertised jobs.

Detail instructions on how to manage jobs through online resources.

Expert Career advice for career advancement.

Updated industry Information like latest hiring trends and current salary etc.

Covers various carrier options available in hotel, restaurant, cruise ships, airlines etc.
In fact, I and my team have covered many more in this manual. Don't forget to download FREE preview copy to learn more. If you are someone just dreaming to build up your career in hospitality field then you must buy this book. This will be your career builder. If you are an experienced hotel or restaurant worker then again buy this book. This book will help you to get success in your career and manage promotions.
Regardless of whether you have just graduated or been in the business for years, Hospitality Career Opportunities: Learn Secrets to Get Jobs in Hotel, Restaurant & Cruise Industry is your essential guide to finding, pursuing, and landing the hospitality job of your dreams. Wishing you all the very best.
FREE Download: Click HERE to download preview copy.
Price: $20

Ebook Editon (Highly Recommended): Buy this book from us. Pay through paypal and download link will be AUTOMATICALLY sent to your Email address within seconds.
Paperback Edition:
Amazon:

Click

HERE

to buy from Amazon, world's most reputed online retailer.