Welcome to the second tutorial of our Job Description series. Previously, you have got an clear overview on Waiter or Waitress Job Description. Today we will discuss about Bartender job description.
Who is Bartender

A bartender is the most important person in a bar. The job title "Bartender" is also known in different names like barman, alcohol server, bar chef, tapster etc. A bartender is a person who works in a licensed establishment like hotel, bar, club house, restaurant and mixes and serves drinks to the customer or guest, either from the bar or through the waiter or a waitress who serves drinks to the guest table.
The basic qualification that a good bartender holds is that he or she must have very wide range of knowledge about different beverage items and must be able to mixed up properly by maintaining proper recipe and in a very quick time.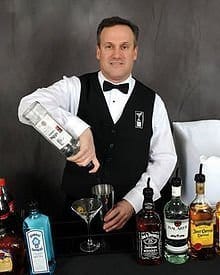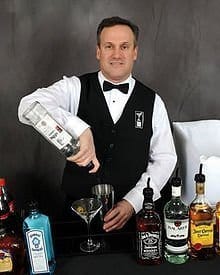 A bartender should be at least of 18 years. He is also the person who is responsible to be ensured that he would not serve alcohol to anyone under 18 years. Bartending profession is known as secondary job which means many students choose this professional as part time job and work beside their studies. But situation has been changing and many young adults are taking this job as their main career. Now we will elaborately discuss about the Bartender job description.
Job Description: Bartender
Department: Food and Beverage
Job Title: Bartender
Report to: Bar Manager
Summery: This job requires the bartender to take drink orders from bar and dining room guests and to make alcoholic and nonalcoholic drinks according to their taste or requirement for serving. The bartender also has to participate in planning and development of managing operations of a cocktail lounge or bar.
Duties and Responsibilities of Bartender
Apart from taking and making drink orders, a bartender also has to be responsible for performing other certain duties which are as follows:
Must to do Duties of a Bartender
The bartender will deliver the drink to the server for serving to guest or serve by himself ensuring quick service to guest after making and mixing desired drink for guest. Also, serve food to guests who are seated at the bar or table if needed.

Set up the bar before starting of the business hours following the pre-shift procedures and according to the standard bar policy so there would not be any deficiency of bar item.

After the guest has finished his drinking, make ready the payment for guest and collect bill and balance receipts.

Arrange the bar area by keeping the glasses, bar utensils and all bar equipment orderly and cleanly. Ensure that the display of glass arrangement is eye catching and appealing.

The bartender has to be well informed about the drinking menu and wine, liquor & beer program so that he would be able to answer any guest's query.

Monitoring the bartender area so as to make it sound and neatly organized. Follow weekly maintenance cleaning program for bar area.

Check other bar staffs are performing their duty properly and helping and motivating them in accomplishing the task.

Apt at suggestive selling to guests, for example, ask guest "Would you like to try a Chocolate Martini?"

Showing creativity in preparing drink recipes and planning menu bar item and also help in planning bar promos.

Ensure all necessary bar snacks like peanut.

Make garnishes for serving with drink.

Welcome the guests with a smiling voice and cordial voice.

Observe guest's behavior so that any unwanted situation could be avoided from intoxicated guest. Also check guest identity before serving drink if the guest is under 30.

Handle intoxicated guests, request them to stop drinking asking them to leave from the bar, if necessary arrange their transportation or offer any other help in so that the guest does not create problem for other guests.

Know the bar policy, standard and rules and serve alcohol to guest according to guideline and service rules.

Follow serving order duly and serve the appropriate drink to the right guest.

Refill order, requisitions and other supplies whenever required during working shift.

Maintain both personal and professional hygiene and follows health and safety regulations while on duty. Perform sanitary practices for while handling food and drinks and cleaning bar area.

Perform weekly inventory with management and exchange stock using FIFO method.

Make sure that all bar items are re-stocked during and end of each shift.

Know correct use of the point of sale systems and the handling of all forms including opening and closing beer count forms.

Transfer empty beer bottles or any other empty glasses to receiving area.

Report any problems or incident to the higher management if the bartender unable to solve.

Handover the duties properly to the bartender of next shift and report shortages or any other notable things to rectify the mistake. Complete closing duties and daily side duties so as to make ready the bar for next business hour.
Additional Duties of a Bartender
Accomplish any additional duties given by any member of the management team.

Give effort to make long term relationship with to make the guest repetitive customer by attaining and using customers' names.

Have complete knowledge of cash-out procedures for handling bar items.

Ensure that the name of Manager on Duty is appeared at board at bar.

Keep up-to-date spillage report.

Always correspond and coordinate with other departments in the Hotel.

Be presentable and properly groomed, uniforms must be cleaned and as per dress code while on duty.

Be informed about the restaurant's floor plan (ex-knowing the layout of the restaurant or the setting of the siting arrangement).

Help the chefs by writing labels in correct format.
Qualifications of a Bartender
Able to perform highest level of guest service regardless of any situation.

Prepare and capable to perform hard work since this service requires long hours of standing and also able to list and carry food items on trays, boxes or containers and deliver to serving tables in a timely manner.

Excellent communication, organizational and time management skills.

Supportive nature and friendly behavior towards other team members and professional attitude towards guest.

Able to work under pressure.

Capable to perform as a team player with other fellow colleagues.

Able to speak fluently with good listening practice.