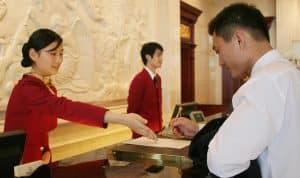 When a guest first enters the hotel then he needs to fill up guest registration card. Hotel collects data from guests for security concern. Also such specific data is further used for making guest history and doing marketing research. So, collecting data from guest on his first arrival is very important.
Here are some basic points of information a hotel collects from his guest:
Full Name

Address and Country of Residence

Type of Travel Document and Serial Number

Validity of Endorsement for arrivals

Type of Visa and its expiry date

Validity of Document of Overseas

Date of Entry

Purpose of Stay

Birth date

Date of arrival and departure
Steps to Follow:
Now here are some step by step instructions for front desk personals on how to collect data from a guest from his first arrival in your hotel:
After a guest's check-in, collect his passport and travel documents. Be sure the photo match with the person standing in front of you. Nowadays you should give extra wait to avoid any fraud.

Request your guest to fill all required data in detail in guest registration card.  Don't give any backdated Registration card. According to the present security demand include new information there.

If guest becomes bored or show anger to fill so much detail then politely inform him or her that all these information are needed to be taken for national security and this will help your guest for his safe visit in your country.

Collect business card and frequent flyer card from all first time travelers in order to prepare a proper Guest Profile.

If your guest does not have any business card or not willing to give you then gently request him or her to fill in the remainder of the guest registration card.

Do not take so much of his time. Other guest might wait behind him and wants to check in. Try to complete check-in procedure promptly but emphasize much on accordance not for time saving as taking proper information is your ultimate task.

After collecting data verify with presented documents and be sure information he has provided are correct.