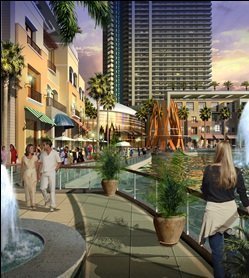 Condo hotel is not a new concept in the hotel industry. The term "Condo Hotel" is combined with 2 different terminologies:
'Condo' means residential &


'Hotel' a business property providing lodging & other facilities.
In that sense, we can define Condo hotel as residential hotel. In broad sense, Condo hotel can be defined as a property with all basic hotel facilities where there are few rooms that an owner or group of owners buy for their personal use or rent to guests and enjoy revenue sharing from room rental. Condo hotels are basically operated by a single brand. Unlike hotel (owned by single hotelier who owes the entire property), these units are individually owned.
A condo-hotel is appeared as a traditional hotel. For example, the sizes of guest rooms are same as hotel. However, the units of some potential condo hotel can be bigger and appeared as apartment-style units in order to attract the potential buyers.
Moreover, the services and amenities that are provided by the condo hotels are quite similar to hotels. Such as housekeeping, food and beverage, utility facilities, meeting space, room service and so on.
Different condo hotels could have different condo rules for the owners. For example, some owners are allowed to enjoy unlimited use of amenities (room service, housekeeping, spa, gym, parking etc.) of the properties whereas some properties are restricted within specific period of time to the owners to enter.
Though a brand name of hotel can play a vital role in enhancing the sales value of the condo hotel but some condo hotels do not add any brand name. Under securities law at USA, the revenue that is earned from the rent of condo hotel is accounted on a by unit basis.
In the last few years, its smart and unique service made it enormously popular among the hotel industry which can be exemplified by the greater number of condo component. Such properties are not only popular among hotel industry but also among other parties or industries.
Why Condo Hotels are Popular

To provide new products or service with a new branch of a property is the indication of expansion of business. Hotel operators always in need of these establishment or property to expand their brand name with highest volume of profit which is usually generated from the management and franchising of condo hotels. Renting the units with all hotel components and amenities is another source of earning revenue. Many hotels allow the operators of real estate or condo hotels to use their brand name in returns of percentage of the sold project.

Condo hotels are gaining much popularity among the buyers or the investors who want do business in urban areas. Putting investment in owing condo hotel could be much secure and profitable than other business (ex-share or stock market). The investor can easily generate revenue through renting the unit.

Condo hotel comprises of residential and hotel components which are very smart and exclusive project to use or rent to others. The mid age guests or couples particularly who have retired or near to retirement are specially seek for such establishment for both personal and business purposes.

Investing in a condo hotel often provide the assurance of volume of profit to the lenders and developers which derived from the pre-sale of unit and first pay off. Though the condo business has financial risk but the risk generally transferred to the individual owner of the property rather than the lender or the developer.
Challenges in Condo Hotels Business
The owners and developers generally experience some challenges after owing a condo hotel or investing a condo hotel. To avoid those challenges the operator of condo property should consider the following:
The units of condo hotels will not always be available for renting. Sometimes the owners have to wait for particular period of time to rent the units.

The operators also earn revenue through holding seminar or meetings. But sometimes the operators are unable to rent the unit for large meetings or seminar which requires advance booking or large amount of space.

Though the developers' always try to provide all hotel amenities but there could be scarcity of spaces for setting restaurants or any food and beverage outlet.

The room rents or the occupancy rates may not be always in favor of providing desired standard amenities and services to the guests.

The condo hotel operators may have a disagreement with the owners regarding following the condo rules, cost allocation, room rent allocation etc. which is a sign of unproductive business.

It is very hard to convince possible investors to buy hotel unit because of very sophisticated legal formalities. Also it is quite tough to sell rooms to guests under some special conditions which are not applicable in other types of hotel.


To own a condo property the owners have to undergo some legal procedures, for example, securities law, insurance, debt security. Sometimes the owner may not be able to get return of profit in accordance with the cost of ownership and cost of following such legal costs.
To get profitable return of investment, the condo hotel must be able to provide or organize standard service and products that are available in a large hotel. The units should be well equipped and designed to satisfy the consumers. It is very much important to choose the location of establishment as locating in a business area is one of the prerequisites of generating revenue. Moreover, the developers or owners of the condo hotel should have some funds to upgrade their service level and make some renovation of public areas.