Today we will discuss different types of food & beverage service styles. Before going deep into discussion, check our other tutorials. Previously we have discussed following types of service styles: 
Also don't miss our  Food & Beverage Service Training Manual. Get it from HERE. Now let's jump back to our today's discussion:

Chinese Food & Beverage Service
The concept of Chinese service is derived from Chinese families and was formalized for special occasions. This service is quite traditional and often customized on the basis of nature of the foods.
Watch Training Videos:
To get the best possible overview on the topic watch our training video from YouTube: Chinese Food and Beverage Service Style – Training Video . Or watch from here:
Features of Chinese F & B Service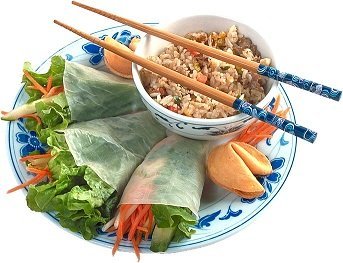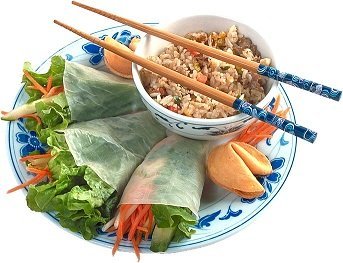 Chinese service includes certain unique characteristics which make it traditional and sophisticated service. Here are the followings:
In Chinese service, Chopsticks are served with all foods, except soup and dessert spoons.

Foods are presented and served attractively into large platters, bowls, and other containers and brought to the table so that guests can choose food according to their taste since often there is a large selection of different foods.

Chinese service is less labor intensive but the amount of serviceware is quite extensive since foods are served in individual dishes.
Table Setting Procedures of Chinese Service
In Chinese service, tables setting procedure is different from others service in the following way:
In most cases, a circular wheel is placed in the table center so guests can rotate it and share food. Otherwise, for large groups a small plate (about six inches wide) is placed in the center cover.

A rice bowl along with a cup of rice is placed to the right side and a small cup of tea is set slightly on top of the rice bowl or slightly to the left above the center plate.

Chopsticks are placed on the right side of the guest keeping on a small stand. Sometimes a long handled, round spoon and bowl may be served to the left of the chopsticks. Small dishes for sauces and condiments are put above the small cover plate. A small wine cup is kept with the condiment set.

Spoon and forks are also served for those guests who find it difficult to eat with chopsticks. Knives are not served in Chinese service since the food is usually cut into bite-size pieces.

A soup cup with a porcelain soup spoon is placed on the center plate or to the left side of the guest.

Though clean folded napkins are served on the cover but tablecloths are not used in most cases.

The seating of guests are arranged in a way that can accommodate at least twelve people.
Serving Procedures of Chinese Service
Serving procedures in Chinese service are followed according to the following manner:
Foods are elaborately dished on platters and served in the center of the table. Guests then help themselves to select their own food.

In Chinese service, sweet foods are often served at the beginning of and during the meal and Rice or soup is served at the end of the meal.

When guests complete their meal, the servers should remove the empty dish and replace it with a fresh one. Wine cups are not removed during the meal.
Banquet Service Style



The concept of Banquet service arises to serve a group of people who want to celebrate for a special occasion or want to organize an event to honor special guests.
Watch Training Video:
We have prepared training videos on Banquet Service Style . Click on that link or watch from here:
Features of Banquet Service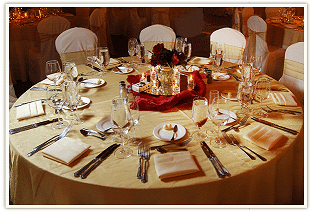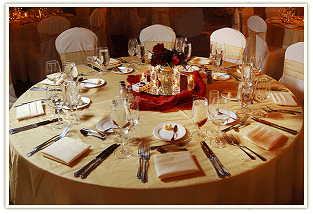 Banquet service is characterized by the following features:
Banquet service is basically used in hotels, resorts, country clubs, casinos, and restaurants which have conference rooms in order to organize meetings or events.

In banquet service, the menu, numbers of guests, and time of service, number of covers are preset which make this service well organized in advance and make scheduling easier.

This service offers elaborate menu, hence lots of choices are available.

Banquet service requires more area per person and more equipment.

In banquet service, guests receive very little personal attention and proper service due to the nature of the service.
Table Setting Procedures of Banquet Service
In banquet service, the servers generally follow American settings but the table setting could be modified according to the menu.
Banquet Service Procedures
French, Russian, or buffet service is typically used at a banquet. The head table is usually served first and then the rest of the tables. Water and coffee are replenished throughout the event.
After the completion of meal the table should be cleared as per standard since often in banquet service guests used to remain seated for entertainment after dinner.
Banquet service does not require to present check or collect payment at the end of the meal as the banquet is paid for in advance.
Family-Style Service
Family-Style Service is a variant service of American service and considered as an informal service.
In this service, all necessary preparations of foods are completed in the kitchen and the foods are then placed in large bowls and on platters with attractive garnishing. The servers place the bowls and platters with necessary utensils in the center of the table and the food is passed around the table by the guests so that the guests can help themselves to the portions desired.
Beverages or any others dishes are also served according to the American service or as the situation demands.
Watch Training Video
Here is our What is Family Style Service Training Video Or watch from here:
Features of Family-Style Service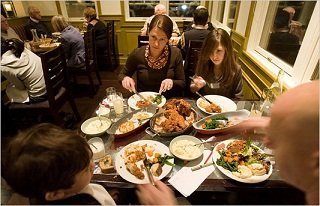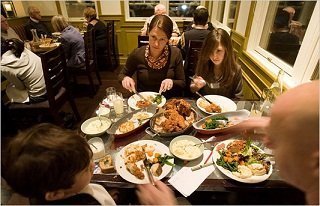 Family-Style service includes the following key features:
This service does not require skilled service associates.

In most cases, the guests serve themselves in taking foods which makes the service fast and quick. If more service are used or numbers of guests are large, then the servers are involved in serving.

Guests receive less personal attention and the platter become less attractive as guests serve themselves.

If the family style service employs all-you-can-eat feature, then servers must refill serving containers as requested.

Upon completion of the guest's meal, soiled dished are cleared from the table.
Buffet Style Service
Buffet Service allows the guests to select their meals from a complete and attractive arrangement and fresh display of food on long serving tables. In buffet service, the guests either help themselves or served by chefs standing behind the buffet tables to select their items as per the courses they want. However, in stand-up buffets, guests are required to stand and take or eat foods.
To ensure the quality and the hygiene of the buffet foods, soiled tablecloth is removed and guests are asked to use clean plates each time they return to the buffet.
Features of Buffet Service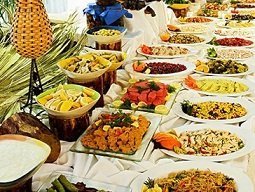 Buffet service is recognized by certain characteristics which are as follows:
Buffet services are used in banquet halls catering to serve large number of guests.

Crockery and cutlery are stacked conveniently at the head of the buffet table and silverware and napkins so that they would be able pick up with their meals, or a complete cover (usually American) placed on the buffet table for the guests.

Rolls, butter, and condiments are usually pre-set at the dining tables.

The buffet includes normal food course of soups, salads, appetizers, hot dishes, rice, breads and desserts and the buffet has to be look appealing at all the times.

A smorgasbordis special feature of a buffet, a large selection of food with Scandinavian selections (ex- cheese and herring) from where guest can receive more food as often as they desire.

In buffet service, the job of the server may vary, for example: servers may serve only beverages and dessert, or they may serve several courses or the servers may portion the food and replenish the platters and dishes.

Buffet service requires less service personnel and considered as an effective sales tool.

In buffet service, servers have to deal with many guests at one time, but guests get less personal attention than other table service.
Gueridon Service
With Gueridon service, foods are brought to the dining area on Gueridon trolley fitted with gas burners in a row condition or partially prepared from the kitchen and completed at the guest's tableside in front of the guests. Gueridon service is also termed as cart or trolley service. This service is ideal for those guests who have time to enjoy the art of cooking and can afford to buy expensive food since Gueridon food is very costly but extremely appetizing. The food preparation is prepared by Maitre d'hotel or Chef de Rang and he is assisted by Commis de Rang. After completing the food preparation the food is served to the guest from the right hand side as it is pre-plated.
Features of Gueridon Service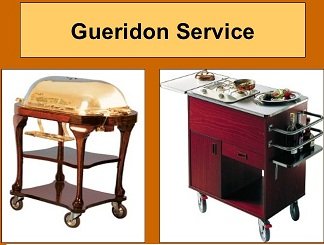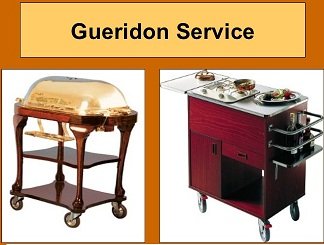 The following features of Gueridon service make it distinct and elegant style of service.
Gueridon service is used in up market restaurants and requires large area for the movement of the trolley.

Gueridon service requires experienced servers since they have to be skilled in filleting, carving and flaming the food with wine. Though the numbers of kitchen staffs are limited but the service staffs could be increased depending on the situation.

In this service, the guests choose from a special Gueridon menu.

Gueridon service is a elaborate service and offers great personal attention to the guests.

Expensive menu items of Gueridon service incurs low turnover. And the expenditure is also high due to large numbers of equipment.

More service associates are required for minimum covers. 1 service person has to cover 18-20 sq. feet while serving the guests.

In Gueridon service, an extensive training program is organized to train the employees as experienced and expert servers are required.
Silver Service
This service is named as silver service as all the cutlery, service dishes, service forks and spoons used and provided to guests are made of silver. With silver service, the food is portioned in the kitchen and dished into silver plates and brought to the guests for approval and then placed on the sideboard with heating burners or rechaud in order to keep the food warm. The food is then served to each guest from the left side of the guest using a service spoon and fork.
Training Video:
Watch this video to learn more: What is Silver Service: Table Set up, procedure and Features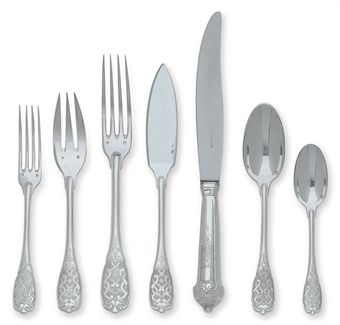 Silver service is a modified service of English service. The service procedure of English service also can be provided as a silver service by using silver cutlery and service ware.
Features of Silver service
There are no distinct characteristics of silver service. However the key features of silver service are:
In Silver service, the food is attractively presented to amplify the dining experience.

Table setting procedure of silver service includes hors d'oeuvres, soup, main course and dessert.