Hotels are classified based on several factors such as size, target market, location, available facilities, the level and type of service, affiliation, and ownership. Apart from these parameters, hotels can also be rated according to the Crown, Star, or Diamond system, which depend on their geographic location. These classifications help visitors and guests to have an overview of a hotel even before visiting the property in person. As a result, classification plays an essential intermediary role in facilitating trade and trust between the property and the customer.
Hotels obtain diamond ratings to enable identify the level and standard of services without having to visit the property. Consequently, trust develops between people, which is vital in facilitating trade. On the other hand, the categorization of hotels ranges from the lowest to the highest on a scale of 1-5. In this regard, this tutorial discusses the classification of hotels in the following sections, based on the parameters mentioned above.
Classification of Hotels – Types, Features & Characteristics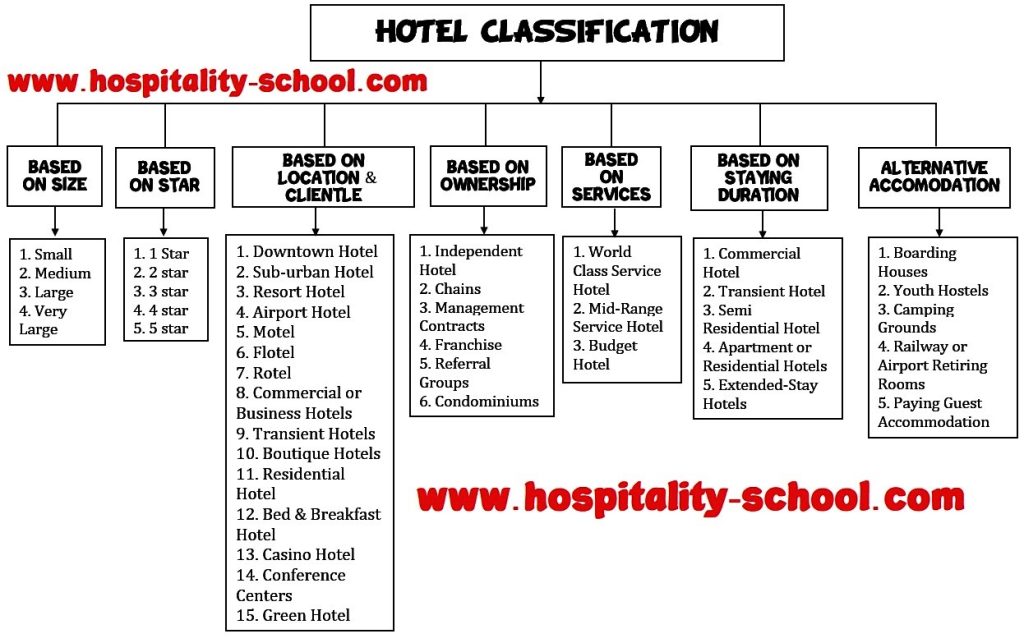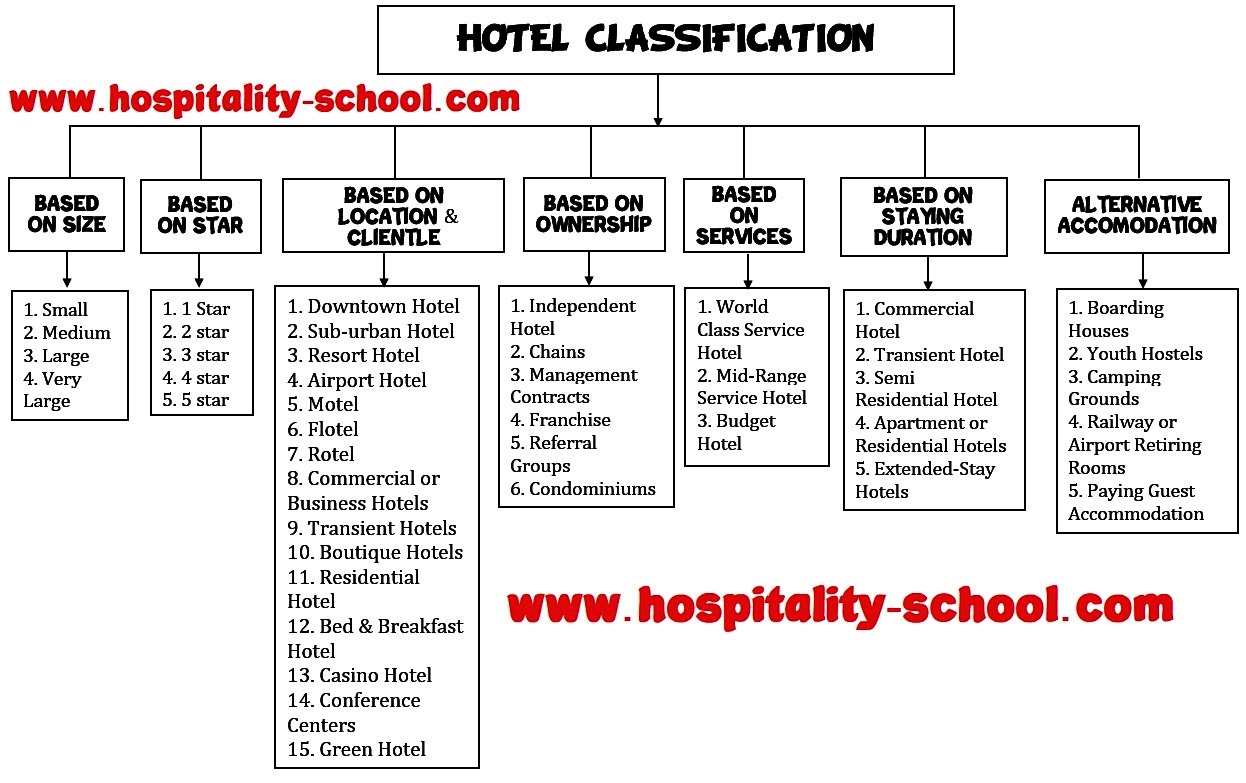 1. Classification Based on Size
Using the size parameter, hotels can be classified into;
Small Hotels. These are hotels whose number of guest rooms does not exceed 25.
Medium Hotels. They include hotels with the number of guest rooms ranging between 26 and 100.
Large Hotels. These are hotels whose number of guest rooms ranges between 101 and 300.
Very large Hotels. These are hotels with more than 300 guest rooms.
2. Classification Based on Star
This categorization rates hotels on a scale of 1-5, as listed below;
1 Star Hotels. These include all the smaller hotels under the management of a proprietor. 1 Star hotels are generally characterized by a personal atmosphere and are often located within the vicinity of affordable attraction sites or a major intersection with convenient transportation. These hotels have basic but clean furnishings, and most of them may lack an on-site restaurant, though they are generally within reach by walking. 1 Star hotels need to have 10 lettable bedrooms or more, 25% of which should be equipped with an attached bathroom. Every 4 of the remaining rooms should share a bathroom. Moreover, 25% of the bathrooms should be equipped with Western WCs. The reception counter should have a telephone for use by the guests.
2 Star Hotels. These hotels should be developed in a suitable locality with beautiful environs. They need to have a reception counter that has a telephone for use by the guests. Furthermore, all the private and public rooms should be equipped with air conditioning facilities and support quality. 2 Star hotels need to hire experienced, efficient and courteous staff that is always in presentable, clean uniforms. They should have a minimum of 10 lettable rooms, of which 75% need to have attached bathrooms fitted with showers. Also, a minimum of 25% of the rooms needs to be equipped with air conditioning facilities. Each guest room should have telephone services, as well as a radio or background music, and they need to be furnished with curtains, carpets, and high-standard luxurious furniture.
3 Star Hotels. They have spacious accommodation, decorated lobbies, and efficient staff. These hotels are generally located in business areas with high-standard environs. 3-star hotels are equipped with furnished dining rooms, with a minimum of 20 lettable rooms, all attached with bathrooms that offer long baths. Also, at least half the number of the rooms need to have air conditioning facilities, as well as furnished, high-standard furniture, carpets, and curtains. The hotels have a reception, information, finance counter, and conference facilities, all attended by qualified, highly trained, and experienced personnel. Laundry serviced are provided, together with high-end housekeeping services, and each guest room should have telephone services, radio, or background music.
4 Star Hotels. These hotels are found in areas with distinct architectural features and high-standard immediate environs. The hotels have a reception, information, finance counter, and conference facilities, all attended by qualified, highly trained, and experienced personnel. The hotels need to have a minimum of 25 lettable rooms, all attached with bathrooms that offer long baths. 4 Star hotels have a separate special restaurant designed with dancing facilities. Also, each guest room should have telephone services, radio, or background music.
5 Star Hotels. These hotels are found in areas with distinct architectural features and high-standard immediate environs. The hotels have a reception, information and finance counter, as well as conference facilities all attended by qualified, highly trained and experienced personnel. The hotels need to have a minimum of 25 lettable rooms, all attached with bathrooms that offer long baths. Moreover, laundry serviced are provided, together with high-end housekeeping services, and each guest room should have telephone services, radio, or background music. The swimming pool should be available and ample parking space.
How a Hotel Earns a Five-Diamond Award
There are 5 simple steps a hotel has to achieve in order to earn the Five-Diamond award. These steps are discussed in the following section;
Step 1. The first step involves talent selection, in which employees are hired on the basis of how their natural characteristics align with the job requirements and daily commitments. For instance, if the position to be filled is that of a front desk attendant, a person to be hired should be the one who smiles naturally quite often, is easily approachable to everyone.
Step 2. This step involves taking the new employees through a thorough orientation program before they are assigned their respective roles. The orientation could take several days or weeks and involves classroom training regarding the values of the company, such as service values, credo, and standards. There is also technical classroom training, in which the company values are put into application, such as engaging different guests in enticing conversations, directing them to various locations, and developing meaningful relationships. On the third day of the orientation, employees are introduced to their personal trainers for a session lasting 20 days, ensuring they comprehensively understand their roles. Employees are then certified by their personal trainers once they successfully completed their training, or they are failed if they do not exceed the trainers' expectations.
Step 3. After working with personal trainers for 21 successive days, employees embark on classroom discussions about what has been learned regarding their job. They must understand as well as uphold the philosophy of the company and, if need be, seek additional training. Moreover, employees need to provide feedback to the company's general manager based on their likes and dislike concerning their job. From there, the company's general manager shares the information from the employees with senior executives to make environmental adjustments or provide additional assistance and training where necessary.
Step 4. Employees are normally taken through line-up sessions on a daily basis. On one of such sessions, the managers of each department in the company convene a meeting that lasts 15 minutes in order to assess and review the company standards. Additionally, the managers highlight one of the various service values and use it to reinforce further whatever has been taught during the orientation. Comments from guests are also reviewed, and there is a storytelling session to help pinpoint how the company's service values can be integrated into real-life situations.
Step 5. The last step involves employee recognition, which is given in situations where employees are cited doing the right thing, and the recognition is meant to encourage them.
This simple yet effective process is what determines whether a hotel receives a Five-Diamond award or not. The process is aimed at ensuring that employees are knowledgeable regarding their new responsibilities, are polite, and can provide the requirements of the guests visiting the company. Moreover, employees should be good at anticipating the needs of the guests by performing or offering additional services in each interaction, and these services need to be seamless, quick, and unobtrusive.
3. Classification based on Location and Clientele
Based on location, hotels can be categorized into;
Downtown Hotels. They are usually within or close to a city's business center, public offices, shopping areas, and theatres. In other words, these hotels are within the city's commercial hub, have high room rates, and most of their customers are business clientele. They are designed to cater to the leisure or business needs of traveling public figures. Among these types of hotels include luxury, business, mid-scale, economy, suites, or residentials, all of which provide a wide array of services, as well as high-class accommodation facilities. The luxury hotels take the lead in providing the most enticing décor, concierge floors, butler service, secretarial services, as well as the latest technology or Wi-Fi connection in all the guest rooms. Moreover, other unmatched services include computer and fax machine services, ticket office, car rental, beauty salons, airline office, health spas, as well as on-call or on-duty nurse or doctor services. In general, downtown or city center hotels have exquisite restaurants, lounges, coffee shops, conventions, conference rooms, ballrooms, and fascinating night spots. Examples of these hotels include the Drake Hotel found in Chicago, Ramada Hotel in New York City, Days Inn Hotels, and the Embassy Suites.
Sub-urban Hotels. These are hotels built closer to the city's outskirts, with similar facilities as those in downtown hotels. Sub-urban hotels are preferred by people who do not want to stay within the city center. Since the room rates in these hotels are moderate, they attract budget travelers.
Resort Hotels. They are located in tourist destinations, such as sea beaches, hill stations, and the countryside, and are characterized by a natural, calm ambiance. The room rates of resort hotels may vary based on the services offered. Most of the activities associated with resort hotels are leisure activities, including golf, as well as winter and summer sports. Destination resorts provide peculiar appeal to group and leisure travelers and are usually designed to be self-sufficient and all-encompassing. As a result, the guests and visitors will not have to look for entertainment, relaxation, recreation, or meetings outside the property. The people that visit resort hotels are driven by the search for a good summer and winter climate in order to find relaxation and engage themselves in various recreational activities. Most of the resort hotels are located in remote areas, and many host guests, most of whom are considered "captured clientele," spend days in these properties. This poses challenges to the resort managers, apart from the common seasonality problem, where resorts may not be operational for the whole year, while others go through periods characterized by low occupancy. These challenges influence the attraction, training as well as retention of competent staff.
Another pressing challenge arises when many guests have to travel long distances in order to reach the resort hotels. As a result, they end up staying longer at the resort hotels than at the transient hotels, posing a challenge in quality service provision. The meals and beverage manager is forced to ensure that quality and varied menus are served attractively and attentively. This is achieved when the resort hotels decide to use cyclical menus that are served repeatedly every 14 to 21 days.
Airport Hotels. These hotels are developed near airports to offer commercial services and are patronized by stopover passengers. They usually receive many travelers that depart and arrive in the world's major airports. These guests are a wide variety of leisure, group, and business travelers. Passengers that happen to be late or early for their flights book and spent time at the airport hotels, while others can rest as they wait to connect their flights. Most airport hotels have between 200 and 600 guest rooms with full service. The restaurant hours and room services are sometimes extended or offered for the whole 24 hours to meet all the needs of people with feelings of being in different and unfamiliar time zones.
Airport hotels are increasingly becoming the best choice for many business travelers because they offer and guarantee cost-effective and convenient transportation between their various destinations within the city and the airport. Hence, the hotels can be a good bargain for travelers since they provide free or inexpensive transportation services from the airport to the hotel and back.
Motels: The term is a combination of 'moto' and 'hotel.' Motels are usually located along highways to offer modest lodging services. They offer accommodations, meals, parking space, garage facilities, and vehicle refueling services to highway travelers. You will find motels clustered close to freeways in the outskirts of major cities and towns, and most of them are currently being constructed in modules, with about 11 employees serving 100 rooms. The prices of the guest rooms are generally low, perhaps because the land acquisition, construction, as well as operating costs are reasonably down.
Floatels:

These are lodging properties designed to float on the water surface and can be constructed atop semi-submersible platforms or rats. They include houseboats and cruise liners and offer luxurious accommodation, as well as food and drinks to their guests.

Rotels: These are hotels designed to rotate on wheels. Some of them may be equipped with air conditioning facilities and be attached to well-furnished bars and restaurants.
Commercial or Business Hotels. These hotels are generally found within the commercial hub of a city to offer high-end services to business travelers. These services include fast-speed internet connection, drafting, photocopying and fax services, typing, complimentary newspapers, cable television, morning coffee, as well as access to movies and channeled music.
Transient Hotels. These are hotels that provide services to en-route travelers. They are developed close to airports, seaports, and railway stations, operating around the clock to offer room and commercial services to transient travelers. Being 5-star hotels, these hotels target business clientele, airline personnel, and passengers whose flights have been canceled.
Boutique Hotels. They are small and costly hotels that mainly target the elite class. Each room in these hotels has a unique personality, and the decoration style of each restaurant carries a theme of the menu, the food served, and the staff uniform. Boutique hotels provide a lodging experience different from the offered by mid-range and large hotels. Moreover, they have unique architecture, décor, size, and style qualities that make these hotels stylish, hip, relaxed and luxurious. By 2012, approximately 700 boutique hotels were in existence in the USA, and over 2,500 worldwide. Boutique hotels are smaller in size compared to other chain hotels, with between 25 and 125 guest rooms. Notable examples of boutique hotels include Kimpton Hotels, Kessler Collection, Rosewood, and Joie de Vivre Hotels.
Residential Hotels. These are hotels meant to provide accommodation services to long-staying customers. Guests can stay for up to 2 years in these hotels, enjoying the modest services offered.
Suite Hotels. They provide high-end personalized services, and their guest rooms are partitioned into living areas, kitchenettes equipped with microwaves and refrigerators, bedrooms with attached bathrooms, and dance floors. The hotel facilities are customized to include guest stationery, valet services, and fast-speed internet connectivity. They are patronized by tourists and affluent people that are after luxury.
Bed and Breakfast Hotels. They include lodging establishments operated in the residence of large families. These hotels consist of houses with several rooms used to provide overnight services and commercial buildings having between 20 and 30 guest rooms. The services are provided by the hotel owner who stays on the premises or in its neighborhood. The services provided by the host are usually memorable in order to attract more guests. The host further provides the guests with restaurants, directions, and suggestions regarding local entertainment and sightseeing. Currently, many bed and breakfast hotels are in existence, and their rates range between $30 and $300 for a single night. The number of bed and breakfast hotels in the USA is estimated to be around 25,000, and this rapid is tethered around a set of certain factors. For instance, many business travelers find it hectic to partake of the process involving checking in out of various commercial hotels. Also, the escalation of prices in many transient hotels leaves the travelers with bed and breakfast hotels as the only affordable option. Another reason for the popularity of bed and breakfast hotels is that leisure travelers are usually after a large and spacious formal hotel that can accommodate them and their friends. The bed and breakfast hotels are fancied because they provide an atmosphere that is home-like at reasonable prices. The décor in these hotels varies depending on the hotel's geographic location and the owner's unique taste. Although the hotel owner is responsible for ensuring the provision of the necessary labor, they may employ part-time or full-time help.
Casino Hotels. They are primarily meant to offer gambling facilities, attracting their clientele through gambling promotions, extravagant shows, and charter flight services to clients. This industry is gaining momentum at a faster rate, and its impact is being seen in how it is quickly reshaping the USA's economy as an entertainment industry. This is because the recreation and entertainment sectors are vital drivers of economic growth by boosting consumer spending, resulting in the industry's tremendous prosperity. In the casino industry, gaming is among the rapidly-growing entertainment sectors.
Apart from gaming, there are dining cuisines, dance clubs, health spas, and dazzling shows. Casino hotels are equipped with high-standard gambling services, special restaurants, and bars operating 24 hours. The guest rooms of these hotels are equipped with Wi-Fi connectivity, workspaces, computers, photocopying and fax machines, travel bureaus, business centers, and room service. Furthermore, larger and more spacious casinos attract conventions, which is a highly lucrative business. 
Conference Centers. They are designed to provide services to conference delegations by availing rooms, conference halls, meals and drinks, flip charts, whiteboards, as well as overhead projectors together with screens, public address systems, and computers. These hotels are designed to provide facilities that meet the needs of various groups that attend and hold conventions and are an attraction for leisure travelers. In their service provision, conference hotels abide by the guidelines set forth by the International Association of Conference Centers, IACC. On the other hand, convention hotels have at least 300 guest rooms, minimum meeting space of 20,000 square feet, as well as vast areas for accommodating hundreds of guests. Moreover, numerous banquet areas are all around and within the convention hotel complexes.
Convention hotels are designed with concierge floors to meet the needs of individual guests. The services offered at these hotels include 24-hour room service, laundry services within the rooms, travel desks, business centers, as well as shuttles for transportation to and from the airport.
Green Hotels. These are properties that are environmentally-friendly, developed, and managed with the aim to institute water and energy-saving programs, as well as reducing solid waste.
4. Classification Based on Ownership
Under this classification, we have the following categories of hotels;
Independent Hotels. These are hotels run on an ownership basis without any contract or affiliation with other properties or ties with other hotels regarding procedures, policy, and financial obligation. These hotels do not need to uphold a certain image and are not required or obligated to maintain any targets.

They are hotels that develop from one central hotel, usually spreading to other cities and regions but providing the same services. The administration manages several hotels in different areas. Chains operate under management contracts, franchises, or referral groups.

Management Contracts. These are contracts between property owners and hotel operators, in which operators are employed and assigned full responsibility to operate and manage the hotel.
Franchise: This is a mandate from a company given to an individual or another company to sell products and services for some time, using its trademark as per the guidelines laid down. The authorizing company is a chain member and makes use of the brand image, goodwill, and name at a particular fee.
Referral Groups. They comprise independent hotels amalgamated for a common purpose, with adequate consistency in quality service provision for customer satisfaction.
Condominiums: These are hotels purchased and owned by guests in the form of second homes. Single owners share the hotels and informing the management when they are to occupy the property. When the management decides to rent out a unit of the property, the owner gets the revenue.
5. Classification Based on Services
World Class Services Hotels. These hotels are also called luxury or upmarket hotels and mainly target the affluent. They provide high-end, personalized services with a keen emphasis on class and excellence. Luxury hotels offer exquisite décor, upscale lounge and restaurants, opulent rooms, concierge services, and ample facilities. Moreover, these hotels have designer swimming pools, tennis courts, golf courses, shopping arcades, health spas, beauty salons, as well as sauna and Jacuzzi.
Mid-Range Service Hotels. They come after the Upmarket hotels, offering modest services to clients, most of whom are travelers. These hotels offer room services, as well as 24-hour railway or airport commute services. Most Mid-Range hotels have between 150 and 300 guest rooms.
Budget Hotels. These hotels focus on providing services at meetings and have inexpensive, clean, and comfortable rooms. They are patronized by budget-concerned travelers and families. Also known ass economy hotels, they are increasingly becoming popular, especially within the last two decades. They offer clean, well-furnished, and moderately priced rooms. Notable examples of this economy hotels include Hampton Inn, Holiday Inn Express, Fairfield Inn, Baymont Inn, Wingate, County Inn, and Super 8. Budget hotels do not provide restaurant services, meals, and beverages but serve their guests a luxurious continental breakfast. This explains why these hotels rose to fame due to their focus on bed selling rather than meetings or meals. As a result, they successfully managed to offer their services at rates 30% lower than mid-priced hotels. Generally, budget hotels have undergone significant growth to represent 15% of the total number of hotel rooms.
6. Classification Based on Staying Duration
Commercial Hotels. People can only stay in these hotels for a few days or a week.
Transient Hotels. These are hotels in which most of the guests (75%) are en-route residents who stop to spend a short period at the hotel before proceeding with their journey.
Semi-resident Hotels. They are hotels that accommodate people staying for some weeks or months before moving to another location.
Apartment or Residential Hotels. These hotels are apartments offering a dining room, meal service, and maid service. They can be luxurious or moderately priced, and their rooms are usually sold on a yearly or monthly basis. Residential Hotels have operational restaurants, telephone services, as well as valet and laundry services.
Extended-Stay Hotels. They are lodging-like hotels with features that provide home-like amenities. They offer discounts of about 7 days for extended stays and have laundry facilities, as well as guest rooms complete with kitchens. These hotels are developed to cater to those guests that decide to stay for a certain period. However, they also receive the guests that intend to stay for shorter periods their there is sufficient space. The long-staying guests are attracted by the cut in room prices based on the time they spend at the hotel. Many of the guests arriving at these hotels are relocating families, businesses, as well as professional or technical guests. These lodging brands range from three-bedroomed apartments to guest rooms and studios. The guests arriving at these hotels can stay for a period ranging between one week and 6 months. The guest rooms are well-furnished with linen and have stocked kitchens. Moreover, there are housekeeping services that are offered on either a weekly or daily basis. On top of these, visitors may get the opportunity to use and enjoy swimming pools, tennis courts, fitness centers, as well as limited meals and drinks.
Extended–stay hotels provide nearly 25% more room at the same fee as other regular hotels within a similar price range. This additional space may be in the form of a kitchen or lounge. Some examples of extended-stay hotels include Dense Inns, Embassy Suites, Guest Quarters, Fairfield Suites, and Homewood Suites.
7. Alternative Accommodation
The alternative hotel classification gives rise to the following types of accommodation opportunities;
Boarding Houses. Also known as lodges, boarding houses are located far from the city center. Lodges are self-sufficient modest hotels offering standard facilities, including meals and beverages and comfortable rooms. They are meant to provide meals and accommodation for a certain period.
Youth Hostels. They are established to provide accommodation for the youth that travel in search of education, recreation or adventure, and cannot afford the highly-priced hotels. These establishments mainly provide inexpensive accommodation, a cafeteria, and common bathing facilities.
Camping Grounds. They are located in open areas within cities to provide parking space, water, toilets, and electricity. They are regulated by municipalities to ensure they meet the set regulations concerning service quality and cost.
Railway or Airport Retiring Rooms. They are established to offer convenience to transit travelers, usually located at international and domestic airports, as well as major railway stations. They are inexpensive and are equipped with air conditioning facilities.
Paying Guest Accommodation. This is a non-institutional accommodation offered by households in various locations. It is lately gaining popularity in big metropolitan cities, especially among employed youth coming in from other towns, as well as outstation students.
The Lodging Industry
Hotels can be categorized using several parameters, and they also have more than one affiliation. Some of the methods used to classify hotels include the Smith Travel Research system, the American Automobile Association (AAA) 5-Diamond award, and the Forbes Travel Guide 5-Star rating. The Smith Travel Research approach categorizes hotels using the parameters of luxury, upscale, upper-upscale, midscale, upper midscale, as well as economy.
Hotel Affiliations
Hotels may have more than a single affiliation, such as chains, operations, parent companies, management companies, asset management companies, owners, and marketing groups. In this case, a hotel becomes affiliated with a certain brand when it belongs to a particular chain. Statistics reveal that 22 chains were already in existence in the USA by 2013, having 50,000 additional rooms. Also, there were 24 chains around the world, with more than 75,000 guest rooms. Most top-rated parent companies often have various chains, such as Hilton Worldwide, Marriott International, and Wyndham Worldwide.
Regarding big chains, each hotel classification usually has a different hotel. Parent companies may low, middle and high-end chains, or they may choose to focus on a single area. For instance, the Waldorf-Astoria and Conrad brands are both owned by Hilton Worldwide and are considered the luxury hotels of the company. Moreover, Hilton and Embassy Suites brands are upper upscale, Homewood Suites and Hilton Garden Inn are upscale, while Doubletree Club and Hampton Inn are considered upper midscale. The midscale hotel classification results in hotels such as the Ramada and Howard Johnson brands, which are owned by Wyndham Worldwide, the Sleep Inns or Quality Inns brands, owned by Choice Hotels International. Examples of economy hotels are Super 8 or Days Inn brands, owned by Wyndham Worldwide, and Rodeway Inn or Econo-Lodge brands, owned by Choice Hotels International. Hotel classification can also result in categories such as corporate, independent, or franchise hotels. In this case, corporate hotels are managed or owned by parent companies, franchises are run by third parties, in which parent companies are entitled to certain franchise fees. On the other hand, independent hotels have no affiliations with chains or parent companies. Hotels may further have affiliations with management companies. Moreover, they may have affiliations with marketing groups and memberships. Such affiliations result in various benefits, including reservation services and marketing assistance.
Another classification of hotels is the quasi-chains, which have emerged recently as integrations of chain and independent hotel marketing groups. Most quasi-chains are developed to merge independent hotels with parent companies. This would enable independent hotels to enjoy the many benefits that come with being under a parent company, such as marketing, purchasing, and reservations. Among the latest quasi-chains to emerge are Autograph Collection, created by Marriott, Starwood's Luxury Collection, Ascend, created by Choice Hotels, and Zilara.
Hotel Classification Based on the AAA and Forbes Systems
The AAA classification system descriptively evaluates hotels it rates through offering additional services in each interaction. The services rendered must be seamless, quick, and unobtrusive. In this case;
1-Diamond properties are characterized by a roadside appeal rated as simple and also have fundamental lodging needs.

2-Diamond properties have a roadside appeal said to be average, as well as some landscaping and interior décor enhancement.

3-Diamond properties have a level of sophistication reflected in comfort and high-quality services.

4-Diamond properties are characterized by a roadside appeal considered to be excellent and satisfactory service provision to customers.

5-Diamond properties provide the highest quality services and sophistication.
The same classification technique used by the AAA system is employed by Forbes Travel Guide, resulting in the following hotel categories;
Five-Star properties comprise hotels providing unforgettable experiences through flawless and high-class services, accompanied by the finest amenities. These hotels have intuitive, passionate, and engaging staff that are perfect at beating customer expectations in service delivery.

Four-Star Hotels provide distinctive, inviting, and exciting elements that are also enjoyable. There is a keen emphasis on detail in concept design and product quality.

Recommended hotels have enhanced amenities guaranteeing customers a formidable sense of location through style and function.
Another hotel classification approach is based on parameters such as geography, price, location, and services provided. The criteria used by the United Nations World Tourism Organization (UNWTO) classifies hotels geographically either as world, continent, subcontinent, country, market, or submarket.  However, hotel managers or owners must know and understand the type of market they operate since hotel performance is evaluated against market properties. Hotels can also be categorized under submarkets or tracts.
The Smith Travel Research is a popular system employed in classifying hotels using a 7-scale categorization, 6 chain hotels, and 1 independent hotel categories. Moreover, hotels are classified based on their location, benefits, and features.
Bottom Line
Different hotel classification methods have been discussed in this article for the benefit of the travelers seeking adventure, leisure, or business interactions in new environments.
The classification is based on several factors such as size, target market, location, available facilities, the level and type of service, affiliation, and ownership. Moreover, hotels can also be rated according to the Crown, Star, or Diamond system, which depend on their geographic location. These classifications help visitors and guests to have an overview of a hotel even before visiting the property in person. As a result, classification plays an essential intermediary role in facilitating trade and trust between the property and the customer.
Training Video
Click Here to Watch Our Free Video on Classification or Different Types of Hotel According to Size, Rating, Location, Room Number