It has been told that "First impression is the last impression". So, it is very important to know How to greet the Hotel guest politely when he enters into hotel premises.Members of the uniformed services division of the front office, is the first hotel personnel who meet with guest at the time of arrival. Depending on the size, policy, makeup of the hotel, either a doorperson or valet/garage attendant meet the guest.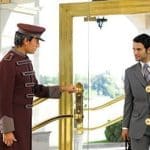 In large hotel, parking valet is the first person who first meet and greet the guests. Even when a guest leaves a hotel then they are the last persons with whom guests contract. So, this position is very crucial. A good service from parking valet personnel could create some repeat guests as well. Generally a strong good looking person with proper grooming and hospitable attitude is selected for this post. He has to greet the guest with warm pleasant smile and try to make the guest comfortable.

When a guest first arrives in a hotel, then he could either take help from valet attendant by leaving in front door and give their vehicle to be parked or he could park his vehicle by himself. Then he meets with doorperson. They greet warmly and guide towards front desk. In hospitality industry there has a been a lots of record where guest come again and again in a hotel only for a doorperson. Again in small hotel, where there are no valet attendant, in those situations the job responsibility of a doorman increases and a lot of things depend on him. They also help the guests in their departure time.