In this stage, the Bellpeson, a Front Desk personnel of Hotel will come in to scenario. The position of bellperson is called by this names:
Bellboy

Bellman

Bellhop

Bellstaff
In modern age, they are called as bellperson world wide. Their prime function is to escort the guest to Front Desk and after finishing procedures, from front desk to guest rooms. This is called "Rooming the Guest". After escorting to rooms it is their responsibility to make guest understand all the room features and some basic, much needed information about the hotel. Some information they should give to guests are-
How to use room key. Some guest find room keys hard to use as it varies from hotel to hotel.

How to use different electronic equipment in the rooms. Sometimes by pressing one button all the equipment stops. So, he should make guest aware about how to handle equipment like Television, Computer, Dvd Player, Hair dryer etc.

What food items are included with room charge and for which they have to pay separately.

Clear idea about how to operate telephone.

Safety & Security equipment and procedures.
Beside escorting they may assist to other departments as well. They may help to pass message from one department to another, place room gifts like flowers, fruit baskets in guest rooms etc.
Job responsibility and placement of a Bellperson may differ from hotel to hotel. If the hotel is a small one, then the bellperson may work as doorman and may be even as valet attendant. On the other hand, if the hotel is too large, then often there is a chance that bellperson comes to assist guest only after he checks in. It is not necessary that guest need them all the time. So it is better to ask whether the guest need his service or not. Some repeat guests know hotel very well and often they don't need assistance from bellperson.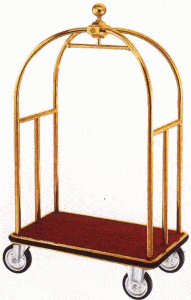 Bellcart:
Guests come with some luggages. So, it is hard and looks unprofessional to take those by hands. So, bellperson use this trolly which is known as bellcart to carry luggage from front desk to room and vice-versa.