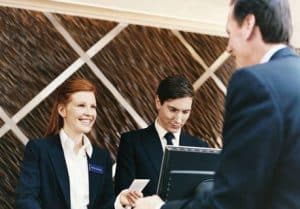 When the guest, after his arrival approach to front desk, registration procedure begins. If all the front desk staffs are busy with guests, which not happen generally, then they may request gust to wait for some minutes in lobby area and they will call him back when they will get free. Often in busy time guests, stand in a line and approach to front desk one after one.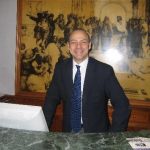 Front Desk Agent have to have ready smile all the time. As the guest approaches the front desk, he/she should be greeted warmly.The guest who is warmly welcomed with a sincere greeting will feel positively about the hotel and will expect similar mannerism from other hotel staffs. There is a 10 x 10 Rule, practised by front desk agents. This has 2 basic significant parts:
The first 10 Suggest that, gusts have mentality to judge a hotel by his first 10 minutes visit. So, during this time if he gets well professional service then they will have positive thoughts about the hotel.

The other 10 means a front desk agent should greet and welcome the guest, 10 feet before he comes to front desk. This will make guest feel important and make a friendly atmosphere.
When the guest approaches toward front desk, now it is time to start conversation and during the conversation it is advisable to double check the information provided by the guests. Registration is a process where many issues will come to play. We will discuss those later on this series of tutorial. Here are some basic points applicable to that situation when the guest has done pre-registration
Verify guest's name. Ensure spelling to avoid any mistake.

After finding reservation record, give a summary of the record so that everything is right. Here you should include name, nationality, room preference, room rate, arrival & departure date etc.

Be sure about room status before you give it to your guests. Only V/R (Vacant Ready) rooms can be given. There is a high chance that the room is vacant but as the previous guest leaves few times ago, so housekeeping staffs are in a process to clean the room. If this is the situation then front desk agent can politely tell the guest to wait in lobby for specific period of time. If for any reason the room, which the guest has booked earlier, cannot be given then gently sorry to him and give him some more preferences.

Be sure whether the guest is a member of the hotel or comes from any discount or promotional or any kind of offers or not. Often many organizations offers free staying in a hotel as a part of their promotional or social activities.

Now the most important part, be sure about the Methods of Payments to settle bill. Generally guests prefer cash, credit card, debit card, bank checks etc for payment. This is a tricky part. We have discussed in this tutorial. Don't miss this tutorial.


Finish the process, double check, give the key and tell the guest how to  move to the room. If the guest needs, ask the bell person for guiding him.
*** (Guest Registration or Check in procedure is quite  complicated. So, for better understanding we divide this tutorial into 3 parts. This  is the first part) ***
More on this series of tutorials: