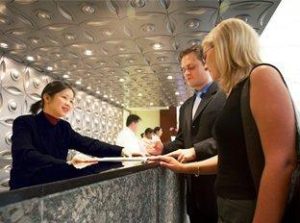 In our last  lesson we give you a summary of guest registration procedure a Front Desk Agent needs to follow. From this tutorial we will cover some deep issues involving in guest registration. From a front desk agent's point of view there are some basic points in the guest registration process:
Preregistration

Registration Record

Settling Room type & Rate

Methods of Payment

Handover Room Key

Especial Request (if any)
Preregistration
Almost all the guests come to hotel after making registration. So a front desk agent gets enough time to finish all the formalities prior to guest arrival. He even knows in which time which possible guests would come. Generally, in times of preregistration the agent collects all necessary information and when guest comes he just recheck everything and settling the payment.
In some hotels, agents create folio; assign room number etc in times of preregistration. But some front desk manager differs with this type of trend. From there experience they find 2 major problems here:
Some guest cancels registration at the very last moment.

Assigning a large number of rooms advanced may give less chance to non preregistered guests.
Sometimes, some guests want transportation. In that case, the registration may be done by the driver of the vehicle by giving registration card to the guest. Even some well reputed luxuries hotels provide welcome check in service in airports.
Registration Record: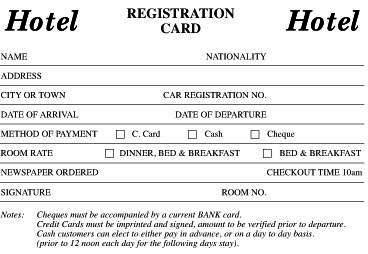 A registration record is created by front desk agent where he puts all necessary data of the guests. Registration card holds some basic information such as:
Guest's Full Name

Address

Date of Arrival

Telephone Number

Company Affiliation

Room Rate

Method of Payment

Rules & Regulations of the hotel

Check out time
After guest departure, this record play an important role. It becomes a part of the hotel's guest database. It is a main source of guest history file and from this record a hotel can easily identify the guest if he comes next and this will save a lot of time for both, hotel and guest.
Settling Room type & Rate:
If a front office agent is not clear with these terms described on those 3 tutorials, it will be difficult to sell the room properly. So, before reading ahead you have to have clear conceptions about room types,status and rates.
On the basis of reservation information, front office agent can assign a vacant room for a guest or if the guest has any specific request then he will try to find such room and if no such room found then can offer similar type of room. After deciding room types, it is the responsibility of front office agent to describe all the features, amenities of the issued room to guest and if he wants something extra then discuss it. Now settle the room rates. It varies from guest to guest and the policy of the hotel. If the guest has business relation with the hotel or comes from a company with whom the hotel has prior contract or if the guest is a VIP or if the hotel likes to lower its room prices for some reason, in all these situations room rate will be varied. So, front desk agent will settle room rate according to the situations.
More on this series of tutorials: