Few days back we have shared first part of Hotel Front Office Dialogues. Now in the second and last part, we would like to share few more real life hotel front office English conversations that will help you to understand how a front office personnel handles guests in different situation. Please closely observe the conversation.
Hotel Front Office Dialogue – Asking for a Rent a Car Service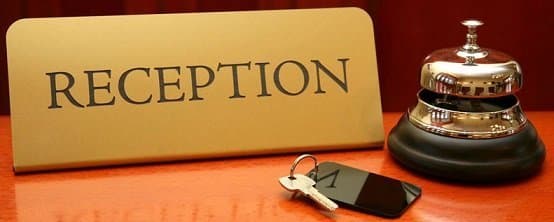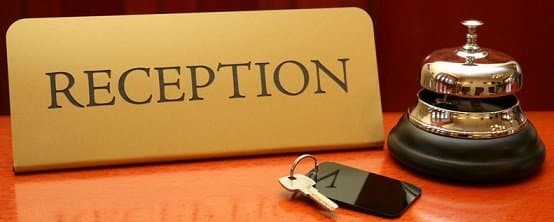 Guest: Good morning, I am from room 308. My name is Jonson. Can you please help me?
Receptionist: Sure sir. Please let me know how may I assist you?
Guest: The situation is this: a friend of mine supposes to pick me up for a dinner at about seven o'clock. We make arrangement like this. The problem is that now I have a very urgent meeting in the National Conference Center in half an hour. Neither I can contact my friend not do I have any transport. Could you arrange for me a rent-a-car that will take me to the center and also bring me back to hotel?
Receptionist: That's not a problem. We can ask for the rent-a-car right now. It's about 3.30. So would you like to reserve the car until 7.00?
Guest: Might be 6.30, but any way 7.00 will be fine. How much it can cost?
Receptionist: The hourly rate is US $12. So $40 will be fine for three and half hour.
Guest: That's great. Could you please ask one of the cars to be ready in 10 minutes?
Receptionist: Sure, Mr. Jonson. I will call the car right away.
Guest: By the way, in case I am little bit late, though I don't expect that, ask my friend Mr. Novel to wait in the lobby or if he wishes, you can take him to the cafe for a drink. Tell him that I will be definitely be back for the dinner.
Receptionist: Don't worry, sir. We will take care of your friend and inform about your whereabouts.
Guest: Thanks a lot. Good bye.
Receptionist: No mention, please. Have a nice day.
Hotel Front Office Conversation – For exchanging Money
Guest: Good morning. I am Robert Wiliams from room 709. I wonder if you could tell me when the banks are open today?
Receptionist: I am afraid Mr. Robert, they are closed today. Its public holiday here.
Guest: That's nuisance. I am a little short of cash. I do have some traveler's check with me and my credit cards, too. Could you help me?
Receptionist: Sure sir. No problem. Traveler's check can be cashed here in the hotel. The cashier will help you with those. And your credit cards will be accepted in most of the shops and restaurants.
Guest: Fine. I will cash some checks now. Later, I will check where I can use the credit cards. Thanks.
Receptionist: You are welcome Mr. Robert.
Hotel Front Office Dialogue – Arranging Escorted Tour
Guest: It's weekend tomorrow and the following day. I wonder if I could have a look around the city or possibly going out for boating or cruising.
Receptionist: It will be wonderful if you like to have a tour of city sight-seeing. The hotel arranges several sight-seeing tours for the guests. Also you could go for boating and river cruising even stay one night in boatel!
Guest: Boatel? Sounds like a great idea! What do you suggest if I like to take both, I mean which one to start with?
Receptionist: As from this evening, you will be free, you can start for cruising in one of the calm and quite canals, spend the whole night in boatel and have sight-seeing through boat the whole day tomorrow. The following day you could avail the city sight-seeing tour by using tourist bus.
Guest: That will be fine. I hope these tours are escorted tours as I don't know anyone or any places here. This is my first visit. I will be happy to be with someone who knows the places very well.
Receptionist: Ok, Sir. As you wish, tours are open with the guide or without. Many tourists like to have an adventure to explore of their own. The guide is available with $25 a day.
Guest: Does the boatel have any food arrangements?
Receptionist: Well, there is a small kitchenette in boatel, but preferably you could stop somewhere in pubs or restaurants while passing your way. You will have varieties of foods available for your tongue.
Guest: Can't wait! Sounds so good. Could you possibly book one for me from this evening? What will total cost for one complete tour?
Receptionist: The boatel rent is $50 and guide charges $25. And, as you enjoy our hotel facilities you don't need to pay for hotel rent tonight.
Guest: Oh my God. Why haven't you told this before. I believe that will be life long experience.
Receptionist: Just sign here in the form and you will be in your way in half an hour. Enjoy the trip!
Guest: Thanks. See you then. Bye.
Receptionist: Bye-bye.
Hotel Front Office Conversation – Receiving and Forwarding Messages
Guest: Good afternoon.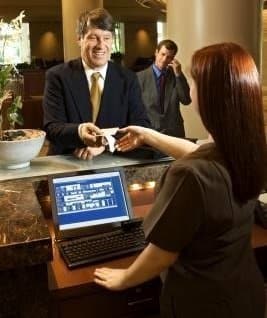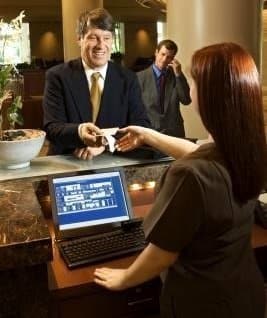 Receptionist: Good afternoon, Sir. How can I help you?
Guest: I would like to meet Miss Martin. I believe she is staying in this hotel.
Receptionist: Umm…Let me check. What's her last name?
Guest: Isabella, Martina Isabella.
Receptionist: Yes. She stays here. For security reason we can't reveal her phone number but you can make a phone call to her from here. The house telephones are over there.
Guest: Thanks (The visitor calls but doesn't receive any response. So he comes back to reception.) I am afraid she isn't in room. There is no response. Can I leave a message?
Receptionist: Certainly, Sir. Here you are. You write the message and we will make sure she will get it when she returns.
Guest: Thanks. Goodbye.
(Ms. Martina Isabella returns and checks is there any message for her in reception)
Guest: Hello, I am Martina Isabella from room 1801. Is there any message for me?
Receptionist: Oh yes, Madam. Mr. Thomas arrived few hours back and left this message for you.
Guest: Thank you very much. Is there anything else?
Receptionist: Not really, Mam.
Guest: All right. Good night.
Receptionist: Good Night Ms. Isabella. Sleep well.
Hotel Front Office Dialogue – Safe Deposit Box
Guest: Reception?
Receptionist: Yes, reception. How can I help you, Sir?
Guest: I am Luthar from 108. I have certain valuable things that I want to keep with you in the reception for safety purpose. Is it possible?
Receptionist: Yes, Mr. Luthar, we have safety deposit boxes for our honorable guests. Whatever valuables you have got you can safely keep in the safe deposit box.
Guest: That's great. Would you please send someone right now so that we both can come down with all the things I have?
Receptionist: Sure, Sir. I am sending the bellboy right away.
Hotel Front Office Conversation – Arranging Business Meeting
Guest: Good morning. To whom can I talk to regarding some sort of meeting arrangements?
Receptionist: Good morning. Well, Sir, may we know what type of meeting you are planning for?
Guest: Not a big one. A group of 25 may be for a daylong meeting with working lunch and grand dinner.
Receptionist: Well for a meeting of 25 with lunch and dinner you better talk to our catering manager Ovoy Kumar. His office is right there on the left corner. For large parties and programs, we refer to our event manager Jacob Martin.
Guest: What types of large meetings do you usually arrange for?
Receptionist: We arrange for all sorts of business parties, workshops, seminars, social gatherings like engagements, weeding, birthday parties – everything.
Guest: How many persons you can accommodate at a time in parties like wedding?
Receptionist: In our large ballroom, we can accommodate 1000 persons with seating arrangements, in poolside party house we can accommodate around 550 at a time and we have 3 meeting rooms of 100,60 and 30 capacity.
Guest: Thanks for the information. Can I meet Mr. Ovoy Kumar now for my next program?
Receptionist: Yes, indeed. He would love to talk to you for all your needs.
Guest: Thank you very much. I am coming to lobby to meet him.
Receptionist: Always at your service, Sir. He will be waiting for you in the lobby.
Guest: Ok, Bye.
Training Video
Watch this video on 6 hotel front office English dialogues or conversations