Today, you will learn about some equipment used in front office of a hotel. Most of these equipment are common in all hotels.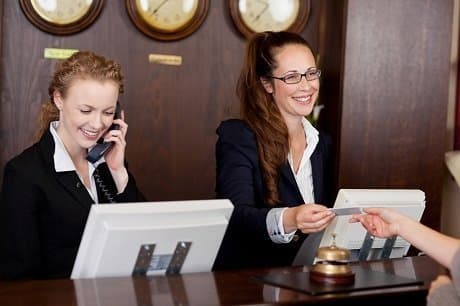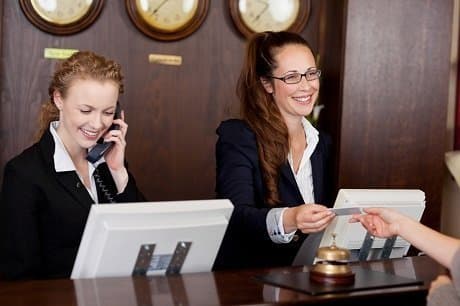 Training Video:
Click here to watch Hotel Front Office, Reception, Lobby Equipment List
Adding Machine/Calculator: Minimum of one adding machine for every two Service Associates. Minimum of one printing calculator.
Arrival Bucket: This bucket is located adjacent to the registration area and holds the ore-registration envelope for guests due to arrive today. Dividers, similar to folio bucket, are placed inside in alphabetical order.
Cash Drawer: Two cash drawers per Service Associate's position.
Credit Card: Imprinter One for each Service Associate's position.
Folio Printers: These are laser printers dedicated to print guest folios and with multipurpose trays attached to print system generated paid-out and foreign exchange vouchers.
Guest Safety Deposit Box: Safety deposit boxes of varying sizes are located in or adjacent to the front office area. These boxes are for guest use only and are controlled by the Service Associates – Front Desk. Each box has its own key but cannot be opened unless the Service Associate's guard key is used at the same time. The boxes are controlled through the use of the guest safety deposit box signature card on file.
Key Encoder: Key card issuing machine which should be interfaced with the Fidelio/Opera system (PMS).
Postage Scale: This scale is located in the Concierge area and is used to determine the postage required for letters and small packages which a guest or the hotel wishes to mail.
Registration Card-Buckets: These buckets are used to store in-house guests' registration cards, supporting documents and credit cards imprints. Each room number to be identified on a thin, plastic divider and placed inside.
Time Stamp: This machine is used to stamp the time and date on all mails, handwritten messages which come to or are used by the Front Desk. There should be a minimum of 1 per Front Desk.