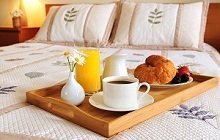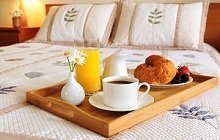 Room Service is a personalized service offered by medium or large luxury hotels which provide their guests unique opportunity to order & enjoy food & beverage in their own room which ensures privacy, convenience & great dining experience. Room service is a part of F & B Service department of a hotel. Although it is offered directly in room but it doesn't belong to housekeeping department. Generally a small hotel doesn't offer room service but a 3 or 4 star hotel should at least provide this service. In most of the hotels, room service is only offered during restaurant's operation hours but some offers 24 hours room service as well.
Training Video:
You can watch our training video from YouTube: Hotel Room Service Order Taking & Delivery Procedure
(1) Reasons behind Offering Room Service:
Nowadays almost all big hotels offer room service. There are some reasons behind offering room service such as:
Many hotels make significant amount of profit out of room service.

Well managed room service gives a competitive advantage in market.

As room service is a personalized service so if it is performed properly then it helps to gain ultimate guest satisfaction.

In some cases it is matter of great prestige as well. All big hotels provide room service facility and those who don't have such are lacking behind others.

It helps to target different group of guests who need room service most like busy corporate guest, celebrities, disabled people etc.
(2) Why Guest Prefers Room Service:
Different guests have different needs and tastes. There are few reasons behind choosing room service:
It helps to attract business travelers as they are very concerned about their privacy & time.

Some group travelers prefer eating together.

Honeymoon couple usually loves to eat in room to make things more romantic.

Room service is highly appreciable by celebrities who generally escape away from general people.

Many guests want to have food in casual way by wearing normal cloth, watching TV etc.

Many guests want to start day with a bed tea. For them room service is the only option.

Women who travel alone are generally conscious more about their privacy. They tend to choose room service more.

Some guests have important private discussion that's why they don't want to go outside. For them room service works best.
(3) Why Some Guests Don't Want Room Service:
It's not true that all guests prefer room service. There are few reasons behind not choosing room service even through it is offered:
Generally room service is priced high. Budget guests normally do not prefer to pay extra for having food in room.

In rush hour, especially in the morning, sometimes it takes time to deliver service in time which makes guest unhappy.

One of the biggest challenges for well managed room service is to offer food & beverage in proper temperature. Many guest become annoyed for that.

In most of the hotels room service is not provided for 24 hours a day.

Generally room service menus are very limited in order to provide fast service.
(4) Qualities of a Proper Room Service:
Here are some qualities of a perfect well managed room service that a guest wants fervently:
Prompt response, proper greeting, and polite behavior while ordering through telephone.

Appropriate suggestions from order takers.

Correct order taking.

Delivery of order in proper room in appropriate time.

Proper temperature of foods & beverage items.

Courtesy from service delivery person.

Quick removal of used trays & trolleys after having food.

No unnecessary attempt to push selling.
(5) Types of Room Service:
(A) Centralized Room Service: Centralized room service offers all items to be delivered from main kitchen and a general waiter will serve the foods in place of specialized room server. For providing such service main kitchen needs to have all room service support facilities, man power and equipment. The main problem with this type of room service is that it takes time to serve food in guest room. The delay occurs since such service is provided through same service elevator used by all other staffs.
(B) Decentralized Room Service: Decentralized room service offers very limited number of food & beverage items to be served in real quick time. This service is offered through separate pantry located in different floors. Generally easy to make foods like tea, coffee, sandwiches are served by this service.
(B) Mobile Room Service: Mobile room service also offers very limited number of food & beverage but specialty of this service is that a dedicated elevator is kept especially for this service to reach out guest room fast. Since foods are prepared in mobile pantry i.e. elevator, so only few items are served through this service.
(6) Equipment Needed for Room Service:
Room service is mainly performed through trays and trolleys. According to the types of equipment needed for room service varies. Here is some frequently used equipment needed for room service:
Tables, trays, trolleys, heaters, chinaware, crockery, cutlery, silverware, glassware, vases, linen etc. in different size & shape.

Special trolleys for room service with hot cases for keeping food hot.

Racks to store different equipment.

Order takers cabin with computer and other equipment.

Dispense bar for bartenders especially when there is no mini bar in guest room.
Here is basic service equipment needed for a perfect well managed room service:
Glassware

Crockery

Cutlery

Water Goblets

Tea Cups

Service Spoons & Forks

Juice Glasses

Coffee Cups

Dinner Knives & Forks

Red Wine Glasses

Soup Cups

Fish Knives & Forks

White Wine Glasses

Dinner Plates

Dessert Spoons & Forks

Champagne Glasses

Side Plates

Cheese Knife

Whisky Glasses

 

Teaspoons

Highball Glasses

 

Soup Spoons

 

Silverware

Others

Trays

Bread Baskets

Tea Pots

Ashtrays

Plate Covers

Cruet Sets

Water Jugs

Bottle Openers

Ice Bucket

Toothpick Holders

Sugar Pot

Toast Racks

 

 

 

 
(7) Layout of Room Service Department:
In large hotels special dedicated area is kept for room service department for smooth operation but some small hotels allocate very small corner for room service. Most ideal location for a perfect room service department is beside both kitchen & elevator. If both at the same time are not possible then 2nd most ideal location for a room service department will be beside elevator. Here are some features needed to be considered for room service department layout:
Order Takers Cabin: The person who is responsible for taking order is known as order taker. The cabin of that person has a glass window so that he can see whole room service area and kitchen at a time. The cabin needs to be comfortable, sound proof and equipped with telephone, computer, note pad, etc. In modern days an order taker can track all order through computerized system. This system is also linked with front office that gives real time room status update.
Room for Room Service Manager: For administrative purposes, some hotels allocate small room for room service manager for conducting interview, scheduling, taking action, discussing with clients etc.
Waiting Room: There is server's waiting area for relaxation. Between each order, servers are allowed to take rest and smoke here. But he should always be ready for next order and that's why should not go to staffs cafeteria or have a sleep or engaged in other tasks. This room is equipped with chair, bench, table and cloths rack.
Storage Area: As the name suggests, in this storage area, items like linen, fuel and other essential room service equipment are stored. Also there may be a refrigerator for storing butter or flowers. Complementary fruit baskets or other gifts for customers are also kept here.
Dispense Bar: As we discussed earlier this bar is used to provide beverage items to guest and only bartenders are allowed here.
(8) Preparation for Room Service: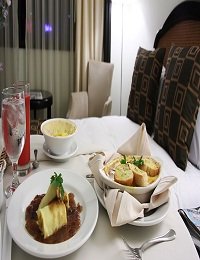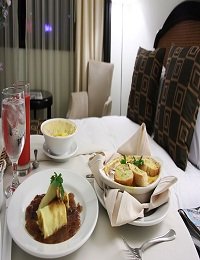 For smooth room service operation, a room service manager or F & B director should have pre plan about staffs, equipment and inventory. For a small hotel property, 10 to 15 specialized room service staff may be enough but a big hotel which runs a big room service department will need more staffs. In order to be able to provide perfect room service, it is mandatory that each staff of that department has a good knowledge about menu. Unable to answer guest questions about any item will ultimately hamper hotel's image. Here are some points that a room service staff should consider for better service:
Well informed about menu items, day special etc.

Know about your guest whether there is any VIP or group booking

Any menu items that are not available at particular day

Used ingredients & cooking procedure of different menu items

Presetting service tray like putting clean table cloth, arranging napkins, tableware etc.
(9) How to Take Room Service Order:
Taking room service order needs skill and experience. In our room service training manual we have discussed in detail. Here we will discuss the procedure in short:
First answer the phone within 3 rings by saying "Good morning/afternoon/ evening, Mr. /Mrs. "X", this is Room Service.  "Z": speaking, how can I help you". Order taker must introduce him or herself with his name and make guest aware that he or she has called in room service. Must use cheerful voice to convey the message that you are giving care to his call and ready to provide him or her best possible service.

Easiest way to impress a guest calling to room service is addressing by his name. If there is computerized caller identification system then you should know from whose room who may call you. So if you have such technical advantage then tries to impress the caller at the very beginning. If you are unsure about how to pronounce guest name or have no such caller identification system then politely ask his name and room number and must repeat guest name few times in conversation.

Take the order on a room service order taking sheet or if you have Point of Sales (POS) system them input data directly in your automated system. If you have to write in manual system them try to be as detail as possible since the order is needed to be handled by other parties like kitchen staffs or waiters.

For a perfect order taking you need to ask as much question as possible in order to avoid wrong order. Ask guest about sequence he prefers, method of cooking (raw, well done etc), choice of dressing, items used, desire beverage bottle and glasses, any special requests etc.

Try to write everything guest wants. Sometimes you may find something not that much of important but to avoid future inconvenience it's better to put everything out of the conversation.

After taking order repeat everything in order to ensure that you have recorded everything that the guest wants.

A good order taker should have some suggestive selling skills. Suggestive selling is not bad if you can use it properly. It's a win-win situation for all concerned parties. Guest will get expert opinion from order taker which could make his meal experience more enjoyable at the same time hotel will earn some extra revenue and waiter may get some tips. Don't use push selling techniques. Remember suggestive selling is to help guest and make extra profit ethically. Don't make those guests annoyed with suggestive selling techniques who are in really hurry or who are 100% confident about items he is going to order.

Now give guest estimated time of delivery. It is often very safe to keep extra 5 minutes in your hand when giving delivery time. If you serve guest 5 minutes earlier then he will never mind and at the same time it will enable you to cover unexpected delay.

Finally thank the guest and wish him good meal experience.
(10) Processing Room Service Order
After taking order successfully now it's time to process the order. Here are some key points:
Print out the guest check and give the check to room service attendant to send it into kitchen from where order will be delivered. If the order taker use automated POS system then aware kitchen staff about the new order who will then print out the check.

Set up tray and table properly. Here is a basic layout: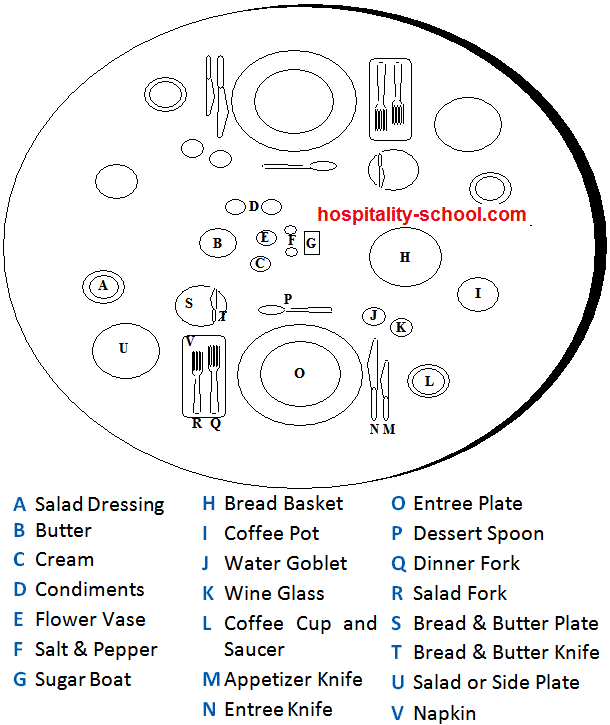 Fig: Sample Hotel Room Service Table Setup
If there is any hot item to be served then fire up heating plate or oven.

Then take food from kitchen. Must ensure all ordered items are available there. Put cold foods first then go for hot items.

Check all orders closely for the last time in order to avoid inconvenience.

User service elevators to reach at guest room.

In order to avoid collision never push your tray. Always pull.
(11) Delivering Room Service Order
Now after successful order processing it's time to deliver room service order:
First check you have come to the right room number. Don't knock on other guest who didn't order.

After being ensured about room number, knock at the door and announce "room service". If there is "DND" sign hanging and you are sure about the room number then still continue knocking and let guest aware that you have come to deliver his order in spite of seeing DND.

Greet the guest according to the time by saying "Good morning/afternoon/ evening, Mr. /Mrs. "X".

Enter the room and put the tray where guest prefers.

Then repeat each and every item from guest check to ensure that you have come with right items.

Ask him "Do you want something else Sir or Madam"

Show the delivery charge and must take sign in your guest check. If gratuity is included in total then must notify the guest.

If guest doesn't mention any time to clean the order then inform him how to inform room service department for cleaning the table.

Finally thank the guest with his name and wish him to enjoy the meal.

Exit the room by carefully closing the door.
(12) After Room Service Issues
After delivering service finally it's time to remove used tray and table. It will depend on the hotel's policy. There may be special staffs from tray removal or housekeeping unit may perform such duties. Try to get guest comment or complaint in order to improve your service quality. Add guest suggestion and feedback in your planning.
So, that's the end of this tutorial. We are going to publish around 150 page of room service training manual which will give you ever single point of information about how to maintain a perfect room service business. The book will come in both ebook and printed format. Hope you will love to grab that. Wait for our official announcement. Till then Good bye.