Room service department of a hotel is generally a sub division of Food & Beverage department. The size of the room service staff depends on the size of the hotel, room service hours, and the number of guests who usually order room service. The room service manager supervises all room service operations. The employees who deliver the food to guests' rooms are called the room service servers.
Note: This article is from our brand new publication "Hotel Room Service Training Manual". WE HIGHLY RECOMMEND EVERYONE TO COLLECT THIS AMAZING TRAINING GUIDE. There is no other single training manual available in the market written entirely on Room Service. Go ahead and get your copy from HERE.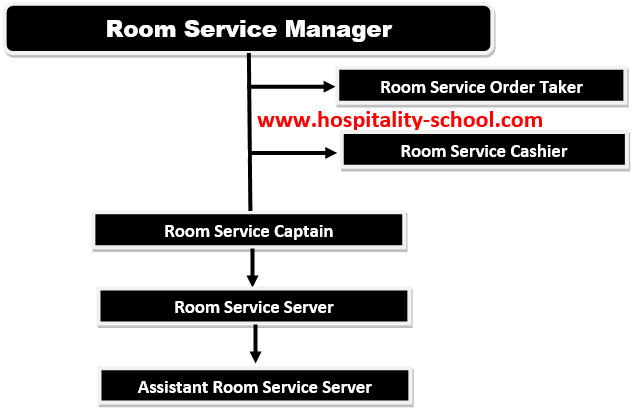 Members of a Hotel Room Service Department
Room Service Manager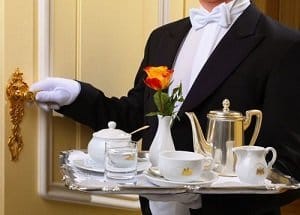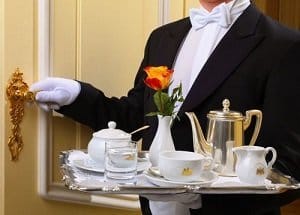 As the name suggests, room service manager is the highest position in room service department. A room service manager is a department head. This is very challenging positing which needs certain levels of experience and knowledge. The position demands practical working experience in room service department and at the same time managerial and administrative skills and knowledge. Even a good knowledgeable hotel staff who may have prior experience of working as a waiter but don't have any experience to push a room service table or has never operated the telephone switchboard will certainly have a difficult time managing this department.
A room service manager must establish strong discipline and set high standards of professional attitude. Generally, a room service manager has very little chance to meet a guest face to face. Most of his tasks need to be performed from backend. So a strong administrator is best-suited for this position. Good scheduling skills are necessary to adjust the payroll since a manager has to shift his staffs consistently. Since the department operates all days a week and in many cases around the clock, a number of skilled assistants are necessary to keep the department operating.
Most hotel companies impulse management trainees to spend some time as room service assistants so that they can work independently and acquire different layer of service experience. Basically, room service is quite different from dining room service since the job as because servers work in guest's room and without direct supervision. As soon as the servers leave the room service department, they are on their own.
Room Service Captains
Big hotels with many hospitality suites or those that are in the luxury class and hotels whose guests often prefer to entertain in their suites, require room service captains. Room service captains sell and serve parties in suites along with other responsibilities. In case when no parties are taking place, at that time they work as supervisors dispatching orders and inspecting tables.
Room Service Servers
The way HR managers hire servers or waiter or dining rooms, the exact criteria can be applied while selecting servers for room service department. Like all servers, room service servers should be hard-working, professional but friendly and cheerful. They get enough chances to make a lasting impression on guests.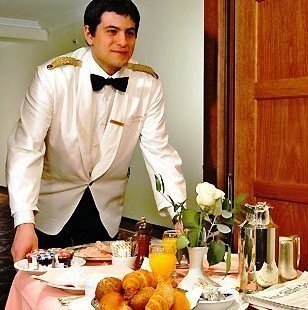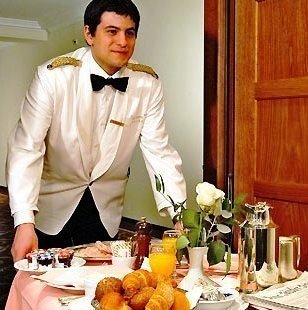 Room service server should be a mature person and enthusiastic to work on his or her own. He or she should also be trustworthy. Because of the nature of the job, servers have to enter people's temporary homes where they may find their guest involved in different activities or different situations. So room service servers should be professional enough to encounter such strange and embracing situations and keep the secrecy of guests within him or herself where some of the guests could be very famous ones.
The Trend has been made that room service servers are to be males. But it is advantageous for a hotel to have also female servers on the staff although female servers may also welcome problems like sexual harassment.
Order Takers
Even though it may not sound that much important but in reality order takers do hold a significant position in the department. Usually, they perform the same job as captains in dining rooms without getting the opportunity to see the guest and having gratuities. Order takers get fixed salary, and they work behind the scenes.
They are the first contact between the guest and the room service department. They are sales people and are knowledgeable about the ingredients of dishes, the daily chef's specials, the names of mixed drinks, the wine list, how much time needed to be served, cooking preparation etc. This is not very easy because order takers work in isolated offices and rarely see the food before it is sent out and most importantly guest may ask tons of questions related to the food and service and they should be well-informed and smart enough to answer each question properly. A good hotel should train an order taker by giving the opportunity to taste every single item provided by room service department so that they can take note and from their experience answer guests. This will be helpful for them to sell those items enthusiastically.
Order takers should be good listeners. All information taken over the telephone must be noted down properly. Because when an order is delivered to the room and an item is missing or wrong, it is very difficult and annoying for the guest to have the situation corrected.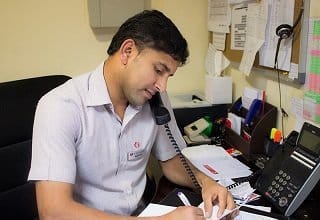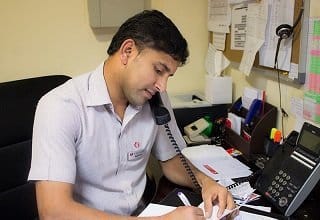 Order takers should have guest complaint handing competencies since they are the first persons who have to handle complaints if anything goes wrong related to room service. Most complaints are about delays, some of which are unavoidable. The question then occurs that how honest the order taker should be when delays occur. The most popular standard answer is that the food is on the way, wait for few more minutes. The department does not want to lose sales, and often the order takers are instructed to promise delivery times which cannot be kept.
This practice is not justifiable to those guests who have appointments and can be troubled by delays made by room service department. Sometimes guests call to the room service department numerous times and eventually cancel the order when they cannot wait any longer. This is the worst situation where the hotel loses twice. You may wonder how. Let me explain.
First, it makes a guest very annoyed, desolate and unhappy and this person will most likely never become a repeat guest and may go to a different hotel on his or her next visit. Second, the order was probably being prepared or at least chef started preparing it or even may be it was on its way. So the hotel then loses the food and the labor.
Time orders are most critical, which is orders placed the day before with a specific delivery time stipulated. Even with the best planning and staffing delays can occur when a number of orders exceeds capacity. In such situations when a delay occurs, the order taker should be honest and inform the guest lot earlier. Time orders should get preferences over all other orders. When new orders are placed, a realistic, feasible delivery time should be mentioned.
Complaints about food and service are rare but could be a lot harsher than in that of in the restaurants. People in the privacy of their rooms are trends to be more vocal and critical than in a public atmosphere. Sometimes they also drink a bit more than they would in a restaurant which triggers them to be lurid and vocal. When there is a serious complaint, a member of the management team or a room-service captain should go to the guest's room, investigate the problem and apologize. A normal telephone conversation in such a situation may not be enough.
Room Service Cashiers
In most cases, cashier's used to be from outside of room service department. He works for the Accounting Department and is not part of room service, but they obviously play an important role. Smaller hotels make a position of cashier-cum-order taker. These employees are then trained for both capacities. Cashiers must be easily accessible to the room service servers since checks must be posted as quickly as possible.
During breakfast which trends to be the busiest time for room service department, many guests want to check out fast. At that very time, if cashiers are not closely located there buys waiters have the propensity to hold checks for not to lose time. This is not a good practice since it increases chances that those checks may not be stamped on time. So whether guests pay in cash or by check or credit card, the room service waiter should manage time to visit cashiers to complete the transaction.