Guests are considered as the king of hotel business. Hotels make profit mostly through selling rooms to their guests. If a hotel wants to build long term relationship with the potential customers then the guest should be treated with proper care and respect. Only qualitative service and good manner will make the guests to come again in the hotel.
Whenever any guest come to a hotel for the first time then often he/she consider some factors for booking a room. Among many, an excellent manner of the hotel is one of the most important factors that a guest looks for during registration for a room. If a guest is cordially welcomed by the hotel then the first impression that is created in the guest's mind, impacts a very good effect. Even when a guest receives qualitative greeting during his/her first contact with the hotel then it can also play a vital role for making a long hotel-guest relationship. So the first impression of the guest should be very positive for building a long-term business relationship.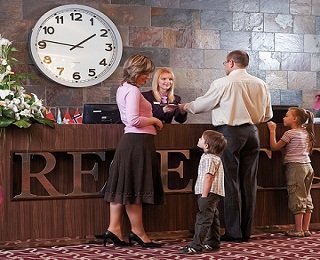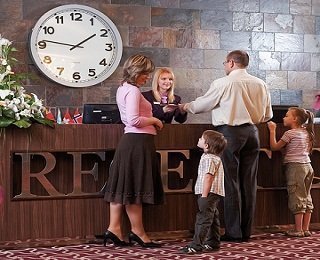 When a guest comes for booking a room then the guest has to deal with the front desk agent and the first contact that a guest makes is with front desk office. Not only front desk personnel but all hoteliers should be well mannered and highly professional with the guest during his or her stay.


If a guest is not satisfied at first meeting then he/she will be reluctant to come back to the same hotel. So the hotel should make all arrangement for guest satisfaction and to ensure their future business with him or her. If the first impression leads a negative effect, then first contact between guest and hotel will not be fruitful. If the front desk agent does not genially receive the guest then the guest may lose his or her interest about the hotel service including hotel accommodation.
The negative impression may continue till his/her staying in the hotel. For example a gust does not get warm welcome at first contact but during staying in the hotel though he/she receives good service, the guest will be more prone to find fault with the hotel during his or her visit.
When a guest enters to a hotel, he/she will expect to get cordial welcome which combines with etiquette and manner. Make best use of widely used English expressions for proper greeting. But there is no general rule for welcoming the guest. Different hotels make different arrangement for guest's welcome. Even different employees have their unique approach for greeting their guests. So it could vary from various aspects.
Jovial welcome is necessary for building first impression to the guest or establishing a long continuing relation but sometimes it is also can remove all tiredness of a guest due to journey. There could be several reasons which can make a traveler stressed during his/her travel, such as-
Unscheduled journey

Delayed schedules

Lost of luggage

Jet lag due to journey in another country

Lack of proper arrangement of meal

Unfamiliar surroundings in travel destination

Lack of knowledge about travel destination


Unfamiliar public transportation etc.
After passing all these trouble if a guest reaches to a hotel and receive a very pleasant greeting with warm welcome then most often the guest become fresh and forget all tiredness. So the front desk personnel should have the courtesy to realize the traveler's inconvenience and always should be ready to receive the guest with greetings.
Most of the guests come to the hotel with prior booking but there may also some walking guests who come to hotel without prior reservation. Sometimes hotel can provide vacant room to the walking guest. But sometimes the authority finds no option to provide vacant room due to overbooking, prepared room or even if the guest comes at before check out time. If a guest comes to the hotel without reservation and there is no vacant room then the front desk agent should politely describe the situation and should help the guest for getting reservation in another hotel by suggesting some names of nearby hotels. Even if the guest is unaware of the surroundings then if possible the front desk agent should give some contacts numbers of hotels that he/she could get a reservation.
A guest can come to a new city for attending a business meeting, or for sightseeing or for any reason. But whatever the purpose of the travel is, a well equipped lodging facility is required by every traveler. A guest always first seeks for a good hotel with qualitative service.
So every hotel should ensure the quality service first. The employees should be trained in proper etiquette and manner that they could show friendly behavior towards the guest and welcome them with pleasant manner.
Every hotel should have their own approach to welcome and greet the guest to make first guest contact fruitful for both guest and hotel as the first guest contact is the way to provide assurance about a well organized lodging facility and good service.