In different countries hotels have different configuration in their guest's room. But there are some basic room amenities & features which are common in every hotel. For example, as the prime purpose of any hotel is to provide a place for sleeping, so all guest rooms must accommodate with a bed of some different kind, phone, television, and a bathroom. Though most of the North American hotels have same configuration in their guest's room, but all European hotels do not have a private bath.
Apart from these basic objects, hotels differ significantly in guest's room makeup. A well accommodated guest room often describes the service level and target market of any hotel. While these industry classifications put a higher emphasis on service levels, the guest room makeup is also very essential to raise the service level. Even industry ratings (stars and diamonds) are given to any hotel based on the makeup of their guest rooms. Based on the Service classifications (luxury versus budget or economy), makeup and interior decoration of guest room are configured. When consumers seek for a hotel room, they come with some basic understanding. If they are seeking for only room then requirements are same. But if the consumers are looking for a facility for more than just the room, like to build a resort there should also have some other attractions or due to a group or convention meeting facility, then requirements will vary.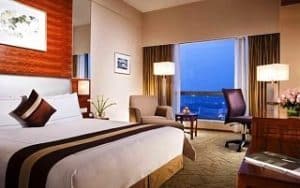 Because there are huge differences in the quality and classes of hotel industry, there must be differences in the service level and guest room makeup in the different hotels. It would not be possible for every hotel to provide same kind of amenities and service. Such as bed sizes can differ often between queen and king for single occupancy, to double or twin for double occupancy. Furniture and other case goods also can be different extensively. National hotel chains spend millions of dollars a year to distinguish their product from other hotels and to raise the service level. Some hotels also put some interest line in their product, such as:
"Our beds are softer,"


"Our TVs are larger," or 

"kids eat free".

Though guest room configuration may vary accordingly, but there is a standard configuration of every hotel room including universal items.
Typical Hotel Guest Room Amenities
Pull out sofa beds or Murphy beds. A Murphy Bed is a bed which is kept in the wall of the room and pulled out when needed.

In-room safes.

One or more nightstands beside the bed(s).

In-room workstations (desk, lamp, chairs, etc.)

Coffeemakers.

Vanity areas in or next to the bathroom.

Irons and ironing boards.

Clock radio or alarm.

Closet(s).

Dresser(s).

"Blackout drapes," which are a second set of drapery that darken the room for sleep.

Hotel collateral like room service menus, hotel facility summary, safety information, chain brochures and so on.

Local phone directories and activity guidebooks.

Phones including a message light to signify a waiting message. Now most hotels offer in-room voice mail in addition to written messages that is taken by PBX.

Several chains offer retrieval of written messages on a closed-circuit TV channel. These in-room TV offerings also include other services such as account review, summary of available hotel services, a listing of meetings taking place at the hotel (called a reader board), and other services.

The in-room television generally offers a selection of movies. VCRs and DVD players are also sometimes attached to the TV, or available for rental on request.

Video games may also be available.

As the use of laptop computers are increasing for business tourists or guests, so data ports are becoming universal item in-room offerings.

Glasses and ice bucket.

An in-room "honor bar" is offered at many hotels of the mid market service level or higher which is stocked with snacks and beverages. These snacks and beverages are charged to the guest based on their consumption.

Many hotels will deliver complimentary newspapers to the room each morning.
Beside these items there could be some other requested items which are stored by the hotels. Hotel provides those items whenever any guest request or at the time of guest need. So in addition to these offerings, hotels may provide the following item at little or no additional cost:
An extra, portable bed (also termed as a "roll away" cot) can be brought into a room when the existing numbers of beds are not adequate.

A small refrigerator may be available in the guest room in special case. For example if the guest is prescribed to have special dietary or if there is a special diet of infants which need to store. Some medicines also may need to be refrigerated as well.

A bed board may be offered at some hotels to make a mattress firmer and offer greater back support for guest's need.

Feather down pillows may be requested. But some guests may have allergies to feather down pillows, so the hotels who provide feather pillows they should will offer foam pillows to those guests.

Cribs are often available as well.