Hospitality students often have misconception that a course in hospitality management will help them only to build career in hotel sector. But this is not true; beside these areas there other potential areas of job sector are also open for the hospitality students. There are so many career options for hotel management students & hoteliers.

Hospitality students can build their career or seek for job in the areas as follows:
Restaurant or Fast Food Chain

Industrial Canteen

Motels, Clubs, Guest Houses, Theme Parks, Casinos, Health Spas, Retirement Homes

Service Industry

The hospitals

The railways

The Defense Services

Airline

Teaching Institutes as Instructor or Lecturer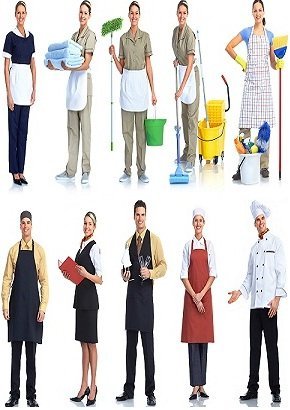 Even a hospitality student can start his/her career in the financial and commercial establishments. Though once these establishments were reluctant to hire a hospitality student, but these days this trend has been changed.
To gain competitive advantage the financial sectors are becoming more conscious about their clients and service. As the banks and other commercial establishments are working as a service industry and everyday they have to deal with many clients. In order to provide the best service to their clients, they have started hiring the people who are skilled in hospitality or experienced in hotel industry.
The hospitality management course helps the students to be skilled and trained in hospitality or clients dealing.
According to a well research survey of international labor organization (ILO), "Out of every 100 students in a given year, 10% work for railways, airlines and industrial catering, 7% return to HMS as faculty members and 3% work in hospitals and educational institutions."
So, after working in any hotel industry if it does not provide you any job satisfaction, or if you undergo the feelings that working at odd hours is not really your cup of tea, then you can join any of these following related fields which can match your job interest.
Jobs in Airlines
The hospitality students generally have expertise in catering and management along with politeness, courtesy and helpfulness which they acquire during their hotel management course. In airline industry these capabilities are considered as the most precious quality to attract their passengers.
Therefore, airlines often advertise for the posts of fight stewards and pursers particularly for hotel management graduates. The job of a steward or a purser is to puts down together all meals for passenger in the aircraft kitchen and serves food and beverage to the passengers. The women who has a hotel management degree or who trained in catering also can apply for the post of air hostesses.
Working at airline could be better option for you rather than working at the hotel industry. Most of the airline industry have very good pay scale which is usually higher than the hotel industry. Moreover, your job as a steward or an air hostess will give you the opportunity to travel around and enjoy the service in 5-star hotels as a guest, instead of a staff member.
Jobs in Catering
After hotels, catering is such an area which can be best suited to your job criterion. A course in hospitality management provides training in production to the hospitality students. And catering is all about doing business with food. So, if you are a hotel management graduate then you can easily choose industrial, institutional or private catering as your job sector.
The industrial catering means operating or assisting to run a canteen in a factory or office. Such canteens may have expertise in serving meals for hundreds of workers a day. But in case of industrial catering meals should be provided within required time. The activities of industrial catering include various tasks, such as preparing foods and administering the work of cooks, helpers and other staffs of catering, ensuring cleanliness and hygiene of the place, maintaining and acquiring the proper equipment, hiring and training workers and providing the best possible service within a fixed budget.
The functional activities of institutional catering are quite similar to the industrial catering. For example, to provide quality meals on time and the best value within a fixed budget, ensure hygiene and cleanliness of production area and so on. The diet should be planned according to the type of institution and nutritional facets have to be supervised and assured.
But like above, this catering does not prove food to the factory or office workers. Institutional catering provides meals for a school, college, hospital or other non industrial institution.
And private catering consists of operating a small restaurants or home catering services. It can provide home catering service in regular basis. Private catering also provides particular type of food such as cakes, or any regional special food on special occasion or for parties. Now a day the business of private catering is getting popularity in all over the world.
Jobs in Restaurants and Fast Food Chains
In the whole world, there is great demand for graduate hospitality students in restaurants and fast food chains. Famous and popular restaurants and fast food chains such as Kwality's, Dominos, Dunkin' Donuts, McDonalds, Shake Shack are involved in providing food to the guests. To provide the qualitative service these chains choose hospitality students for their own benefit as they are trained in hotel service and production. Though these chains are not hotels but they find the expertise of a hotel management graduate precious in looking after all aspects of the restaurants.
Jobs in Tourism Industry

Various job sector are open for a hospitality graduate in tourism industry. Tourism industry of any country involve any tourism related area, such as tourist offices, travel agencies and tour operators, airline/maritime/railway companies, convention organizations, Ministry of Tourism, international organizations, etc. so you can seek for job in any of the above segment of tourism industry.
Jobs in Teaching Institutes
There are many hospitality education providers in the world where you can build up your career. You will find many local institutions who recruit lecturer or instructor for teaching purpose. Your experience will be best valued there.

If anyone wants to choose his/ her career as a teacher or instructor or a lecturer then special post graduate courses are available. There are many institutes which offer post graduate courses. Some of the well known universities offering post graduate courses are:
The PUSA institute

Cornell University

Les Roches

Queen Margaret university
But all teaching institute do not require post graduate or any special training. Hotel management graduates can give lecture in polytechnics or institutes who provide short- term courses in food production, catering, housekeeping etc. without further training or post graduation. Post graduates are basically must, if anyone wishes to teach in hotel management institution. In addition, there is also an opportunity to do post graduation courses from home which is known as online training.
Jobs in Motels, Clubs, Guest Houses, Theme Parks, Casinos, Health Spas, Retirement Homes, etc.
These above options are also part of service industry. So, you can utilize your service knowledge and skills in these job sectors. You can also set up your own venture rather than employment. Especially newbie hotel management students who don't have any prior experience, can start their career in these sectors before seeking for job in hotels.

Jobs in Food Industry
The food processing manufacturing and distributing industries and companies is another opportunity where a student of hotel management can seek for job. Professional hoteliers who have experience in working kitchen can be suitable option for food industry because of their relevant knowledge in food & beverage.

Enjoy This Tutorial in slide Show