Many hotels are determined to hire qualified attendants who will represent the dignity of the hotel. These attendants are expected to meet all the qualities matching their duties and responsibilities, education levels, medical qualifications, work experiences, and the hotel's desired outcome or profitability. Additionally, many hotels and restaurants have public spaces such as lobbies, hallways, and restrooms. These areas need to be cleaned frequently and upgraded to attract more customers. Therefore, hotels hire public area attendants to keep these places clean and safe.
Although public area attendants are a bit janitor, they are also highly concerned with customer satisfaction. They are responsible for a particular part within the hotel rather than the entire facility. Furthermore, beside the hotel public area attendant's primary duty is to maintain the hygienic of these areas, there are other duties and qualifications for the job as outlined in the job description.
DON'T MISS OUR SPECIAL LIMITED TIME DISCOUNTED OFFER ON OUR PREMIUM TRAINING MANUALS. CLICK HERE: www.hospitality-school.com/training-manuals/special-offer/
Duties and Responsibilities of Hotel Public Area Attendant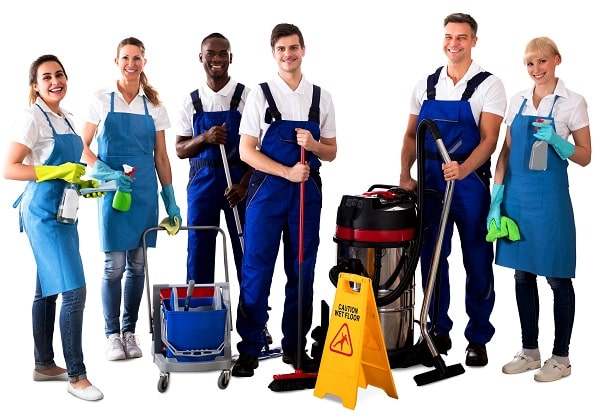 The hotel public area attendants are responsible for the general cleanliness and safety of all public places in a hotel. This means lobbies, restrooms, and hallways are expected to be clean the whole day, seven days of the week. Besides the attendant being friendly to the customer and possess a positive attitude, they are expected to;
Clean rooms, hallways, and lobbies at all times.

Clean, maintain and arrange hotel and banquet halls.

Clean or sweep the floor carpet every morning.

Empty and organize ashtrays and urns immediately after the customer leaves.

Polish furniture and fixtures at all times.

Clean, vacuum, and polish elevators.

Keep the hotel's front free from trash to prevent insect breeding, limiting customers visiting and booking hotel rooms.

Clean rugs and upholstered furniture using a vacuum cleaner, broom, and shampoo machine.

Wash walls and ceilings, arrange furniture, and change bedsheets, covers, and mattresses.

Sweep, polish, mop, scrub, or wax floors.

Wipe the dust and polish metal surfaces.

Collect solid linen on floor and linen closets.

Arrange and maintain housekeeping carts.

Removes trash collected by room attendants and throw them in the trash bin.

Attend all the daily or weekly briefings for functions and events held by the hotel management.

Attend to all daily assigned tasks in toilets, lifts, back areas, and terrace.

Clean, arrange and maintain hotel equipment.

To follow up on a unique cleaning schedule given by the housekeeping control desk.

To report any maintenance issue to the supervisor or housekeeping control desk immediately, they notice it.

Comply with the Lost and Found policy of the hotel.

Offer assistance to the hotel guests in public areas when asked.

Have full knowledge of all hotel facilities, working hours, restaurant sections, shops, and conference rooms.

Maintain housekeeping closets inventory.

Post any caution signs according to the requirements of the hotel.

Follow all the departmental policies and procedures at all times.

Upkeep all the equipment they use, such as vacuum cleaner, trolley, and scrubbing machine, and ensure they are in a good question.

Maintain a cleaning schedule.

Authorized to enter management offices for maintenance and other activities like pest control, carpet shampooing, and arrangement.
Education and Experience of Public Area Attendant
Most hotel public area attendant jobs are entry-level positions. This means they do not demand higher education levels. Only a high school diploma or equivalent grade is enough to be hired as a public area attendant in any hotel. Alternatively, some hotels will hire attendants without a high school diploma as long they have relevant work experience. However, having a higher education level is an added advantage that can make you chosen and not other applicants. Furthermore, most hotel public area attendance training is on the job where the selected applicant gets familiar with the working environment.
Skills Needed to be Public Area Attendant
The job description for hotel public area attendants indicates that the applicants should have the following skills;
They should be detail-oriented because they are required to spot safety hazards and items that need cleaning.

They should be able to initiate a positive impact and adapt to changes within the working schedule.

They should read and write English proficiently enough to read and store chemical agents used for cleaning safely and communicate easily with hotel guests.

They should perform various duties, often changing from one task to another and still meeting deadlines and established timeframes.

They should work independently and comfortably with little or no supervision early in the morning and late in the evening.

They should possess a positive attitude to work with other hotel attendants and maintain good relationships.

They should present the previous property management experience or possess property management skills.

They should also be trustworthy.
Working Conditions for Public Area Attendant
Hotel public area attendants are expected to work both indoors and outdoors. Attendants working indoors are likely to be exposed to some hazardous fumes, substances, and blood-borne pathogens. This means an indoor working environment should be well lit and air-conditioned. Outdoor public area attendants are also exposed to hot sunburn and light. Therefore, they should always have protective gear to cushion against excess UV radiation. Additionally, hotel public area attendants must be flexible and willing to work extra hours, including days, nights, overnights, weekends, and holidays when their services are needed.
Physical Requirements to be a Public Area Attendant
Hotel public area attendant should be able to;
Stand and walk throughout the shift for up to eight working hours.

Frequently carry and lift up to 50lbs daily.

Kneel, push, pull, and lift items throughout the shift.

Occasionally ascend or descend stairs.
Conclusion
Since public area attendance is a physically demanding job, applicants are generally expected to be physically fit to avoid various injuries while on duties. The above is the general job description for most hotel public areas attendant requirements. However, the description is likely to vary based on the hotel's nature and management preferences. Additionally, some application forms may indicate asking salaries for the applicant to have a clear picture of the expected wages and the negotiation range.
ATTENTION
We have a huge collection of Hospitality Training Manuals, Videos, Hand Notes etc. Please Email us for your order: