You may get to a function and get served with very appealing salads looking fresh and appetizing. Do you ever wonder who's behind that great magic? Well, it's the garde manger. Garde mangers prepare cold foods plus cheese plates. Some employers prefer offering them an entry-level position for basic food preparation. If they have more extensive knowledge and experience, they can be allowed to work in the kitchen. The term garde manger arose from a French word meaning 'food keeper.' In the context of food service, it mainly alludes to a chef responsible for cold food preparation. They also referred to as pantry chefs, sous or pantry supervisors. Their main task is making cold foods created in the main menu.
Job description
Garde mangers usually act to oversee culinary works in their service station, adhering to the restaurant's standards and regulations. They monitor food production and quality control of various foods in the cold kitchen, including meat, fowl, and fish, among others. They're also responsible for unique cold kitchen cuisines, and other beverages and foods. Additionally, they are in charge of all the physical cold kitchen aspects- supervising, preparing, and serving food. They further ensure equipment maintenance, cleanliness of the area, and general sanitization.
Don't Miss Our Very Exclusive Premium Training Manuals. Click here to avail our Special Limited Time Discount Offer (Offer Ends very SOON):
https://www.hospitality-school.com/training-manuals/special-offer/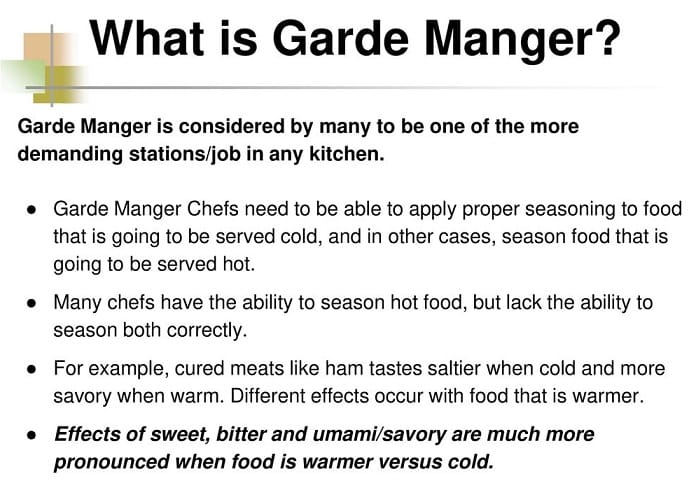 Education and qualifications
A bachelor's degree in culinary service or a diploma in the same.

Have working experience of at least two years in the field.

Fluency in both written and spoken English.

Basic knowledge in computer and inventory systems use.
Skills and abilities
Excellent knife skills such as chopping, slicing, and food dicing into equally shaped sizes.

Excellent communication skills.

Great interpersonal skills.

Have mechanical knowledge in using slicing machine, cryovac equipment, juicer, and other small wares.

Working in different shifts, including morning, night, weekends, and holidays.

Have all the cooking fundamentals in the area.

Ability to work in a team.

Ability to select, prepare, and accurately present cold foods ranging from salads to cold desserts and meats.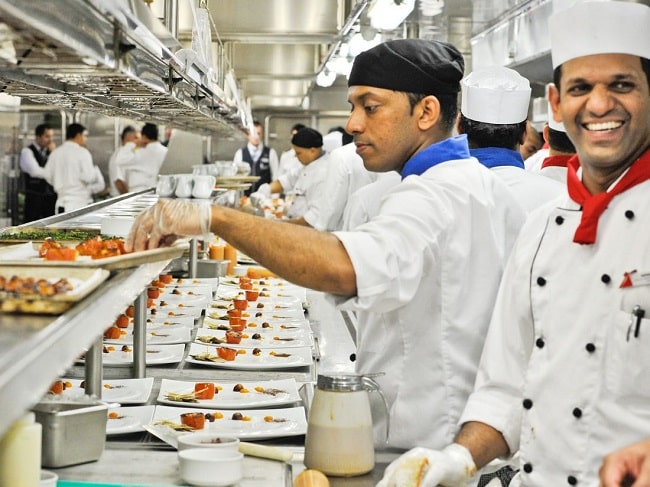 Duties and responsibilities
Follow guidelines, recipes, and the Executive chef's standards to prepare cold foods.

Preparing any dish using recipes and yield guides.

Preparing supply requisitions and food items for production.

Date and correctly label all products for sanitation and safekeeping.

Assisting in cold food preparations such as salads, cold cuts, salad dressings, sushi, among others.

Inspecting and selecting only high standard foods in preparing all menu items.

Tracking and monitoring proper product storage, ensuring adequate portion control of meat to maintain product quality.

Keeping clean all equipment, refrigeration, and working areas to abide by the health department standards.

Ensuring assigned areas have adequate supplies as per the day's production sheet, daily menus, and banquet functions.

Effective communication with other staff members for accomplishing and addressing any issues of concern.

Collaborating with the Executive Chef for menu development and banquet menus implementation.

Maintaining proper equipment maintenance knowledge and use.

Complying with all departmental policies, standards, and procedures for efficiency.

Controlling wastage and food overproduction- ensure proper rotation, leftovers utilization, and quality control.

Assisting in general cleaning using the provided products as you adhere to the health standards.

Planning, preparing, and timely set up for quality service providence to every outlet in need of a manger's service.

Establishing and overseeing the production of bulk for outlets.

Maintaining strong communication, conflict resolution, and leadership skills.

Utilizing the company's established food cost procedures, food quality, and labor charges.

Attending every kitchen meetings without failure to keep all garde mangers updated on information about the hotel activities.

Helping the Executive chef in maintaining the overall cleanliness of the area and equipment maintenance.

Assisting the Executive sous and his/her assistant in ordering food supplies and handling weekly or monthly inventories.

Helping the Executive chef in the training of new and recently employed persons to add value to the hotel.

Assisting the Executive Chef in controlling and reinforcing the company's safety policies, health department regulations, and others necessary.

Doing all other tasks as directed by the management.
Salary
A report from SimplyHired.com stated that averagely, chef mangers earn $27,000 as of January 2013. Another study conducted by Star chef reported that Executive sous- related to chef manger job, received $42, 130 as of 2011. It further suggested that the salaries varied depending on the geographical location of employers, highly populated cities with properly established dining areas giving the most pay.
The job outlook
The garde anger prospects projections aren't easily defined as modern restaurants have cooks sharing their duties like transforming today's remnants into the following day's special. If you look at the entry-level garde manger jobs as stated in the Bureau of Labor Statistics (BLS), the 'cook' group project 13% increase for hotel cooks and 15% of other hotel workers. The mentioned figures omit the vacant positions of mangers leaving the career. On the other hand, manger chefs have included in the BLS chefs and head cooks category, meaning there's no projection of employment growth through 2020.
The good side
Specialized chefs in garde manger positions have the advantage to exploit their interest in traditional and artisanal food preparation. Most restaurants are managing their meat, making pates from ingredients to attract more customers looking for unique meals.
Therefore, garde managers looking for jobs should be in a position to provide competitive skills to get these employment opportunities, more so those willing to transfer. The ones who can make leftovers to serve the next day have a higher chance of getting into the big hotels in the country. Others with entrepreneurial minds can establish their company, supplying to local hotels and restaurants.
Limiting factors
The manger job growth can be limited, including the fact that most of their duties are performed by other cooks, leaving no space for having a specialized person in the area. Consequently, most restaurants with budget constraints won't find a reason for filing such positions. Cooks may not be able to do the work correctly because the job requires proper training and experience. Those who have additional training besides general cooking will need higher compensation. Food taste changes also make traditional skills old-fashioned, leading to low profiling of the modern buffets that comprises a significant role played by garde mangers.
The Bottom Line
The garde manger chef translates from a French term meaning, 'food protector.' These chefs paly the primary role in restaurants in dealing with cold food preparation. For instance, they prepare salads, frozen or cold desserts, meats, among others. They again handle leftovers for serving on the following day unnoticed. For one to qualify as a garde manger chef, a bachelor's degree in culinary or diploma is relevant. You also need at least two years of experience in the profession and fluency in both written and spoken English. You should have knife skills such as slicing, chopping, and dicing foods into similar presentable portions. Furthermore, you need mechanical skills in operating kitchen equipment and machinery plus flexibility in working shifts. To illustrate, you should be able to work at night, daytime, or over the holidays and weekends. The above article gives more information concerning the duties and responsibilities, refer to it for getting knowledge about garde manger chefs.