Are you looking to serve in a restaurant as a steward? Perhaps you came across the job title and didn't understand what it's all about. Well, a kitchen steward is a service giver helping in a restaurant's cleaning services, making certain that everything is kept orderly. Their work is ensuring the availability of all needed supplies by the staff's restaurant and customers. They further keep the dining areas' sanitation up to standard and restocking where necessary.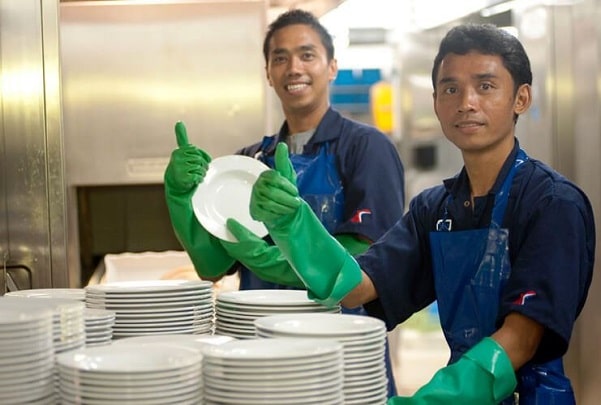 Sometimes employers aren't strict on your practical at the beginning. Therefore, it may let one work at the entry-level restaurant job without having formal training, to help you learn and become perfect with time. The position is good, especially if you like being on toes or in need of a part-time hustle. It's a great start as it may lead to obtaining another advanced position in the same place. This article discusses a steward's job description. Let's see.
Kitchen Steward or Dishwasher Job Description
A restaurant steward works the same as a kitchen dishwasher. They've got a wide range of work. For instance, making sure the kitchen is clean and workable throughout their shift. They do that by washing out food remnants and dirt from pots, plates, pans, miscellaneous stuff, glasses, and service ware. 'It could be using a washing machine or hands.
It's a position requiring multi-tasking ability and incredible organizational skills. You sometimes may need technical expertise and mainly mechanical knowledge for handling electric appliances, including trash compactors, dishwashers, and glass crushers, among others. It primarily needs attention to detail as far as maintaining equipment and working in state, federal, or in house regulations for sanitation and safety are concerned.
Their work may go beyond just cleanliness of dishes, tables, dining areas, and collecting and disposing of trash. You should prepare to move from place to place, spending over 80% of your shift standing. Some restaurants may ask you to help in stocking truck deliveries, whereby you'll lift light and bulky items to their respective destinations.
Qualifications and Requirements for Kitchen Steward or Dishwasher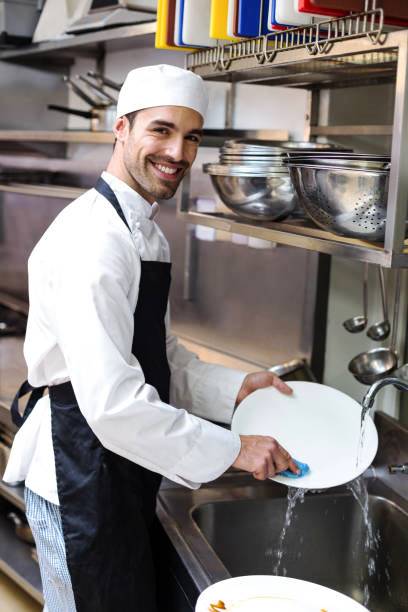 Are you worried about your education level thinking it might be a disqualifier? No, don't. Most steward job positions don't strictly require academic papers. It allows even high school students to get an opportunity to earn from showcasing their consistent hard work. But, a few restaurants prefer hiring those who have at least six to twelve months of working experience in the same.
Once you get approved for the job, you'll undergo training and orientation of how the restaurant operates. You may be given an experienced dishwasher who's been there for some time and understands how the hotel runs. They'll take you through all procedures, including safe use of the electric machines and washing chemicals. Requirements could include things like occasional pushing, lifting, kneeling, and pulling. It may be better if you can comfortably ascend and descend stairs, ladders, and ramps for swift movement.
Kitchen Steward or Dishwasher Skills
Working ability under fast-paced and pressured work environments.

Reliable and highly responsible.

Strong interpersonal skills with problem-solving abilities.

Excellent communication skills and being organized.

Calmness and courteous, giving the required attention to guests all the time.
Duties and Responsibilities of Kitchen Steward or Dishwasher
Ensure floor cleanliness at all times of their shift.

Always ensuring the kitchen organized, well maintained, and clean throughout.

Following the company's hygiene standards and regulations in ensuring maintenance of a hygienic working environment.

Abide by all sanitation guidelines provided.

Helping cooks and servers when and where necessary.

Clean and make the waste bin area tidy.

Proper waste disposal as per the authority standards and hotel's instructions. Also, adhere to the recycling guidelines provided.

Follow the restaurant's established procedures for collecting and removing trash from all operation areas.

Checking all chemical levels plus their inventory.

Proficiency and knowledge in operating industrial dishwashers.

Ensuring cleanliness and working order of all equipment.

Follow the given procedures in cleaning large equipment as assigned.

Regularly use the safety data sheet to have information about safe and proper chemicals used in the work area.

Cleaning and sanitizing pans, utensils, pots, pans, including minor equipment usually used in the kitchen following the given procedures.

Maintaining floors' and walls' cleanliness of the kitchen and dishwashing region as per the established instructions.

Ensuring proper general cleaning through sweeping, mopping, bin emptying, washing. All items are in their correct places and containers.

Washing, wiping, sorting, and stacking all dishes.

Loading and unloading the water container or dispensers.

Workstations' cleaning and sanitization.

Sorting and stacking all clean items in an orderly and safe way.

Using and maintaining every equipment and machine as described by the manufacturer and department instructions.

Remove any breakages and cracked items from the central circulation, giving timely updates for earlier replacement.

Reporting all maintenance problems to the senior steward or manager.

Always ensuring maintenance of a clean working and safe environment.

Doing all duties as assigned.

Giving assistance in serving food and drinks to guests and customers in the dining area.

Help in preparing food when asked or as directed by the duty chief or manager.

Upon hard work and excellence in performance, a kitchen steward will, in most cases, be allowed various growth opportunities.
Salary of a Kitchen Steward or Dishwasher
Salary or wage payment is mostly determined by the years of experience in the area. A report by Payscale.com says that averagely, stewards get between $ 9.20 and 4 14.80, noting that they quickly change to other occupations. It further listed the annual wages with experience such as $19,000 from zero to five years, five to ten $20,000, ten to fifteen $ 21,000, and over twenty$20,000.
The Trend in Job Growth
Despite the BLS (Bureau of Labor Statistics) reporting an overall increase of the job's growth by seven percent from 2016 to 2026, this COVID-19 pandemic period will tamper with the statistics. There may be a slower dishwasher growth rate. Most restaurants may have a more significant turnover as workers might completely shift to other work industries or chose different roles. By doing this, there's a chance for newer kitchen stewards to join the industry and start earning from the available free positions.
The Bottom Line
A kitchen steward is basically responsible for maintaining a restaurant's general cleanliness. For example, they ensure proper sanitation of items like plate, pans, spoons, kitchen area and dining, crockery, kitchen machinery and vessels, among others. They mop, collect dirt and remnants to the dustbin, and ensuring everything is kept in order. Concerning the work qualifications and experience, most employees aren't so strict on education requirements. However, some hotels pay according to your experience time. The majority of employers will at first allow you to go through orientation as you get to familiarize yourself with the washing equipment, machinery, and other duties.
As a steward, it'd be best if you occasionally ascend and descend ramps, stairs, and ladders because of the duties expected. Be prepared to stand for almost all the working hours, moving from one area to another, giving service to guests and fellow employees, besides your leading cleaning roles. Among other skills is you should be excellent in communication, give exemplary organizational aids, provide problem-solving abilities, among others. Kitchen stewardship is such an amazing job, more so with commitment and focus on your goal.