If you love working in functions and events such as weddings, birthdays, General Annual Meetings, and other celebrations, you can choose to be a banquet server. Banquet servers work as members of the wait team for catering and banquet events. This kind of job title usually includes the experience level, special requirements, plus skills. It also has a general term that's useful for a quicker show in job searches of the same kind.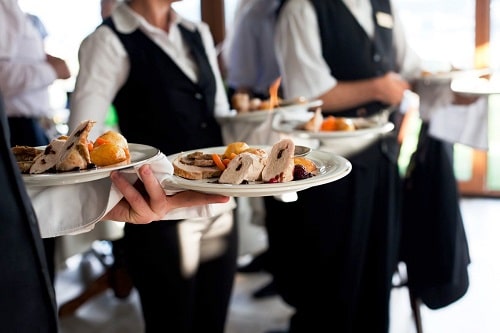 Your level of experience is excellent for attracting your potential employer, giving an appeal of prior knowledge and responsibilities ahead. Sometimes, it'd be okay, including any specializations, for added advantage. When writing an application, it's vital to avoid abbreviations and acronyms used to prevent the reader's questioning. This article discusses a banquet server job description. Let's keep reading for more knowledge.
Topics Covered in this Guide
Job Description
The tasks of a banquet server include roles related to setting up and serving food at events. They are responsible for courteous, efficient, and fine food and beverage service for guests in outdoor and banquet events. They start by welcoming guests, greeting, and serving them whenever necessary. A banquet server also assists in planning, preparing, cleaning, and guests' response to questions, complaints, or requests. Furthermore, they join hands in following through with timely setup and event accomplishment.
Qualifications
In this section, what's needed most is your education level, previous experience, technical skills, and certifications. You may also include soft skills and personality characters to trigger a successful hire. Despite the temptation of having endless skills, it may dissuade others from sending applications. Try and make it as precise as possible but detailed. The following are some of the qualifications;
High school certificate or any equivalences. A diploma in Hotel Management is an added advantage.

Computer basics with experience in sales, banqueting, or billing software.

CPR training is valuable.

Previous job recommendation letters on the same- one or two years.

Should be 18 years and above.

Excellent customer service.

Excellent communication skills and organizational abilities.

Knowledge of catering and service providence in beverages.
Skills
Ability to meet the job's physical pressures, such as stair climbing, standing for more extended periods, and carrying heavy weights.

Interpersonal communication skills.

Excellent customer service.

Flexible working in shifts can be morning, afternoon, or night- weekends plus holidays.

Attentive, courteous, and guests friendly.

Ability to follow instructions.
Banquet Server Duties and Responsibilities
Prepare coffee tables, carts plus stations during breaks, and offer the appropriate beverages or food as defined by the Banquet Event Order (BEO).

Attending every preshift meeting for ensuring a smooth flow of events.

Read, understand, and implement the listed specifications on the BEOs.

Make any needed adjustments and convey the message to the personnel in charge.

Helping ensure events run as programmed by the Banquet Event Course.

Evaluate the event's plans to understand everything from the start. It'd help prepare guest rooms according to the client's requests.

It gives the best dining experience by fulfilling guests' needs, supplying items, removing courses, refilling glasses, and replacing utensils where necessary.

Distributing alcoholic and nonalcoholic drinks on the table to serve customers.

Appropriately give warm greetings to guests and making them feel at home.

Provide and serve welcome drinks, meals, condiments, food, among other accomplishments, as asked.

Have an excellent understanding of product and service related concerns by guests, expressing everything with the best communication skills.

Being keen on opening and pouring wine at the table's sides.

Preparing buffets, tables, service carts, dessert carts or tables, action stations, and cordial carts.

Take orders on drinks and collect payment carefully.

Equip with knowledge on Banquet Beverage Control and Service.

Replace buffet utensils for ensuring consistency and freshness in your presentation.

Ensuring proper attendance to tables by separating and removing plate ware, flatware, glassware, and tableware.

Monitoring tableware to ensure they're presentable before guests.

Doing basic cleaning as directed by the supervisor.

Ensuring proper course clearance and table crumbing.

Maintaining and controlling cleanliness, sanitation, and proper organization of assigned areas and stations.

Responding to and fulfilling any special event's arrangements.

Efficient response to guests in a friendly and timely manner.

Ensuring guests are satisfied throughout the event.

Clearing tables at the end of meal periods and taking to the stewarding section.

Ensuring efficient use and storage of room equipment.

Follow the grooming rules and standards without failure.

Team up with other staff and other departments in maintaining positive working relationships.

Ensuring the resetting of meeting rooms for the following event.

Helping in other additional tasks like cleaning, folding silverware, and stocking, among others.

Preparing rooms for a possible site inspection in case there are no upcoming events.

Passing any relevant information to the next staff on duty.

Maintaining high safety standards and cleaning all room areas.

Ensuring equipment back up in case of any malfunctioning.

Communicating any concerns, needs, and problems from guests to the Banquet manager.
Banquet Server Appearance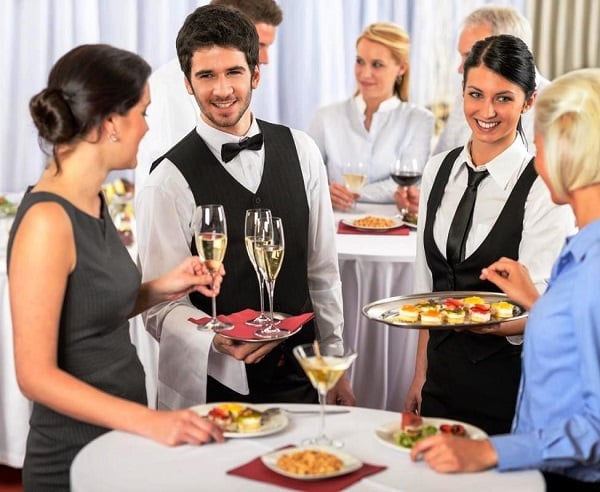 Most employers prefer their banquet servers in uniform. Sometimes we have those providing the kind of outfit required while others will simply give specification. For example, choices can be made of black and white matching such that the shoes and dress are black for ladies, or a black button-up shirt for gents. Some employers will restrict their servers from putting on jewelry, visible tattoo, or hairstyles. It's because they're expected to appear neat and presentable before guests. They need proper grooming upon work arrival.
They should as well have an excellent and fit physical appearance for preparing them for the long-standing hours and movements. Lifting heavy trays of coffee and other drinks won't favor the fragile. At least be able to lift 20lbs weight and move around several times.
Salary
Mostly, banquet servers are employed on a part-time basis. They mainly earn on commission plus an hourly wage calculated as per the total billing of the service given during a function. The token is usually around 15 -18%, divided equally among all service providers of the event. It can vary depending on position and experience. To illustrate, annually, a full-time banquet server got an average of $22,000, on-call $21,000, and managers got $47,000.
The Bottom Line
The primary duty of banquet servers is primarily is providing prompt and courteous service in food and catering services. It could be formal or informal functions. They're responsible for efficient serving and welcoming of guests in an outdoor event. They also take part in planning, preparing, setting up, and responding to guests' questions whenever needed. 
For one to qualify as a banquet server, you at least need a high school certificate or a diploma in Hotel Management Services. Knowing different server software and necessary computer skills is an added advantage. Training in CPR is also beneficial for attending to misfortunes that happen in large gatherings.
You're also required to be physically fit due to the physical job demands. You need strength enough to move around the stairs, ramps, and all over. Don't forget the energy you need for long hours standing and giving services from one place to another. You should adhere to the assigned roles and rules according to the Banquet Event Orders delivered.
One's experience from previous jobs of the same tasks is very crucial. It'd be useful if included in the application to attract the reader's attention to prior knowledge of the duties you'll be expected to carry out. Some employers consider giving salary and wages depending on your establishment, experience, and amount of work. Refer to the above article for details.