The term "Overbooking" is a common practice in hotel or resort. Overbooking occurs when more rooms are booked than availability. Overbooking is done based on estimating the number of no-show reservations, understays, walk-ins and stayovers, in order to meet 100% occupancy.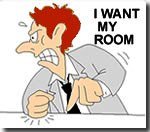 Overbooking is considered as a complex policy for any hotel which is generally administered by the front office manager. According to the American courts, overbooking is praised as "in many cases, overbooking to overcome the problem of no-shows and late cancellations may produce advantages by way of operating efficiencies that far compensate the occasional inconveniences to guests and travelers." The American courts have apprehended hotel overbooking as an expected and justifiable practice which can compensate the losses that are occurred from no-shows. No-show factors are determined based on past experience with guests with confirmed or guaranteed reservations generally who did not come.
Though the policy of overbooking could bring inconvenient to the guests or travelers but hotel authority or front office managers do not practice overbooking intentionally, they overbooked the room to fulfill the financial objectives and to make up the losses arises from no shows. According to the article, "Coping with no-shows, late cancellations and oversales: American hotels out-do the airlines" by Rex S. Toh the no-show rate is anywhere between 5 and 15% in most markets. For example: If a hotel usually has hundred confirmed reservations along with six percent no-show rate, it refers that six rooms  for per night will be unsold. The average room rate of $80 will cost for six rooms $480 in revenue. After one year this total amount will be $146,000 (lost revenue) which will lead the front office manager to make an insistent occupancy management policy according to the management of the occupancy categories of guest reservations. For example, confirmed reservations, guaranteed reservations, understays, stayovers, and walk-ins. Most of the hoteliers ask for the guest's guarantee with a credit card number upon his or her stay and use of different amenities and services in the hotel to make sure their purpose of travel.
Confirmed reservations are given to the probable or potential guests who has a booking for lodging which is privileged for a certain time showing the significant factors in no-shows. The hotel authorities are not obliged to hold the reservation for the guests after the specified time (basically 4:00 P.M. or 6:00 P.M. The front office manage personnel must maintain correct records of no-shows for confirmed reservations. Different types of travelers (corporate, group, leisure and so on) may have confirmed reservations. All guests or travelers will have different no-show rates. Such as,business travelers may have a 2% no-show rate. individual travelers could have have a 1% no show rate and so on. Sometimes a complete analysis of each category may suggest methods to reduce no-show rates.
Guaranteed reservations are developed for the potential guests who made an agreement with the hotel that he or she will get a room. But this group is a less unstable group as the guest usually give only a credit card number to keep the booking. According to that article, comparing to the 10% no show rate for confirmed reservations, the no-show rate for guaranteed reservations was only 2 percent. To detect this huge difference, the front office manager must inquiry these rates of no-shows.
Stayovers include presently registered or reserved guests who want to lengthen their stay ahead of the specified reservation time. By keeping accurate records according to category of traveler could disclose the stayover rate of each category. Such as, a honeymoon couple may want to extend their stay. Likewise, a group of business travelers who come to attend meeting may extend their stay for personal visit for sightseeing.

Understays are applied for those guests who arrive on time but check out before their expected date or time of exit. In most cases it happens that leisure travelers do not find their tourist attraction places attractive. It also could be happen to corporate traveler; sometimes a corporate client may have to return to the office earlier due to business emergency. Like stayover accurate record keeping of guests can helps the front office manager to forecast understays.
Walk-in guests is treated as welcome part of the hotel market. The policy of Walk-in guests can play a vital role in enhancing daily occupancy percentages in the hotel but when it is applied properly. The front office manager of any hotel must be responsive to the functional activity and tourist attractions or local events, business events plan of other hotels, and other local special events. Read How to Handle Walk in Guest Properly in Hotel and resort

There are some common factors which can play a vital role in enhancing the quantity guests, for example heavy tourist seasons, special tourist events, conventions, and so on. A front office manager also should be aware of these benefit factors. The numbers of Walk-in guests are often high if the personnel keep excellent collaboration with other personnel of front office of nearby hotels, who could sent their guests to the hotel if their hotel rooms are totally reserved. If these occupancy categories are properly specified by assessing the property management system (PMS) reservation module including the name of the business traveler, individual traveler or group traveler who generally booked accommodation for a certain time, then the front office manager can more precisely forecast management occupancy.