Students preparing to become professional chefs are faced with numerous choices, including choosing a specific line of disciplines. They have to make this choice in their early stage of study so that when it comes to job application, they know what they want. Whether it is cooking, preparing sweet cakes and savory specialties, or attending to room guests. Declaring this field of study at the early stage of their career guides them in their educational path towards becoming a qualified sweet and savory foods preparation. Luckily, the education for each line of hotel career is so clear, making job hunting a simplified process.
GET our premium training manuals: www.hospitality-school.com/training-manuals/
Do you want to become a pastry chef? Do you know what it takes to become a pastry chef? Although many chefs get accomplished in all areas of food preparation, it is wise to focus on a specific discipline in the education period to master the requirements and duties of the chosen sector. However, a kitchen is home to a vast knowledge of the savory and dessert application. Therefore, working as a chef makes you absorb a lot of information from different areas outside your area of study. So, who is a pastry chef? And what are the qualifications to become a pastry chef?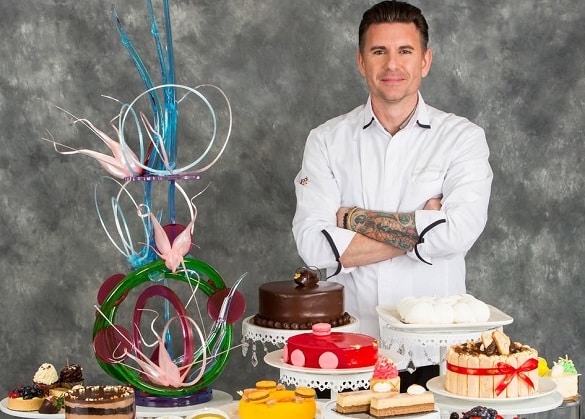 Who Is A Pastry Chef?
A pastry chef, pâtissier (Patissier), is responsible for overseeing the pastry team and performing administrative duties with the kitchen. Pastry chefs can also find a place in bread baking for homemade morning bread and muffins at luxury resorts and hotels. Fully-functioning bakeries in large properties are also run by pastry chefs. Although many people recognize front-line chefs who create savory delicacies, they do not know that the beauty and sweetness of these delicacies are triggered by pastry chefs who work behind the walls. Additionally, pastry chefs are also responsible for the development of a comprehensive dessert menu in concert with the executive chef who masterminds the overall menu.
Pastry Chef Duties and Responsibilities
Whatever the size of the kitchen, pastry chefs are responsible for numerous duties and kitchen responsibilities. Since a good chef relies on his or her education and past experiences to perform their duties, many hotels depend on the competitiveness of their staff to reach their potential. Pastry chefs are not excepted. They must work hard to deliver their duties on time and effectively for the success of the restaurants or big events. Therefore, here is the summary of pastry chef duties and responsibilities.
Oversee all day-to-day operations of the pastry and bakery section of the kitchen. They have to ensure that everything in the kitchen is to avoid delays and misconduct.

Take part in the preparation of a wide range of varieties of foods like cakes, cookies, pies, and bread. They prepare these sweet foods using both traditional and modern recipes to meet customers' demands.

Produce all baked foods including artisan bread, rolls, laminated Danish, laminated croissants, and doughnuts.

Responsible for the creation of new and existing desserts to update the menus and meet customers' interests.

Foresee excellent and high-quality services when it comes to dessert offerings.

Ensures proper handling of all food products in the hotel. They also ensure foods are stored at the right temperatures at all times.

Decorate pastries and desserts with the right icing, toppings, etc. They also ensure foods presented to the customers are beautifully packed.

Act as intermediaries between cooks and other hotel workers engaged in food preparation.

Check both raw and cooked food qualities to ensure that they meet health standards.

Assist other workers to determine how foods should be decorated and presented to the customers.

In charge of the stock for baking ingredients such as flour and sugar, make appropriate orders before the stock runs out.

Check the material quality and condition of the cooking equipment.

Report all equipment problems and maintenance issues, check for safety hazards, and report all unsafe practices and procedures in the kitchen to the supervisor immediately.

Ensure other chefs comply with the applicable laws and regulations within and outside the facility.

Responsible for the purchase of superior quality products, presentations, and flavors to be used in food preparation.

Operate and maintain all department equipment and report any malfunction to their superiors.

Ensure that cleanliness is maintained in all working areas. They also ensure the kitchen is organized.

Build and encourage mutual trust, respect, and cooperation among fellow workers.

Serve as role models and demonstrate responsible behaviors.

Ensure all workers in the kitchen comply with the Health and Safety standards.

Offer guidance and motivation to pastry assistants and bakers to work more efficiently

Ensure that the Pastry Team meets Culinary Standards and Responsibilities.

May also be responsible for training other new pastry members.

May assume the role of supervisors in their absence.

Responsible for food tastings for waitstaff and potential clients.

Ability t work in a team-driven environment, take directions and offer directions and solutions to some problem within the kitchen.

Performing other miscellaneous duties as assigned by their superiors.
Pastry Chef Requirements
The learning process in the culinary field never ceases. When employed in the field, you will find yourself learning different things every day you interact with fellow workers. This means the primary education you get before joining the pastry team may not be enough. However, having a little knowledge and experience before joining the pastry team is vital because they create a conducive environment for ongoing learning. Therefore, here are the basic requirements for a pastry chef:
DOWNLOAD OUR PREMIUM F & B SERVICE TRAINING COURSE FROM HERE: www.hospitality-school.com/f-b-service-waiter-course/
Education Background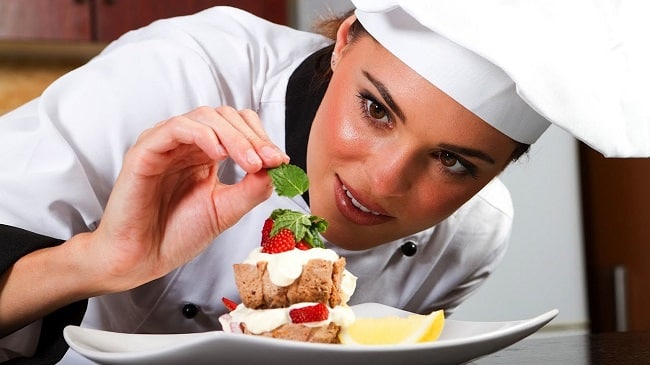 Having general school knowledge is not necessary when it comes to applying for a pastry chef. However, for an entry-level pastry chef job, you only need a high school level O certificate or a General Education Development (GED)certificate. You can also pursue a two-year bridge course degree or a four-year bachelor's degree in pastry arts.
Also, the various program offers a mix of direct preparation and culinary theory and apprenticeships in various baking and pastry institutions. If you have a bachelor's degree in pastry, you can specialize further by enrolling for a master's degree in pastry. This is an added advantage, especially for five-star hotels that demand specific pastry education.
Pastry Training
In most hotels and restaurants, pastry training is usually through an on-job technique where new pastry chefs are shown how to use kitchen equipment by their managers or executive chefs. However, for five-star hotel facilities, pastry chefs receive training and basic techniques during internships. This training involves using specific equipment, safety, and hygienic standards.
Pastry Chef's Skill and Experience
You do not need any experience when seeking a pastry chef position, especially at the entry-level. You only need certification and show the ability to work in a hotel. However, for you to qualify as a pastry chef, you must have the following skills;
Show precision and attention to detail: Pastry arts involves finesse and fine measurements. From baking, preparing, and decorating pastries, you have to show a high level of keenness and precision.
Be creative: Pastries are always loved for their beauty and delicacies. As a pastry chef, you have to be creative to refine your basic techniques and add more unusual ingredients to your dishes.
Teamwork: The pastry chef should be able to work with other members of the pastry team to prepare delicious foods and meet customers' demands.
Stability: Since a kitchen is a busy and intense environment, a pastry chef should be ready to work on their feet and bent postures for hours. This calls for stamina.
Customer service: Service is an important aspect of the hotel and restaurant. A pastry chef should frequently interact with customers on custom services. They should also show the ability to make positive suggestions while attending to clients' interests.
Work Environment and Physical Requirements
Pastry chefs work in an intense and focused environment. In large facilities, pastry chefs have work stations or a separate part of the kitchen with other cooks working for them. In smaller bakeries, pastry chefs might be required to work independently without assistants. This means they also have carried specialized equipment and other perishable inventories like milk and eggs. Therefore, pastry chefs should meet the following physical requirements;
Moderate physical ability: Baking requires carrying average-weight objects of up to 25 pounds. Pastry chefs might also need to stand or walk for more than four hours a day when attending to their duties.
Basic safety precautions: The kitchen environment involves some physical exposure to hazards and risks. Pastry chefs are required to follow or respond to these hazards efficiently.
Physical stability: Hotel and restaurant facilities may also include stairs and elevators, which requires physical stability for constant movement. Pastry chefs should be able to walk on the stairs frequently while performing their duties.
Conclusion
Are you training to become a pastry chef? Working in a hotel or restaurant requires too much keenness and creativity to meet customers' demands. Although most hotels do not emphasize basic education, having primary knowledge of food preparation and presentation is vital for you before applying for the job. This helps you to adapt to the working environment faster and deliver your duties efficiently. Therefore, for you to apply for the pastry chef position, ensure you master all the techniques required in the baking field. Additionally, your passion and salary also determine your career path.