What do we mean by the term service? Understand that doing something for others is called service. But service and quality guest service do not provide the same meaning. The term quality guest service has more wide and depth meaning. It is not simply putting dishes at guest's table by a waiter or just giving a room key to the guest after registration.
The quality guest service will always add something more than that. It is more than just doing a great job; you need to add that special ingredient—courtesy. Try to put out that extra effort that shows you really care for your guest. Whatever you will do for your guest that should be done pleasantly, friendly, sincerely, politely, courteously, honesty and devotedly and with a smiling attitude. These are all we should add while providing any service to our guest. Generally, people like to return to the places where they received quality service with excellent behavior.
Quality guest service is very important for hotel as well as the staff to increase the reputation and standard. As a hotel staff providing quality guest service will also help you to strengthen your position and benefited. For example, if you serve a guest, who never tip to your service and never acknowledge your service – serve him all the more. By doing this you will not lose anything. What you give out is what you will get back.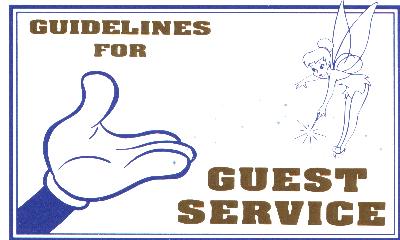 If you put your all into your service in a pleasant and manner then it is bound to come back to your benefit. The extra efforts you will make always be rewarded. It is not necessary that you will always get instant return or output. But it is sure that you will get long term benefit. Your qualitative service will make you more skilled and desired employee for your company. So, try to provide quality service to your guest and to develop a character inwardly with a positive attitude towards quality guest service. There will be always something for the person who something more for the guest. The person who is interested to get the job done despite the hour, the person who tries to satisfy his guest, the person who can be relied upon to carry out service pleasantly, these are the people for whom the hotel is running successfully.
So, whatever service you provide to your guest—provide something extra and qualitative. Look at service as something more than the service which you would term as quality guest service. If someone is dishwasher then he/she should be determined to be the best dishwashers to get those dishes sparkling and shining. We all know that a pleasant and friendly helpful waiter or receptionist adds something more with his presentation. That is what quality service means.
I believe thus providing a quality service to your guest you can be more successful on your job. So, tackle your job in the light of quality guest service. If you are a hotel employee, do everything in the light of quality guest service. Thus, you will be benefiting your hotel as well as yourself.
The Top 10 Rules of Superior Guest Service
The Guest is the most Important Person.

The Guest is not dependent on you. You are dependent on the Guest.

The Guest is not an Interruption to your Work. He/ she is the purpose of your Work.

The Guest does you a favor by serving them.

The Guest is as important to you as your Inventory, Employees and your Hotel.

The Guest is not a Cold Statistics. He/she is person with Feelings & Emotions just like you. Treat this People better than you would want to be treated.

The Guest is not someone with whom you can argue or match wits.

It is your job to satisfy the Needs, Wants & Expectations of the Guest. And to resolve their Complains & Fears.

The Guest deserves the most Attentive, Courteous & Professional treatment you can provide.

The Guest is the Life Blood of your Hotel. Remember that without them your job would be unnecessary, you work for the Guest. Without a Guest, you are, Indeed, irrelevant in Hotel.
Hotel & Restaurant Guest Service Excellence
As we know that in any service-oriented organization customer (in our case hotel guest) satisfaction getting through sincere hospitality and personalized service plays a very important role. The term "Service Excellence" can be defined as the ultimate service, a hospitality industry can provide for its guest. That means as a sincere hotel staff you have to satisfy your guest with your outstanding service—but there are limitations because there are house rules and country rules. Still we have to serve the guest to their entire desired satisfaction.
Hotel services are broadly of three levels, for example:
1st level

2nd level

3rd level
1st level hotel service meets the basic requirements of the guest only and may not enough be qualified as an excellent. 2nd level hotel service mainly focus on the meeting of the guest's expectations in such a way that will create long term relationship. 3rd level hotel service always works for fulfilling guest's expectation to such extent that it would satisfy the guests even beyond their expectation.
Here are some recommendations which might help you (as a hotel staff) to provide excellent guest service.
Greet the guest with smiling face

Offer help

Always listen carefully what the guest want to say

Answer his/her queries carefully

Seek guest's consent to the thing that you are going to do

Show gratefulness and give thank for staying in the hotel

Invite the guest for next visit
If you want to achieve the zero level defects in guest service while providing any service to your guest you have to maintain positive attitude towards guest and provide personalized service with smiling face and keep on courtesy, etiquette by using magic words—please, thank you, excuse me, you are welcome, have a nice journey and so forth until it becomes a habit.