For the smooth running of restaurant, the acquisition the restaurant equipment is highly essential. Purchasing the kitchen supplies is not meant for only start-ups restaurants, existing ones change their equipment to replace old equipment, to keep up with technology and improve their efficiency. In purchasing restaurant supplies, many people fall victim of cheap rate, inexperienced vendor and inadequate know of the maintenance process which results to spending more.
Employ the service of financial adviser and consultant when you want to acquire restaurant supplies so that they can help you identify the necessary kitchen equipment to be purchased, whether used or new. And also, they will help analyze the cost, maintenance and the expected life circle. In this book, we will be evaluating the cost of acquiring kitchen supplies.
Remember, your menu determines the kitchen equipment you should purchase. Not all commercial restaurant equipment is necessary in some restaurants. An example is if Pizza restaurant owner decide to purchase an equipment that aid the production of pizza unless it is meant for decoration.


In conclusion, when you finish reading this guide you will be able to make certain decisions like:
You will be able to decide on whether to buy new or old equipment or whether to lease or buy.

You will be able to decide on using equipment that use gas or electric.

You will be to decide on the latest equipment that should be added to your kitchen equipment.

You will be able to list and specify the equipment you really need.

Lastly, you will be able to plan for the installation, service and maintenance of the equipment you want to purchase.
Analyzing Restaurant Equipment Purchases
Acquiring restaurant equipment is a way of maximizing profit. But before you proceed in purchasing the kitchen equipment, there are some factors that needs to be considered. Factors like;
The equip to purchase

The cost of the equipment

Consider what you cook

Consider your employees and their skills
Purchase the necessary kitchen equipment: Because an equipment is really good does not mean you really need it. The equipment you want to purchase must be very relevant. If your income is not high, you should minimize the amount you spend in purchasing equipment.
Acquiring the best equipment: Most times, people make the wrong decision on purchasing the right kitchen equipment due to the cost, and that way they miss opportunity to be more effective and productive. You need to learn to balance the equation between cost and versatility.
Instead of using an expensive two-sided clamshell, why not heat the sandwiches on the griddle which cooks faster and will not require your employee to stand and monitor. And all these will also save labor cost.
Have only as much as your job requires: You should make a capacity model that takes sales volume into account during peak hours and specify the processes that must be carried out at each work station. Its likely that you will acquire equipment as your menu increase and that way some of your old equipment will perform lesser function. This can cause bottlenecks at work during busy times, if you have too many equipment its as bad as not having enough.
Total Cost of Ownership
When deciding on equipment that will be relevant to your business, you need to figure out two major things.
How much will you make from using that equipment

How much will it cost during its lifetime
The first figure can be determined using information about the equipment's output, efficiency, cost of raw ingredients, and the price of the items it produces. The second figure involves a series of calculations known as lifecycle costing. Determining total cost of ownership is a way to analyze all of the factors, tangible and intangible in order to make pre-purchase comparisons.
Draft out a form that will contain all the costs related to the purchase, service and repair, preventive maintenance, operation of the equipment and its eventual disposal.
There are some other components of total cost of ownership you should consider, they are:
Freight costs to get the equipment to your location.

Installation costs.

Utility prices and energy efficiency are especially important when determining whether to select gas or electric equipment, although these costs also are among the least predictable.

The costs of supplies, such as chemicals and filters, necessary for daily operation.

The costs of accessories.

Additional costs of having to ventilate or install plumbing in order to use the equipment.

Labor costs to operate the equipment, including training costs.

Insurance costs.

Preventive maintenance.

Repair costs which include parts and labor.

Trade-in value and what it costs for disposal if necessary.
Purchasing equipment is not as simple as choosing the most affordable equipment you can find. A lower-priced choice may not be worth the money if it only lasts one-half or two-thirds as long as a higher-priced model. Meanwhile, the installation for another equipment maybe more expensive, but it may extend the useful life of the one that has lower or reduce maintenance costs.
Brand names mean a lot in the restaurant business. Ask people that have been in business for a long time, and you will get some marked preferences for certain types of equipment. While advertisement attracts a new comer in the business, a seasoned restaurateur asks kitchen personnel what they like and why.
In conclusion, new equipment comes with warranties, which cover parts and workmanship for a period of time. Warranty indicates that the manufacturer will replace or repair any part that proves not to work properly due to defects in materials workmanship with no charge.  Note that warranties are valid only if no one has altered the equipment and if it has been correctly installed and maintained.
Researching Equipment Purchases
When you have decided on the equipment you want to purchase, you need to make research on its quality, how to use it and how easy it is. And the best place to do that is the dealer's showroom or a food exhibition. You need to check how the how they demonstrate to operate and clean it. Take note of the controls and try the procedures yourself. And also take note of every little details like if the equipment require any significant strength to be handled or are the surface too far or too high to be reached comfortably?
Ensure the food surface can be wiped out easily and the cleaning process is without stress. And also ensure that the removable parts are not large for proper cleaning and if there is any cleaning equipment you need to get to support the cleaning process, get it before the equipment is installed. Consider the size of the equipment, you take along with you accurate measurement to save you the stress. Don't buy more than you need, some equipment are lesser in size and they perform better and add versatility to your work and also save labour cost.
Which do you prefer, Gas and Electric?
Another very important decision to make is choosing the power source to be used to cook. Is it gas or electric? It is a personal decision to make on which one to be used.
GAS:
Generally, gas is more expensive than electric because its higher cumulative amount of British Thermal Units) delivered from point of extraction to the point of usage.

Gas does not require any additional cost like that of electric, which is known as demand factor.

Natural gas does not make additional demands on kitchen ventilation systems, which are determined by the cooking process, not the energy source.

Technological improvements in gas appliances include infrared fryers with 80 percent fuel use efficiency and griddles with consistent temperatures on their entire surface.

Gas-fired bakery ovens produce moister products with longer shelf lives.
ELECTRICITY:
Electric equipment is more fuel-efficient as its energy goes directly into cooking the food.

Electric fryers are more efficient because the heating element is located directly in the frying oil, which results in better heat transfer.

By design, electric ovens are better insulated, and the way their heating elements are placed gives them more uniform internal temperatures, which results in improved food quality and better product yield.

Induction range tops, which use electricity, provide faster heat, instant response, and easier cleanup, and they contribute to a much cooler environment.

Equipment that uses electricity is more energy efficient because the way the thermostat controls the temperature, cycling on and off only as needed, means the appliance's actual power use is only a portion of its nameplate rating.

Electric utility providers often offer so-called step-rate purchasing for commercial customers meaning a lower cost per kilowatt-hour as consumption increases.
The construction of equipment varies as type of equipment itself varies. The lifespan of the equipment will be determined by the quality and workmanship you decide to use. Just ensure you make a list the features you want before you select the equipment you need.
You need to consider what the equipment is made of. A food service equipment could be made of stainless steel, galvanized or aluminum.
Stainless steel is the most expensive and commonly used material. It is the most resistant to corrosion, pitting, and discoloration if it cleaned well. In the case of cookware, stainless steel also does not impart flavors or odors to the foods being cooked in it.
Galvanized Steel – Galvanized means the iron or steel is coated with zinc. It has the strength of stainless steel, but the galvanized coating or baked-on enamel used to prevent corrosion eventually chips and cracks, thus leaving the underlying steel to rust. It is not advisable for areas of a kitchen that are usually damp or wet.
Aluminum is a soft, white element found in nature that must be converted to a metal of the same name. It is tempered to improve its density, conductivity, strength and corrosion resistance before used for manufacturing. Aluminum is rust-resistant, reflects heat and light. It does not burn and its good choice for refrigeration units because doesn't get brittle under cold conditions.
Wood – people find wood attractive but few people realize the challenges it must survive in a busy restaurant settings. Wood countertops should never be used anywhere there is a lot of traffic or moisture. Never use particleboard in food service fabrication because it loses its shape and consistency when it gets wet.
Buying Used Restaurant Supplies & Equipment
There will always be used restaurant equipment for sale in the market and it attracts some business owners especially an entrepreneur that is mindful of budget. Whoever has a used kitchen equipment to sell only accept cash and does not finance the purchase. Purchasing an used equipment comes with no warranty and may be a refund if the equipment break down with two weeks.
There are different sources of purchasing used restaurant equipment. It may be that someone already in food service business is doing some restructuring and is changing the kitchen equipment. It could also be someone closing down a food service business and needs to sell off all the equipment, another person could decide to buy the equipment, refurbish them and sell them at a good price.
If you are buying used equipment that you really need and is in good condition, you could be saving up to 80 percent over buying new one. If it is dented or scratched, check if it will not eventually cause leaks or rust problem.
To consider how good the deal is, you should analyze how much a new equipment will cost, installment and everything that requires for it to be ready for use. And so if you are purchasing similar equipment, make sure you are paying 50% lesser and you get at least 30-day warranty.
Here are some other clues to guide you for purchasing used kitchen equipment:
If equipment requires repair, it's a big risk. The availability of service of an equipment is highly essential and it should be determined first.

Used equipment might not fit correctly into a kitchen unlike new equipment will. It is impossible to outfit an entire kitchen with used equipment.

You can never be sure of how much the used equipment was used and how hard it worked and as a result, this could cause unforeseen problems.

The service warranty of used equipment is usually short. It takes between 30 to 90 days.

A restaurant used equipment might be up for sale because it has been replaced with a more effective and labor saving equipment

Check if the sales price include professional delivery to you location because some equipment can be damaged during movement.
Sometimes, people that resell equipment just clean it and put it up for sale else expect to pay more if they refurbish and service it. Ensure you deal a good dealer who would allow you to inspect the equipment before the purchase. Make sure you employ the service of a repair person that you can trust for the inspection. You should also make enquiry from the previous owner or the local supplier of the brand of equipment for the service record of the equipment you want to purchase. You can also ask from other people of their experience with the brand, you can ask if its effective and reliable? You can also write down the serial number so that you can contact the manufacturer for evidence of oil leaks.
There should be no bargain if kitchen used equipment does not meet up with current health codes because it can cause problem between you and your local health inspector. Some health regulations require that any restaurant open or re-open must meet up with all current and applicable codes.
You could also purchase equipment that does not have moving part or electronic parts. However, you should know that there are equipment that can't buy used, such as: refrigerator, commercial dishwasher and ice machine. In addition, equipment that make use of gas and oven are better bought used than those that use electronics.
In conclusion, if you plan to purchase equipment at auction ensure you don't pay more than 20 percent of a brand-new. Be prepared to pay cash, bring truck and have enough support because you will have to take the equipment you purchased
Leasing Restaurant Equipment
For starters in food service business, leasing restaurant equipment is an option but the disadvantage of it is that you might end up paying more over three to five years lease than the purchase of the equipment will cost. You have about 36 – 60 payments to make for lease and if your business income does not increase, you will not be able to meet up with the high maintenance policy. And you could be stuck with lease payments.
Meanwhile, there are some advantages in leasing equipment. Unlike when you want to purchase equipment that a bank will lend you 85 – 90% and expect you to come up with the remaining amount as down payment, leasing equipment give you the opportunity to spread the payment over several years and it could be less expensive paying monthly which is better than a bank loan. The leasing arrangement depends on the lessor, some may give you opportunity to purchase the equipment at the end of the leasing period, and some give lease-purchase option while some can allow you to re-new the lease. There are tax benefits attached to lease too, your leasing payment are deductable expenses with no form of interest.
There is certain equipment that is leased because of the service and support benefit from the company. Most importantly, you need to do cost analysis on the equipment. Analyze what it takes to either buy or lease.
To buy: You need to consider the amount, payment option, depreciation, cost of maintenance and consider the worth of the equipment at the end of the payment.
To lease: Consider the total amount, interest rate, payment option, monthly payment and the maintenance cost not covered by the leasing company.
When you are going through the lease agreement, make sure the agreement includes a specific length time the lease will be in effect, the amount being financed as well as the total amount of payment which includes the interest and the amount of deposit.
You need to understand the difference between contract and service agreement. The company leasing an equipment to you will not be responsible for the equipment to function well. Also the manufacturer should provide a warranty as you would have if you purchase the equipment. If the leasing company offers a maintenance agreement, it's above the manufacturer's service agreement but be assured that the maintenance will definitely be provided as needed.
Restaurant Equipment Installation and Maintenance
The type of equipment determines the person to install it. Equipment could be installed by an electrician, plumber, utility company representatives or equipment dealer's service personnel. An issue has occurred little or no accountability in the equipment industry, they need to check who is responsible for the setting up the equipment and ensuring it works? Who will take care of it, if something goes wrong? The manufacturer is supposed to include installation cost in the payment instead of leaving the person purchasing the equipment to look for someone to do the installment. And sometimes it could be that the purchaser opted out for a cheap installation and then thinks he will get the best.
In respective whoever handles the job, you and your local health department will want the equipment installed so that the equipment and surroundings are easy to clean.
Not all equipment can conveniently be put on rollers or casters while others are too tall or heavy to be wall mounted. You could also consider alternate installation methods.
Floor mounting – equipment like a revolving-tray mechanical oven are designed and built to be mounted directly on the floor or on a pedestal. It should be sealed to the floor around the entire base of the equipment.
Masonry base mounting – Equipment like Reach-in refrigerators, heavy-duty range tops, ovens, and broilers are usually mounted on concrete. The bases should be built at least 2 inches high and rounded where the platform meets the floor.
Wall mounting- Mounting equipment on a wall is the most expensive installation option, but it is very practical for sinks because it allows storage space beneath them. Wall mounting requires that the wall be reinforced well enough to hold the additional weight without damage to the building.
Equipment Maintenance
Many restaurants are filled with many equipment made by different manufacturers that maintenance is easily neglected. You need to introduce a preventive maintenance.
It is the best way to control service costs and to guarantee a useful life for the equipment. The routine should include regular inspection and cleaning.
Make the list into a master maintenance schedule by looking through the service manuals and jotting down the maintenance requirements of each item. You'll find most can be scheduled on a calendar, by day or week. Make sure to allot a certain number of hours for maintenance and specify who will do it. You can use computer to keep online record but ensure you have hardcopy back-up. Once your maintenance records are organized, keeping them current will save you much time and hassle if anything goes wrong with equipment. Sometimes a part of equipment could require replacement while servicing so it is advisable to purchase replacement parts at the same time you purchase the piece of equipment.
Food Preparation Equipment
Ranges & Ovens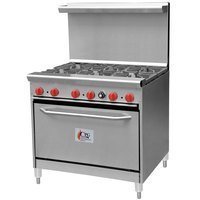 The range, which is a familiar appliance found at home, is also found in most commercial and institutional kitchens but is known as the stove at home. There are two parts to many ranges which are
Range top

Range oven
The range top is used for surface cooking needs while the range oven is used for baking as well as other food preparation types which need to be placed in a heated cavity.
Before buying cooking equipment, there are some considerations to be made and they include: power requirements, menu type, quantity, speed, availability of space, speed, type of available space, skill level of the employees.
THE RANGE TOP
This is the most frequently used piece of equipment in the kitchen and is used for boiling, sauté, simmering, braising, deep frying and holding of hot food. Although, new equipment exists presently that can perform the tasks of the range top with greater efficiency, it still remains the king of multitasking in the kitchen.
There are three basic types of ranges, for different purposes and they include: medium duty range, heavy-duty range and specialty range.
Medium duty range: is also known as the restaurant or café range and is used in smaller establishments with short order menus or in places where there is need for a continuous use like the church or the nursing home kitchen.
Heavy-duty range: it is similar to the medium duty range. However, it is made up of heavy materials in order to withstand the rigors of large and heavy pots and pans. It is best used for long hours and high-volume cooking.
Specialty ranges: custom ranges have been created to fit special cooking methods and they include
Stockpot range: it is a short range with a large, open burner used to heat stockpots and when found in bakeries, used in melting chocolate
Taco range: it is designed for Mexican restaurants and is used in preparing meats, refried beans and rice.
Wok range: it is also called a Chinese range. A wok us a bowl-shaped cooking pot used to cook food quickly in Asian cuisine.
Tabletop range: it is a partial range top with two burners and is utilized where space is at a premium.
ELECTRIC RANGE TOPS
Gas is the most used heat source in the commercial kitchen. However, some places have only electricity as the available source of energy and some ranges have been designed to suit these people and places. Before using an electric range top, the instructional manual should be carefully studied. There are several combinations of surface units to serve the medium-duty and heavy-duty electric range top and they include: rectangular hotplates, French hotplates, and high-speed surface units.
ELECTRIC INDUCTION RANGE TOPS
This type of range has become symbolic with the modern kitchen. This range is highly efficient and uses less energy than its gas and electricity powered counterparts.
THE RANGE OVEN
The range oven is located beneath the range top and is the main method of large-volume, dry heat cooking in many restaurants and commercial settings. The range oven can also come in gas or electricity powered types. There are hardworking and are usually used all day long.
CONVECTION OVEN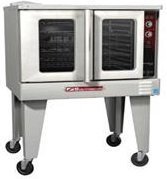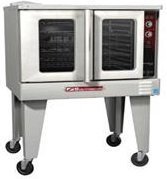 Convection is used to reduce cooking time by 25-35 percent by circulating heated air around the oven cavity. This helps to minimize shrinkage and maximize yield per pound. They come in three main sizes: full size, baker depth and half size.
DECK OR STACK OVEN
It is manufactured with more than one cavity and set of controls. They are usually required when the production is high and space is limited. There are four types of deck ovens and they include the traditional style deck oven, the motorized, convective deck oven, the vaulted deck oven, and the turntable deck oven. The basic guidelines for the purchase of a single range oven also apply here.  To maintain this oven, the exterior and interior should be cleaned with a mild detergent on a daily basis.
IMPINGER/CONVEYOR OVEN
This oven allows uncooked food to be placed on the conveyor belt, the operator then programs the appliance to move the food through the heated oven cavity at a particular set speed, and the food becomes ready to serve. This oven is automatic and therefore ensures quality output with minimal supervision and little training. To maintain this oven, the cooling fan should be checked and cleaned at least weekly because of the heat it emanates.
PIZZA OVENS
This is a special high temperature application of the deck or stack oven and can be set from 300-700 degrees Fahrenheit.
MECHANICAL OVEN


This oven ensures that the food is in motion while inside the oven compartment. There are used in large-volume operations including hospitals, schools or other situations involving a large group. Because of the space requirement of this oven, they are hardly found in restaurants.
RACK OVEN
It is popularly used in restaurants because, unlike the mechanical oven, it is space efficient.
COOK-AND-HOLD OVEN
Also known as retherm oven, it is usually used for the preparation of convenience food. They can also be used to reheat food and keep then hot till they are ready to be served.
SMOKER-COOKERS
They are known as commercial meat smokers. They are ovens created to create smoke.
ROTISSERIE OVEN
They are usually used for baking whole chickens. They burners and the fans should be constantly checked for debris in order to ensure continuous use.
WOOD-FIRED OVEN
It contains a cavity for burning wood and then the heat generated by this wood is stored and released slowly and evenly for a flavored method of roasting and cooking. Make sure to clean the surface of this oven, when it is cool with a damp mop, as much as possible.
MICROWAVE OVEN
Many American households now make use of this oven, formerly seen as a 'necessary evil' for reheating. They are space efficient, easy to use and install and do not affect the taste or nutrient content of the food when used. They can also be used to safely defrost frozen foods and is energy efficient.
OVENS FOR BAKERIES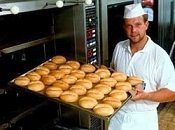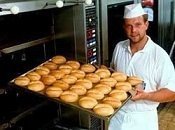 The basic decision to be made by a bakery manager is whether to purchase a deck or rack oven. Specialty ovens as well as wood-fired ovens can also be considered. There is also the steam-tubed oven which bears a similarity to the wood-fired oven.
NEW OVEN TECHNOLOGY
With the advent of better technology, new ovens now exist for better performance. They include the super-cookers, the combi-wave as well as the rapid cook ovens.
Fryers & Fry Stations
To fry involves cooking in hot fat or oil and there are several methods of doing this. There are different types of fryers and they include:
Gas fryers

Infrared and induction fryers

Electric fryers

Automated fryers

Pressure fryers

Oil-free (Greaseless ) fryers

Ventless fryers

Pasta cookers
GAS FRYERS
They require less gas to operate and their energy efficiency level have doubled in recent years.
INDUCTION FRYERS
It is a type of gas powered fryer which requires infrared to cook the food.
ELECTRIC FRYERS
They are energy efficient because of its heating elements which are contained in stainless steel tubes immersed directly in the oil. They also use less oil per unit than most of their counterparts.
AUTOMATED FRYERS
They can be easily programmed to produce consistent products every time regardless of the size of the batch. They use less time and reduce waste.
PRESSURE FRYERS
They are the most versatile and profitable cooking application available in a small space. They can bring out 14 pieces of chicken in less than 10 minutes. It works with a combination of oil and steam.
GREASELESS FRYERS
Also known as hot air fryer, oil-free fryer, vacuum fryer, no-oil fryer and forced air food system, this machine is well suited for small jobs which has speed as the priority. It is appropriate for a convenience store, where food service is not the major thrust of business. It eliminates having to continually purchase and store oil.
VENTLESS FRYERS
These fryers have an internal or filtration system to capture grease and return cleaned air to the kitchen without venting it to the outside. It is the best choice for mall food courts, sports arenas and sites with limited space.
PASTA COOKERS
This is the closest cousin to the fryer and is increasingly becoming popular for small batch cooking. The major advantages of using this equipment are speed and the inbuilt function of an automatic timer. There are manual and automatic pasta cookers.
However, before deciding to purchase any of these fryers, the following should be considered: capacity, simplicity, reliability, energy efficiency, and space allocation.
Broilers, Griddles & Tilting Braising Pans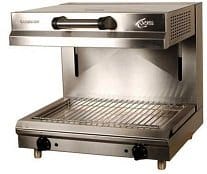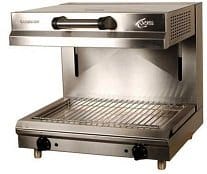 A broiler is a piece of surface cooking equipment with its heat source located either above or below the food. A griddle is also a piece of surface cooking equipment with its heat source located below the food. Broiling and griddling are used interchangeably but griddling refers to the act of cooking on a solid-top griddle. The tilting braising pan is used to complement and some times replace the griddle in the kitchen.
BROILERS
Broiling is a dry-heat method of cooking which involves little or no liquid. Broilers are usually categorized into three: overhead broiler, charbroiler, and specialty broiler.
Overhead broiler: refers to the heating element being placed above the food being broiled. It is designed for high-volume output. Modern broilers usually preheat in less than two minutes.
Charbroiler: charboiling is the term used to refer to broiling food with smoke, flames and radiant heat. The underfired broiler has its elements located beneath the food while the overfired broiler has its elements located above the food. The underfired broiler is much more compact than the overfired broiler and it also preheats faster.
Charbroiling produces a lot of grease and smoke. They are three types of charbroilers: the drop-in broilers, countertop, and free standing models. The gas-powered units are more popular than the electric ones.
Specialty broilers: the following are different types of broilers designed for special purposes.
Salamander: it is a miniature version of the heavy-duty broilers and can be used as an energy-efficient backup broiler when the main broiler is turned off.
Cheesemelter: as the name implies, it is used to melt cheese mainly on Italian, Mexican and Tex-Mex dishes. It also has the additional functions of browning, poaching and boiling. It is used to finish food and not cook it and because of this has a lower heat output than the salamander.
Conveyor broiler: it includes both underfired and overfired radiants to ensure maximum speed while cooking. Food cooks faster because of the exposure to top and bottom heat. However, food must be uniform in both size and thickness to cook evenly.
Wood-burning broiler: it is designed for people who prefer old-time diners to more modern ones. It is, however, larger than the old stove and definitely more efficient.
Rotisserie: some people may call this a type of broiler.
Portable broiler: it is usually found in mall food courts and at street festivals as well as corporate picnics.
Comal: a specialty broiler used in Mexican restaurants for display cooking fajitas
Before you buy a broiler, consider your menu, and your heat source. Also make sure to keep your grates and grids clean to ensure best performance.
Griddles

This piece of equipment is indispensable regardless of the size of the restaurant or cuisine type. However, it is not energy efficient. Just like broilers, griddles also come in counter top and floor models with the counter tops being either drop-in or freestanding units. There are different types of specialty griddles and they include:
Heavy-duty griddle

Steam griddle

Teppanyaki griddle

Clamshell griddle

Contact grill

Panini grill

Mongolian barbecue
HEAVY-DUTY GRIDDLE: It is a variation of the floor model griddle with an oven below.
STEAM GRIDDLE: When water is heated under pressure, it creates superheated steam with a temperature of up to 400 degrees Fahrenheit. Because of the even heat produced by steam, the temperature does not vary more than two degrees anywhere on the plate helping to eliminate cold and hot spots and allowing food to be cooked closer together.
TEPPANYAKI GRIDDLE: It is another variation of the floor-model griddle used for exhibition cooking which is popular at Japanese steakhouses.
CLAMSHELL GRIDDLE: It is an outstanding piece of equipment that cooks food on both sides simultaneously before slashing cooking time to half.
CONTACT GRILL: It is the electric variation of the gas-powered clamshell.
PANINI GRILL: It is a type of contact grill used to make Paninis which are toasted, grill-marked sandwiches stuffed with fresh ingredients and melted cheese and are very popular.
MONGOLIAN BARBECUE: It is a flat-surface griddle which may run on either gas or electricity.
Tips for maintenance: make sure to season every griddle plate before use, regardless of the type. It should also be done after cleaning. They should be cleaned when they are warm and not too hot. Electric griddles can be scraped clean with a grinding stone.
Tilting Braising Pans
This is a griddle with raised sides thereby giving the appearance of a big, flat-bottomed kettle. It is usually called a tilting skillet, fry pan or brasier. It is used for griddle cooking, pan frying, kettle cooking, steam cooking, oven roasting, and braising, poaching, proofing, holding, thawing and serving.
Food Storage Equipment
Proper storage is necessary for any food service facility to function properly. But before this is explored, it must be understood that there exist two basic storage types:
Dry storage

Refrigerated storage.
The equipment you will use for each storage type differs and these storage equipment are necessary to ensure perfection, security as well as proper use of space.
Dry Storage
The basic storage items needed to store dry items like canned goods and paper products are as follows:
Scales

Pallets

Carts and trucks

Shelves
DRY STORAGE EQUIPMENT
Scales: this are used to weigh items gotten in bulk in order to ensure that items ordered and paid for are in the right quantity. The accuracy of the scale is a necessity for every food service facility and it should be kept in good condition in order to prevent inaccurate measurements. Popular types of scales include the digital electronic scale (which is the most popular in the market presently), the dial-type counter scale, the beam scale, and the hanging dial scale (which is the least popular among the lot).
Pallets: this is a low, raised stand on which boxes of products can be stacked and stored. They come in square or rectangular shapes and can be either steel or wood. Pallets enable one person to stack or transport several product cases at once, and it is made possible because items stored on pallets can be lifted and moved by a small hydraulic lift or platform truck. There also ensure storage flexibility because of easy movement.
Carts and Trucks: these are two different terms that serve two different purposes but are sometimes used interchangeably in food service circles. A cart is a utility cart which is used to transport dishes and cleaning supplies and can be made of light-gauge metal, stainless steel or moulded plastic. The proper name for the truck on the other hand is a hand truck which is also known as a dolly and is used to support and transfer heavy items like cases of canned goods.
Shelves: these are used to store dry items like cans, jars, bins and boxes. The major consideration for shelving should be adjustability to take different sizes and height of these dry items. There are different types of shelves include, open-grid wire or mesh shelves which allow easy circulation of air; flat and solid shelves, which are clean and very strong; and embossed shelves which are alternatives to flat and solid shelves and also have ridges and slots to ensure air circulation.
Refrigerated Storage
The basic storage equipment needed for this type of storage is a refrigerator. Other equipment include walk-in coolers and freezers, specialty refrigeration units, draft beer service, soft-serve machine, and ice makers and dispensers.
REFRIGERATED STORAGE EQUIPMENT
Refrigerator: to select the best refrigerator for your food service facility, consider the following: finishing, construction, insulation, doors, handles, refrigeration system, drain requirements, warranty, cabinet capacity, and adaptability. There are two major types of refrigerators: reach-ins and roll-ins. Reach-in refrigerators are usually ideal for the home setting while roll-ins are ideal for the food service kitchen setting because of the constant opening and closing in a heated environment. There also exists a pass-through refrigerator which is a variation of the reach-in refrigerator.
Walk-in coolers and freezers: a walk-in cooler is one that is big enough to walk-into and can either be as small as a closet or as large as a room but the main purpose it serves is to provide refrigerated storage for large food quantities in a central area. A large kitchen may need as many as three walk-ins to serve different storage needs.
Specialty refrigeration units: these are used to store carbonated beverages and ice-cream produce.
Draft beer service: this is used for the storage of beer kegs and also for the dispensation of beer.
Soft-serve machines: the use of this is to produce frozen desserts from a liquid base mix.
Ice makers and dispensers: This machine freezes, harvests and stores ice automatically.
Steam Cooking Equipment
Steam cooking gives one a method to retain the natural consistency and nutrient content of food while preparing it in large quantities. There are different equipment choices for steaming and they include:
Steam-jacketed kettles

Pressure steamers

High-pressure and low-pressure steamers

Pressure less steamers

Combination pressure/pressure less steamers

Specialty steamers

Combination oven/steamers
Steam – Jacketed Kettle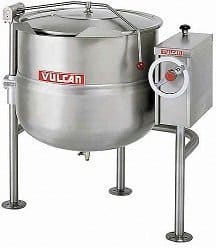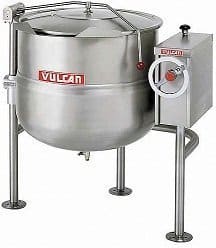 This equipment cooks faster than the stockpot on a range top and uses less energy. It can be used to stir-fry, stew and much more. Most steam-jacketed kettles are made of stainless steel and come in different varieties like the deep-jacketed, shallow or full jacketed, two-thirds jacketed, and tilting or trunnion. The type of food you want to serve and the needed volume, the counter and floor space as well as workers' ability to maintain food amount will determine the type of steam-jacketed kettle to purchase. This kettle is easy to clean and maintain.
Pressure Steamers
Pressure steamers which are also known as pressure cookers or compartment steamers are good for making fresh, defrosted or loosely packed food. The menu you will be working with as well as the number of portions to be prepared at a time are things to consider before making a steamer purchase.
Low- Pressure Steamers
Low pressure steamers have the same power requirements as pressure steamers and the main difference between them is that they contain their own boilers.
High – Pressure Steamers
Unlike their low-pressure or compartment steamer counterparts, this steamer does not offer high-volume cooking capacity. However, they are in heavy use in places where small batches are in heavy demand.
Pressure Less Steamers
They are also known as convection steamers and cook food at 212 degrees Fahrenheit. These steamers are easy to use and account for more than half of the steamers sold in the US because of this factor. However, they are smaller and do not cook as quickly as the pressurized steamers.
Connection Less Steamers
This is the newest type of convection steamer and is so named because it requires no traditional plumbing hook-ups. They can be used in low to medium volume operations.
Specialty Steamers
There are a few specialised steam appliances made for limited purposes and they include: flash steamer which is used to heat sliced pastry products without making them soggy; spatula steamer, which is used for reheating individual portions; needle injection steamer which is used to warm porous food products; pasta/rice steamer which is used to cook pasta and rice perfectly at record time; steamer/fryer which can cook a food to look fried thereby presenting a healthier choice than the actual fried food.
Combination Oven/ Steamer
Also known as the combi oven, this appliance combines both the combination steamer and the convection oven into one. They cook different food types and cook them fast.
Cook – Chill Techniques & Equipment
Cook chill is the process of cooking food in large quantity and cooling it immediately. This technique was developed in Germany over 50 years ago for government hospitals and was an attempt to control labour costs. This process should not be confused with the widely-used technique known as ice shock which involves cooking food and immediately dipping it into ice water.
Using cook-chill is easy as hot foods must be cooled through the bacterial danger zone immediately and uniformly. After that, the food will be stored in reach-in or walk-in refrigerators and will just be rethermed when it is ready to be served. In order to achieve this process, some steps must be followed and they include: selection of raw materials, storage in the right conditions, preparation, recipe modification, and cooking.
Prechill Preparation
Immediately the food is cooked, the chilling process must begin approximately within 30 minutes. There are two kinds of quick chilling; blast and tumble chilling.
Blast chilling is used more appropriately for solid foods like chicken parts, beef rounds, burger patties and more. The food containers and then covered and put inside a blast chiller or shelves in the chilling unit. To make a choice of buying a blast chiller, the following must be considered. You must decide if you want equipment that gives direct or indirect airflow, consider the size, a reach-in or a roll-in, a self-contained or a remote compressor, a device that chills or freezes, its compatibility with other equipment and finally your product flow.
Tumble chilling, on the other hand, is used to cool liquids like soups, stews, gravies and sauces and some form of pasta. Although blast chillers are considered to be generally more versatile than tumble chillers, there are presented with some challenges when it comes to the above mentioned liquids. Tumble chilling requires many equipment like the special steam-jacketed kettle also known as the agitator kettle or mixer kettle, pump-fill station, metering station, ice builder and the tumble chiller.
To maintain all the equipment mentioned above, make sure to thoroughly clean them between uses.
Re-Thermalisation
This is the final point in the cook-chill process and is also known as reheating. It is a key control point in preventing contamination.
Dish Washing Equipment
Dish washing is the process whereby dishes, glasses, flatware and others are cleaned using hot water, detergent and motion. Selecting an appropriate dish washing system for your kitchen is very necessary and this choice should be made to suit your needs with the following factors in mind. They include, availability of kitchen space, closeness to service areas and distance from eating areas, the type of service delivery, sources of power and plumbing, water quality in the area, energy-saving and water-saving features, local building codes and health ordinances, detergent quality and uses, handling of dishes, your budget (which is very important), and access to reliable workers.
There are different dishwashers for different needs and it is important that you find the dishwasher that attends to your needs. The following are the types of dishwashers:
Under counter dishwashers: it can was between 18-40 racks of dishes in one hour making it perfect for small service operations. They require three to five gallons of water per wash cycle and a few kilowatts of power to maintain the water temperature in the tank. It is usually installed under the counter, just as the name implies and is accompanied by a drop-down front door or located under the specially designed dish table with a sink.
Glass washers: this is a variation of the under counter dishwasher and is usually installed in bars. Most glass washers have the same build as the under counter dishwashers but there also exist conveyor-type ones which will wash over 1000 glasses in an hour.
Single-tank, door-style dishwashers: this dishwasher is commonly known as the stationary rack dishwasher and is the most generally used of all the dish washing machines. This is the best dishwasher to use for a large food service which churns out 750-1250 dishes pand related items per hour, and serves about 50-200 people in the same time. It is easy to use and can handle 35-55 racks in an hour.
Moving dishwashers: A food service operation which on average serves over 200 meals on a short time period will require this dish machine as it moves dishes through wash and rinse cycles on a conveyor belt.
Circular dish washing system: this dish washing system is perfect for food service operations which have the highest-volume. It can handle between 8,000-24,000 dishes in an hour. This dish washing system has an advantage over the flight-type dishwasher because it requires fewer personnel to handle it.
Flight-type conveyor dishwashers: also known as rack-less conveyors or belt conveyors, these dishwashers run through the machine in a straight line as an airport runway. This dishwasher is highly recommended if the food service operation produces more than 8,000 dishes per hour and 600-800 meals an hour.
Special care must be taken in storing and using the chemicals associated with dish washing. Every item should have at hand a Material Safety Data Sheet (MSDS) and it should be placed in an easily accessible area for the employees. The following precautions should be taken while using the dishwasher.
Daily: leave the dish machine door ajar when not in use; drain, clean and flush the water tanks; brush or spray the scrap screens until they become clean, remove the spray pipes and flush them clean, brush off any hard water deposits from the final rinse nozzles; check water temperature and pressure; inspect water pump shafts for leaks; and refill the chemicals.
Weekly: check all the water lines and drain/overflow tubes for leaks and ensure they are tightened; remove accumulated mineral scales on heating elements; clean any remaining detergent left off on the body of the machine; remove and inspect each spray arm; inspect the pawl bars for signs of wear and/or restricted movement; and finally, check the idle pump and final rinse levers for restricted movement.
BOOSTER HEATER
This equipment is used to increase the water temperature to 180 degrees Fahrenheit for a commercial dishwasher's final rinse cycle. Many new dish machines come with built-in booster heaters but if you have a dishwasher which requires one, it should be placed close to the dishwasher in order for the machine not to lose heat during the travel between the pipes connecting both equipment. There exist electric boosters, steam-heated boosters, and gas powered boosters.
Miscellaneous Kitchen Equipment
There are several devices that are used in the kitchen but the below listed equipment are the most common ones used in the food service industry.
Food mixers and attachments

Food slicers, cutters, and grinders

Blenders and juicers

Toasters

Food warmers

Coffee brewers

Espresso/cappuccino machines

Food processors
Food Mixers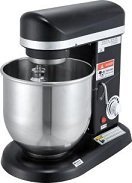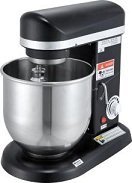 The most popular mixer in the restaurant's kitchen is the vertical mixer which is also the planetary mixer. All vertical mixers work the same way but they have transmissions which are either gear-driven or belt-driven. In addition to mixers, you will need attachments or agitators to accompany them. food service facilities should avoid purchasing moderately priced mixers designed for use at home but should rather go for the commercial ones which have greater horsepower and are designed to meet the demands of the business. There are different types of mixers and they include the hand-held mixer, the spiral mixer, the vertical cutter mixer, as well as the vacuum tumbler.
Food Slicers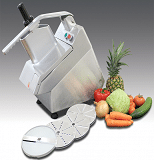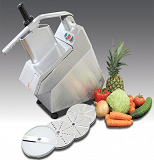 This equipment was designed to replace the old chef's knife as well as the slicing chore. Making a decision to buy a food slicer should be influenced by the type of foods it is intended to slice, as well as whether you want a manual or automatic. A few specialty slicers include the bread slicer, tomatoes slicer, french fries as well as lunch meats. Anyone below the age of 18 should not handle a slicer and the entire slicer must be cleaned and sanitized daily.
Food Processors
Food processing is the used to describe changing the shape, and/or consistency of food. Employees in your facility are advised to keep their fingers out of the hoppers and discharge chutes. Your machine should be cleaned immediately after each use with a nylon brush. There also exist non motorized units with simple hand cranks which are a simple, inexpensive and effective option.
Blenders
The blender can do light food-processing duties with many settings for speed, power and more. The bar mixer is used for ice, liquids, and solids and is used mainly in bars and clubs. There also exists the splinder blender which performs mixing functions in smaller restaurants. Blenders need to be kept clean and should be kept from unnecessary moisture. Some manufacturers have found a solution to the noise created by the blender by creating an encasement of polycarbonate or acrylic to fit around the blender thereby creating access through a hinged door.
Juicers
This equipment is a cousin to both the blender and food processor. There are juicers which are manual feed models or hoppers which can be loaded with fruit which roll immediately into an extractor. Juicers are usually made of stainless steel and aluminium.
Toasters
As a result of the variety of breads which can be found in food service, toaster that provide versatility and perfect conditions for the different types of products are required. The toaster you choose should be determined by the types and sizes of food products being toasted, the volume of the business, the speed of service, availability of labour and available space. A commercial model is preferable to one designed for home use. There are two basic toaster: the batch toasters and continuous toasters.
Food Warmers
One major challenge in the food service business is the preservation of food to remain warm while waiting to be served without taking out the quality. There are three types of warming equipment which are food, soup and drawer warmers. There also exist steam tables and hot food tables. The first factor to consider before deciding on the warmer to choose is its ability to maintain a minimum holding temperature of 135 degrees Fahrenheit. Other factors include the food type, the length of time it will be held as well as the way it will be served.
Coffee Makers
Coffee is the best-selling non-alcoholic beverage in restaurants with 63% of the US population admitting to being occasional consumers. The first consideration to be made before purchasing any coffee making machine is the amount of coffee you intend to produce and the type of coffee your business will offer.
Espresso Machines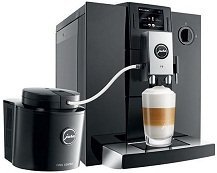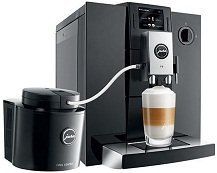 'Espresso' means to press or press out. Cappuccino is made from espresso coffee topped with milk. These special coffees have gained popularity and also profitability. The basic espresso maker is two small, electric machines on the same base which are a coffee grinder and a pump. There are four different automation degrees for espresso machines which are manual machines, semiautomatic machines, automatic machines, and super-automatic machines. It is also necessary to clean the machines properly because the tiny holes on the spray plates become easily clogged.
Conclusion
This article has focused on everything that has to do with the purchase of restaurant supplies, equipment, as well as machines. Before leaving, lets recap what we have shared in this giant free Hotel & Restaurant Equipment and Supplies buying guide:
The first section introduced the reader to the concept of a restaurant, different types of restaurants and the supplies that are perfect for each type.

The second section dissects the cost of owning both a restaurant and the equipment that come with it.

Section 3 breaks down how to research supplies for a restaurant. It analyses the best ways to make your research based on the type of food service facility you are running.

Section 4 shows how to make a decision on the purchase of used restaurant supplies and gives needed tips in order to make the best decision that suits your restaurant needs.

Section 5 goes further to show the process involved in leasing your equipment to other people.

Section 6 details how to install and maintain restaurant supplies and equipment.

Section 7 gives a description of different equipment used to store different types of food.

Section 8 gives the different descriptions of equipment used to prepare different forms of food.

Section 9 highlights the equipment used for steam cooking.

Section 10 describes the process and techniques of cook chill and the necessary equipment used for this method.

Section 11 gives in-depth information on the equipment used for the necessary procedure of dish washing in different types of food service facilities based on the size and type of the restaurant.

The last section describes other type of equipment used in the kitchen for serving different purposes.