A front desk agent needs to know how to provide smooth check out service to his guest. A smooth check out operation represent standard of a hotel. There are some basic steps you should know and follow and some points you should be careful on. Let's learn how to provide smooth check out service in hotel with hundred percent accuracy and highest level of professionalism.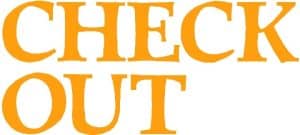 1: All the front desk staff should be careful about when each guest will possible check out. So, in every shift search folios of that guest who will check out on the next day and arrange all the documents so that upon guest's request each can be presented. In some hotel, express check out form envelop has been sent with updated bill so that guest may get prior idea on his bill. Here is a back cover of a sample Express check out envelop: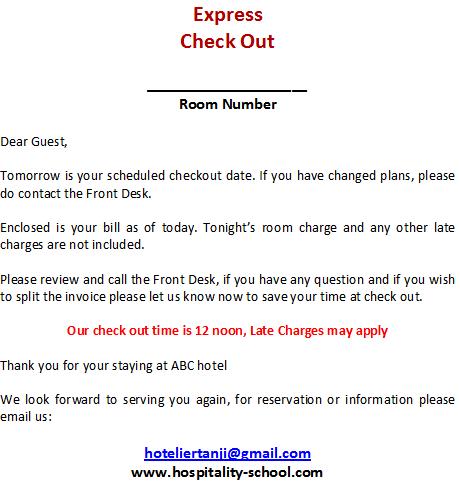 2. You should know which guest will possible check out. So when a guest comes to the Front Desk to Check Out, you should call his name and ask "Good morning Mr. X! Will you be checking out?" If guest agree then the agent should opens his/her cashiering, inquire about the guests stay. Then say "Hope you enjoyed your stay with us, "Mr/Mrs/Miss/Ms X"". You must Check if there is any Mini bar consumption. You should say "Is there any Mini bar consumption?" Check if guest has emptied his/her Safe. So ask him "May I ask if you have taken your valuables from your safe?"" or "Have you emptied your safe?"
3. Always try to sell your service. So check if the guest is going to the airport and if s/he requires to use the hotel transport for the Airport Drop. "Would you like us to arrange for a drop to the Airport?" If s/he says yes, inform him about the procedure and charges and also inform your transport department to make the necessary arrangements. If the charge has not been posted already, do it before the bill is closed.
4. While chatting with the guest, print a copy of the folio for the guest to review and inquire if the account is accurate. You should say "Here is a copy for you to review." Sometimes it may happen that the account is not accurate or guest is not satisfied with the figure mentioned there so try to resolve the inaccuracy by determining if the 100% guest satisfaction action is necessary. You should ask this way, "Which item did you have a question about? I'll look into it immediately." If you feel you did mistake then apologize for the inconvenience by saying"I apologize for the inconvenience "Mr/Mrs/Miss/Ms X".
5. Now it is important to know the method of the payment. Must Read this tutorial: Different ways or Methods of Payment in Hotel
6. Now ask about his method of payment. You can say "Will you be using your Credit card to settle the account? " If guest agrees then proceed, check out the folio and present the guest with his bill copy and say "Here is a copy of your receipt." If the guest changes the method of payment, enter the new one in the system "I'll enter the new method of payment for your records."
7. Ask the guest if they have vacated the room and if so, request for the room key. If not, let them know they can drop it off at the Front Desk. You should ask "Would you be going back to your room?" If yes then say "When you are ready to vacate the room, please let us know and drop your key off at the Front Desk." If not then say "May I please have your room key?"
8. Enquire if the guest needs any luggage assistance by saying "Will you need any assistance with your luggage? If yes then say "Please allow me to get a Bell Person to assist you." Thank the guest for his or her support and politely request him to return again in future. You should wish good luck to him with a smile. "Thank you for staying with us. Have a safe flight or hope to welcome you back again soon".