Topics Covered in this Guide
Everything You Should Know about Sous Chef
This peculiarly sounding name originates from France, which means "under". Like the word itself, the sous chef is the second in command below the Executive Chef. Despite the fact that the sous chef answers to the chef, he or she has powers over other staffs in the kitchen. In the field of a chef, a lot of words and job titles are derived from the French language. That explains the fact that, many kitchens these days run using the French Brigade system to ensure the operations are seamless. This article reviews in details sous chef as an occupation.
Download our PREMIUM Training Manuals From HERE: www. hospitality-school.com/training-manuals/special-offer/
Sous Chef – Overview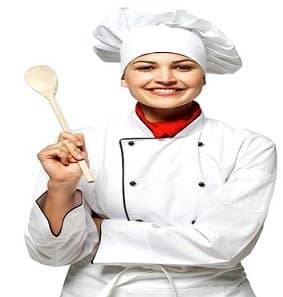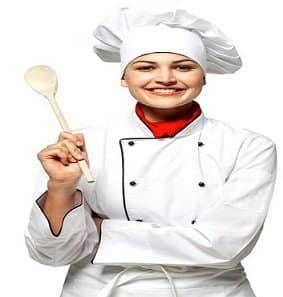 It is quite significant a sous chef be intimately acquainted with each and every activity taking place in the kitchen, getting him/herself prepared to do them.  Even though sous chefs do not have complete power over the kitchen, it is imperative that they be influential leaders, great team players. He or she needs to be a problem solver, making sound judgments that get the best out of every circumstance, avoiding conflict of interest. As mentioned in the preceding part, a sous chef reports to the executive chef. He or she should show total respect and obedience to the executive chef, following his or her directions always. Nevertheless, it does not mean that the sous chef should be fearful of giving suggestions or practical ideas that can enhance the kitchen operations.
A sous chef has to be in a position to know all the kitchen activities and everything related to the running of all operations. Apart from that, he or she should be ready to undertake some of the roles that may arise in the kitchen like cooking, in different styles such as French, Italian or any other flair like the fusion cooking. The responsibilities such as overseeing the other staffs in the kitchen, that may include scheduling or solving conflicts among the personnel that are squarely lie under the sous chef roles. Other than that, he or she should ensure that the food the restaurant is dealing is of top quality and everyone at the kitchen observes the cost standard associated with the food by trying as best as they can to cut down food wastage.
The sous chef, acting in his or her capacity as the second to Executive Chef, will assist in preparing and planning menu, inventory and keep inventory in check, ensuring safety standards are observed in the kitchen and that sanitation rules are followed by all staffs.
Sous chef is the quite demanding job. All the time, he or she is required to be on toes and keen to make smart choices quickly. They sometimes receive little or no credit especially given the fact that most of the times work for long hours. One of the main factors that could work in sous chef favor is how creative he or she in performing their roles. This can play a huge part for them to be a senior chef.
The sous chef is in the middle between the line chef and the executive chef. Being second in command in culinary field is most of the time an opportunity in waiting. There are many chances of being promoted to the executive chef due to the fact that the chef is most of the time on a move or promoted to other higher ranks. The relationship of an apprentice-mentor between chef and their assistants places the sous chef at an advantageous position in terms of promotion.
Sous Chefs Duties and Responsibilities
Planning daily menus

Training junior staffs like line cooks

Help in planning labor division within kitchen stations

Help with inventory control

Supervision of staffs

Promoting kitchen sanitation

Leading by example

Maintaining station equipment

Performing cross-marketing to boost sales

Conducting food tasting
A sous chef, apart from the above roles, will also be expected to perform other tasks assigned to them by an executive chef. Other factors that will determine how you spend your workday, include; the size of the kitchen station, kitchen organization in terms of personnel.
How to Become a Sous Chef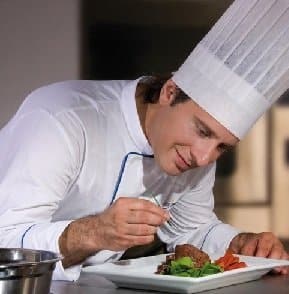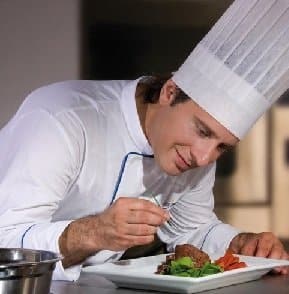 Obtaining an associate's degree from a recognized culinary school will surely pace you on a strong position to land a managerial kitchen job. But this alone is not enough to guarantee you a position as a sous chef. Like any other field, work experience is what will complement your education qualifications when looking to land a job as a sous chef. You need to have a well-proven track record before you are elevated to the higher level position in the kitchen station.
On the other hand, getting a Bachelor's Degree will indicate that you are committed to this particular line of work in addition to having advanced exposure to the requirement practices needed for restaurant management. Even a Bachelor's Degree is not a guarantee that you will start straight at the top. You have to earn that right to climb the ranks.
The size of a restaurant may decide whether they hire a sous chef or not. Most of the time, they just employ the chief chef and the junior staff including the line cooks, thereby overseeing the need to have a sous chef. But larger ones may hire even more than one. Mostly, opportunities for sous chef are found at hotels, cruise ships, resorts, casinos and professional kitchens among other food service providers.
It is easy for the sous chef to advance his or her career. The first step is getting a solid essential culinary education, then get some valuable hours under your belt in the kitchen. The best thing about the food industry is that promotion is done from within. So put your best foot in front every time you are at a workstation, rest assured that your senior chef will not fail to notice you and the moment an opportunity arises, he or she will make you the first choice for sous chef position.
Necessary Skills to become a Good Sous Chef
Possessing managerial experience
Leadership and managerial skills are very essential if you want to become a sous chef. This is because you will be responsible for the kitchen when the executive chef is away.
If you start by being a senior station chef, you may gain up some crucial managerial experience as the responsibilities include overseeing other chefs in the station. Demonstrating that you are a reliable leader is one way of getting a sous chef position.
Having not less than four years of work experience
Getting out of culinary school and land a sous chef job is very rare. Not even after a couple of years. An average sous chef has at least four years of experience, a majority of them have even ten years! With the responsibilities under a sous chef, it is important for one to exude confidence in his or her daily work in the kitchen. The sure way of convincing an interviewer that you are a right fit for a sous chef position is by having a long proven track record on your resume.
Being able to check food stocks and inventory
This is one of the main responsibilities of a sous chef. Making order of the necessary ingredients for the restaurant before it commences its daily operation is the job of a sous chef.
Ability to observe the health standards and safety at the kitchen station
The kitchen stations are very strict when it comes to health and safety due to the fact that the all place is marred with potential health hazards. There is a huge risk of foodstuffs becoming contaminated, some of which are usually good for a few hours or a day. Away from the safety dangers associated with foodstuffs, there is another source of health peril in form of sharp knives, slippery floors and hot liquids which can cause severe injuries to kitchen staffs. It is the role of a sous chef to in ensuring that other junior chefs work in a safe environment. Some of the many ways you can demonstrate to your senior chef that you know the importance of safety at work is by donning chef shoes which are usually designed specially to compact common hazards that are found in the kitchen.
Be able to plan and write menus
Although writing and preparing menus is the role of the executive chef, sometimes a sous chef can be asked to help in creating new menus. Having past experience is very essential. Even without previous experience, you can try and work shadow the chief chef and see how they create new menus. Another way of knowing the whole process is by simply asking the executive chef if you can help them next time they write or make changes to the menu.
Problem-solving abilities
As most of the times the head chef will be away, it is expected that as a sous chef, you step in and fill in the holes left behind. Having confidence in fixing problems will come in handy in instances such as running out of necessary ingredients, or when disagreements arise between chefs or any other issues in the station.
Be able to work under pressure
Apart from the usual stress that comes with working as a chef, being a sous chef will pile more pressure on your shoulders. It is important that you demonstrate a calm head when dealing with any kind of pressure.
Have an expert understanding of how the kitchen works
Being able to know the roles and responsibilities of each and every staff in the kitchen station is one way of indicating that you have deep knowledge of how the kitchen works. As a sous chef, you are expected to understand how the inner workings of the station operator. Be able to know which chefs need to work as a team to make each dish on the menu.
Be able to train other junior staffs (chefs)
It is, most of the times, the responsibilities of the sous chef to perform orientations to the new staff and introducing them to the old team of staff. This is quite an important responsibility of a sous chef.
Salary of a Sous Chef
The salary for this position varies widely. Factors that influence the amount of compensation a sous chef gets include;
If you are stationed at a metropolitan area, the pay is high than those who work in rural towns and vacation area.
For sous chef working in cruise line with little experience, can get around a monthly salary of $800 USD. A five star rated hotel will fetch a high salary than others.
Job responsibilities
General economic environment
Education level
Industry experience
The general salary for sous chef lies between $30,000 and $40,000 annually in most areas, although for a skilled professional, there is greater earning potential.
In light of the above, the salary of a chef will depend on a number of factors, a most significant one being the terms of agreement. The type of employment is also an important factor in this regard. For instance, a sous chef working on seasonal basis earns differently from those on annual basis or ship contracts.
Conclusion
To summarize the above said, a sous chef play a significant role in the kitchen. His or her duties and responsibilities should be clearly outlined. A sous chef can be an all-rounder or multi functional deploy able and work with any institution with a commercial grade kitchen, including catering establishments. Indisputably, he or she can transform the operations in the kitchen, which in turn helps in achieving organizational goals