Restaurant Hostess or host is a very important front desk position at hotel or restaurant that plays a very vital part on each guest's experience. Hostess is the person who very first greets the guest and makes him or her feel comfortable. In this guide, at hospitality-school, we will cover every single detail that you should know about how to be a great host at any hotel and restaurant. In next few minutes, you should read about definition and meaning of hostess or host, complete Job Description of hostess, Dress Code for restaurant host or hostess. We will also answer your queries, like, what is hostess stands, do hostess get tips, how much hostess make and many more.
[Read this guide attentively and Please share in your Facebook]
Restaurant Hostess – Definition, Job Description, Dress Code, Hostess Stand, Tipping
Hostess meaning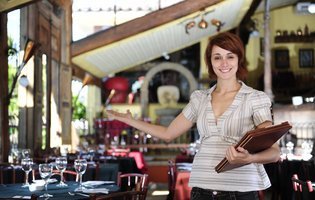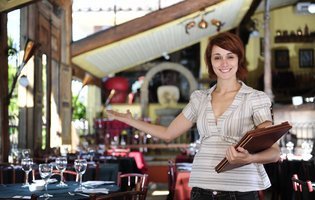 Few people don't have any idea about hostess meaning or they don't know the definition of hostess or host. Basically hostess is the female version of the word host i.e. restaurant host is a male greeter and hostess is the female greeter. Host or hostess can be defined as a restaurant staff, who first welcomes guests as they enter the restaurant and then escorts them to the table and seat them. Please read this tutorial: How to greet and seat guest properly at restaurant.
In reality, each and every staff of the hotel or restaurant works as host. Even when for any reason, host cannot attend any guest then even a manager can perform as host and greet and seat guests. In some restaurants there is no hostess or host, waiters work there as host or greeter. We strongly recommend you to read this guide: Ultimate list of Waiter or Waitress Job Descriptions
Why the Position of Hostess or Host is Important for Hotel or Restaurant
Offering super tasty food or investing on decoration is not the only deciding factors to gain guest satisfaction. Day by day, restaurant business is getting more and more competitive. Every single staff of the restaurant is more or less responsible equally to ensure successful business and keep guests come back again and again and spread goodies about your restaurant. Restaurant hostess is a vital person in the business who can ensure all these in positive or negative way.

As a guest enters to the restaurant, it is the hostess or host, the very first member of the restaurant who get in touch of the guest. A hostess or host gets the first chance to greet and facilities the guest experience with his work, manner, dress up and overall appearance.

In some restaurant there may be no designated person to record reservations. So scheduling guest reservations is another task performed by some restaurant hostess.

In busy restaurant, maintaining guest flow is one of the most crucial jobs. Restaurant hostess are that staff whose primary duty is to maintain the guest flow smooth. There are some times when some guests will come without reservation, some will come before or after the scheduled time, some unexpected situations may occur, some guests need to be waited, some guests may take longer time that may keep other guests waiting. So, in all such cases, restaurant hostess is the person who looks after these things professionally.

Restaurant hostess or host is not only responsible to attend the guest but they escort guest to the appropriate table and make guest feel important and comfortable at the same time.

Some guests may come with disabilities. Restaurant hostess is the first person who can handle them professionally and fulfill all their special needs.
Restaurant Hostess Uniform
Restaurant hostess uniform or dress code is very important since "first impression is last impression" and the hostess is the person who will first get in touch with guest when he arrives at the dining area. Don't forget that your image as a hostess or host is the image of your establishment. A hostess or host can create distinct impression on every guests. Always remember:
As a professional a restaurant hostess or host is the one who is responsible for keeping his or her cloth neat and clean all the time.

There should never be any excuse to wear dirty or messy uniform.

A restaurant host is not allowed to wear any dress beside uniform unless there is any special event organized or authority permits.

A restaurant hostess cannot report to work out of dress code.

A restaurant hostess should not report to his supervisor with untidy, un-pressed, dirty and wrinkled uniform.

Do not use fragrant hand lotion on your hands, as it adheres to glassware.

Hostess or host of the restaurant should be alert and look professional all the time. Therefore doing unprofessional activities like chewing gum, biting nails, eat in open public areas are strongly prohibited.

Last but not least, always remember your smile is part of your dress code so don't forget to smile while attending guests. When you smile, your guest will feel relaxed and comfortable for taking decision to coming to your restaurant.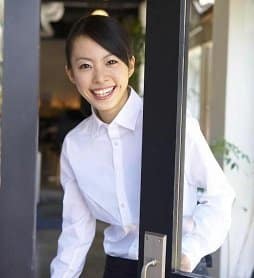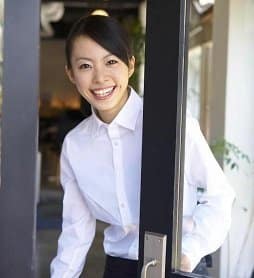 As you can understand easily, different restaurants have different dress codes for their employers so we cannot provide any standard guideline. Generally a hostess or host has to wear following items all the time during his or her shift:
Name tag with logo of your restaurant, printed with your name on your cloth.

Pant

Shirt

Shoe

Socks or Nylons.

Jewellery must be kept to a minimum level for hostess.

Pen

Lighter (if allowed), etc.
Hostess Job Description
Now we are going to briefly discuss hostess job description. Please note that list of duties and responsibilities that a restaurant hostess or host has to perform will vary from restaurant to restaurant or types of business but here we have listed most common hostess job descriptions.
Greet guest friendly but professionally according to the timing and restaurant policy. Read these tutorials: How Hotel or Restaurant Staff should Greet and Meet Guest and How a Guest Should be Welcomed during his first arrival at hotel.
Answer telephone and make reservations. Read these Tutorials:

How to receive telephone call in hotel and restaurant

and what to do and what not to do while handling telephone call at hotel or restaurant
Organizing and checking

guest reservation

.
Make sure that dining area is OK to run operation.

Seating guests properly according to the seating chart.

Escorting guest to the appropriate table.

Introduce guest with the server or waiter of the table.

When situations requires, make guests waited for some time. Maintain waiting list and give them accurate estimated wait time.

If there is facilities then take coat or umbrella from guest at the entrance and keep them safely and deliver them at the end of the meal.

Maintaining communication with all concerned person like manager, chef, cook, head waiter, server and other kitchen and service staffs.
Attend guest complaints, handle them professionally. Must Read our tutorials: Best way to handle guest complaints at hotel and restaurant and 10 lessons you must know about handling guest complaints at hotel and restaurant.

If something happens beyond host's control then bring supervisor or manager's attention.

Recognize repeat guests.

If required work as cashier and front desk agent.

Inform guests about anything special like special menu, party or event.

Use suggestive and upselling techniques to promote different food and services.

Attend special needs and handle disabled guests with utmost care.

Additional duties and responsibilities as assigned or requested by management.

Must join in end shift duties to help your colleagues.

Smile while talking to guest directly or over telephone. Smile will bring friendliness that will be apparent in your voice.
Hostess Stand
Hold on a second. You may wonder why we are discussing about hostess stand or host stand for restaurant or hostess station here. Here is your answer, since this is the ultimate guide for restaurant hostess or host so we have decided to give you some information about that furniture in back of which most restaurant hostess or hosts has to stand throughout his shift.
Anyway, as the name suggests, hostess stand is the most important restaurant furniture for a hostess where a restaurant hostess stand, take phone calls, make reservations, take notes and most importantly greet guest. The appearance or look of the hostess stand is also important. It can contribute both positive or negative ways to guest's impression about your restaurant. A stylish, gorgeous looking restaurant hostess stand easily endorse restaurant's brand.
Restaurant Hostess Salary
At this point, you may have a question in your mind, how much does restaurant hostess make or how much does restaurant hostess get paid in countries like USA. So now we will discuss about salary of a hostess or a host at a standard restaurant.
According to the very latest report of Bureau of Labor Statistics, USA, about the salary of hostess or hosts in USA, hostess or host working at different restaurant, lounge, and coffee Shop earn around $8.03 to $13.07 per hour. So average salary of a hostess or host is $ 9.87 per hour in USA. So per year, hostess or host of a restaurant or other food service business make around $16,710 to $27,180. Average per annul salary of a hostess or host is $19,180 which is not bad all and this will help a hostess to have not so luxurious but quite a decent life. Don't forget the fact that hostesses do get tips from guests in some restaurant which is good supplement beside their wage. Read our tutorial: Tipping System in Hotel and Restaurant
In USA around 391,150 people are working as hostess or host, where 349,440 hostess or host are working in restaurants and other eating places. Where other hostess and hosts are working in other sectors like traveler accommodation, drinking places (Alcoholic Beverages), Different amusement and recreations industries, special food services and so on.
Highest number of hostess or hosts are working in different states in USA like California, Texas, New York, Florida, Pennsylvania etc. Top paying area for Hostesses or hosts in USA is New York Where they get paid highest amount like $11.26 per hour and $23,420 per annum, on average.
Do hostesses get tips
There is no doubt that working as hostess or host is really a hard work, therefore in many restaurant, tipping is allowed for hostesses that supplement their salary. If you choose your career as hostess or host then please be very clear that hostesses or hosts do not regularly get tips from their guests like waiters. Yes hosts do get tips but it rarely happens. In some restaurants there is tips splitting system. There a certain percentage of total server tips is given to hosts and bus person. But anyway, don't give extra effort only to earn tips but give your best as part of your daily job. Eventually you hard work will be paid off.
That's all for today. We are confident enough that through this ultimate restaurant guest hosting guide we teach you almost everything you should know about the professional life of a restaurant hostess or host. In our upcoming tutorial, we will publish another thorough guide on what does a hostess do where we will discover hostess's professional activities more in detail. Till then, take care.