Guest supplies refer those items which are provided by the hotel as an advantage to enhance the guest's comfort and convenience. Though the types of guest supplies could be vary according to the nature and size of the hotel but the following areas are generally involved:
Amenity Packages

Guest essentials

Guest expendables

Guest loan items
In most cases the guest supplies affect in determining the room rate according to its quantity and quality due to huge collective cost. However the high price of luxurious items does not lead the large hotels to reduce the amount of supplies as they are a vital factor for attracting potential guests.
Guest supplies greatly require proper storage and effective security. Some guest supplies need large amount of area to store, for example items like guest pen or envelopes are stored in high volume and look very ordinary that may inspire low trained employees to use or steal. So tight security & locked storage should be made to prevent unexpected use and loss of guest supplies otherwise it may turn to be a big loss for hotel.
Topics Covered in this Guide
Amenity Packages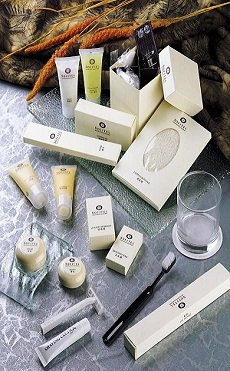 Amenity can play a vital role in gaining guest's satisfaction. Amenity packages comprises of such lavish items which are provided for the guests arranged by the hotel at free of cost to qualify the service. To make best possible use of amenity service, the items should be provided based on the guest preferences. Read Typical Guest Room Amenities in Hotels & Resorts for clear understanding about general standard amenity package.

However in most cases the expenses of these items are remunerated with the guest's room rate. Guest amenities are not only limited to the room, but also extended to the other service like free breakfasts, entertainment etc. Most important thing is that, the waste that is produced from amenities should be handled carefully in order to avoid any pollution. Many chains hotels also work as bulk dispensers for removing waste which can keep the hotel atmosphere pollution free.
Amenity packages generally comprises of bath amenities and guest room amenities which are as follows:
1. Bath Amenities:
To provide the bath amenities is the most prime and common practice for hotels. Even a hotel can achieve reputation only by providing better bath amenities, for example: Bellagio. A standard list of bathroom amenities which are available in most hotels are as follows:
Bathroom Amenity Items

Soap

Hand lotion

Aftershave

Mouthwash

Face soap

Shoe mitt

Shampoo

Body oils

Bath gel

Face lotions

Razors

Shaving cream

Hair conditioner

Tanning lotion

Bath salts

Deodorants

Deodorant soap

Body powder

Cosmetics

Glycerin soap

Sewing kit

Scissors

Facial mud packs

Bubble bath

Perfumes

Nail clippers

Loofah sponges

Emery boards

Shoehorn

Colognes

Fabric wash

Shower cap
2. Guestroom Amenities:
The amenities which are provided and arranged in the guest's bedroom are as follows:
Guest amenities

Free in-room beverages

Luxury stationery


Clothes sachets

Free snacks

Coffeemaker

Bathrobes

Chocolate

Flowers

Corkscrews

Expensive pens

In-room movies

Quality pens
Guest Essentials
Guest essentials are regarded as those items which are certainly essential for meeting the guest requirements and to improve the service. These guest essentials are proposed and arranged for continuous use even after the guest's departure. Like guest amenities, guest essentials are not used up by the guest and remain in the hotel for serving another expecting guest.
Guest essentials are generally marked with hotel logo in order to avoid any sort of unusual incidents like missing or stealing. The cost for providing these essentials basically shared with the marketing department if hotel logos are used as advertising purposes.
Here is a list of several guest essentials that are available in every standard hotel:
Guest Essentials

Clothes hangers

Ice buckets

Ashtrays

Glass (or plastic) drinking cups

Plastic trays

Waste baskets

Do-not-disturb signs

Water pitchers

Shower mats (rubber)

Fly swatters

Bibles

Suit bag
Guest Expendables
Unlike guest essentials, guest expendables are planned to be used up by the guests. Hotels do not have to invest a lot for providing these guest supplies as limited budget is required.
However, some guest expendables are not completely consumed by the guest and remain after guest's departure, such as soaps, shampoos. While preparing the room for new guest, these supplies are replenished with new one.
Though the housekeeping department is generally responsible for arranging, inventorying and storing guest supplies, but guest expendables are also provided by other department which is beneficial for smoothen the hotel operation. Some of the common guest expendables are given below:
Guest Expendables

Dry bags

Plastic utility bags

Sani bags

Stationary

Matches

Disposal slipper

Facial tissue

Laundry tickets

Magazines Notepads

Postcards Pens

Toilet tissue

Emery boards

Bath soaps (bar)

Table tents (in-house advertising)

Individual packs of coffee

Toilet seat bands

Facial soaps (bar)

Candy mints
Guest Loan Items
Usually hotels do not provide guest loan items in the guest room. These supplies are only delivered when a guest request for any item on a receipted loan basis. The loan receipts signify the status (time of deliver, cost of the item) of the guest loan items.
Guest loan items are not frequently visible in the guest room as these supplies are not required by the all guests. Housekeeper stores certain necessary supplies in the linen room that can be requested by the guests which are as follows:
Guest Loan Items

Alarm clocks

Hot water bottles

Irons

Ice packs

Heating pads

Razors

Hair dryers

Electric shavers

Ironing boards

Bed boards