As you know, whatever you say, a Waiter or Waiting staff or wait staff or waitstaff or serving staff is a person who waits on a table, often in a hotel, restaurant or bar or club or elsewhere to attend guest, take orders and serve them food and drinks when requested. A Female waiter is called as Waitress. In this article we will closely look at the job descriptions of a waiter or waitress.
When you look closely at the job responsibilities of a waiting staff, you may find the role of a waiter or waitress is very monotonous and repetitive but success of a restaurant highly depends on the performance of a waiter or waitress.
(Tip: If you are waiter or willing to join anywhere as a service staff then you should read this free waiter training guide or buy our Food & Beverage Service SOP Collection.)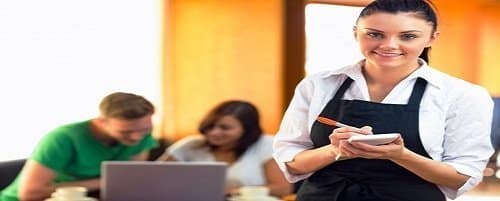 Waiter and Waitress Job Description
From now on we will regularly publish job descriptions of different hotel and restaurant staffs. Today in the first article from job description series, we will share complete list of job responsibilities a waiter or waitress has to perform generally in a restaurant or cafe or club or bar. For clear and better understanding, we will break down job responsibilities into 2 parts: Assistant Waiter and Head Waiter.
Duties and Responsibilities of Assistant Waiter or Waitress
Title: Assistant Waiter
Report to: Head Waiter/Captain
Basic Function
The basic job of an assistant waiter of any food service establishment is to serve food to guests in accordance with the provided guidance and policy of that restaurant.
Primary Function
However the principles scheduled job of an assistant waiter as per hotel standard can be broadly defined in the following way:
Deal with the guests in a professional and courteous manner with a smile at all times.

Maintaining grooming standard according to the hotel's uniform policy and ready to serve guest 20 minutes prior to start of the working schedule.

Keeping the essential serving tools such as:
Table Crumber

Side towel

Pen

Order Pad

Always be informed about all hotel policy and guidelines to the details.
Attending daily briefing and perform scheduled job ordered by supervisor and management.

Having thorough knowledge of all hotel menus so as to help or suggest guest while taking order.

Aiding and following to Waiter's instruction during servicing in the dining room in order to serve food to guests.

Following and ensuring the proper application of hotel's dining room standards at all times while on duty.

Make ready the individual assigned station fully equipped with necessary set up before serving guest each time.

Serving appropriate course of meal ordered by the guests and offering beverage service throughout the meal.

Clearing guest table after the guest has finished the meal and before the next guest arrival.

Serving and offering bread, sauces and additional services throughout meal service according to the hotel policy and procedures.

Collecting required linen, silverware, glassware, and china to set guest tables as per standard.

Setting up the buffet arrangement and maintaining throughout the meal service as per standard.

Keeping the assigned station and pantry clean and neatly arranged.

Maintain hygiene standard and ensuring execution of all sanitation procedures in dining area.

Adept at verbal communication to interact with the guest.

Following standard cleaning schedule for room service equipment (Ex-Ice Machines, Coffee Machines, Coffee Pots).

Knowing the basic operating procedures of all equipment and tools.

Removing food wastes and garbage and other dirty items from room.

Providing room service for wine, fruit basket, letter in a timely manner.

The assigned assistant waiter for room service must be able to deliver room within 10 to 15 minutes from ordering.

Arranging all items orderly related to room service as per hotel's guideline

Able to correspondence any relevant work problems to Supervisor.

Following all assigned tasks given by management while on duty.
Duties and Responsibilities of Head Waiter or Waitress
Title: 

Head Waiter

Reports to: Restaurant Manager
Basic Function
The Head waiter is basically assigned to assist the Restaurant Manager to ensure highest quality of food and excellence of service so as to achieve guest satisfaction in the supervision of the Restaurant personnel ensuring total guest satisfaction regarding food quality and service following hotel standard and policy.
 Primary Function
Following hotel standard and act accordingly while serving the guests to maintain professionalism in the working area.

Be familiar and have in-depth knowledge of every serving dish so as to be able to provide explanations as requested by guests.

Knowing and capable of applying appropriate food and wine terminology, menu descriptions and wine lists so as to be able to up-sell and provide suggestions to guests.

Ensure that the staffs are present at the service area at all times following hotel general rules and uniform and hygiene standards.

Assign daily mise-en place through distribution of service stations among the skilled staffs and monitoring of their tasks to ensure that all scheduled works have been done within proper time frame.

Guests should be always served with polite behavior and courteous manner regardless of any situation.

Greeting and seating the guests in accordance with hotel standard and policy.

Taking orders correctly and serving food in a timely manner.

Ensuring correct billing procedures and collecting bill after completion of each guest meal.

Handling personally special guests (physically impaired or heart healthy patients) and VIPs. Addressing guests by their name if possible to create friendly environment.

Maintaining collaboration with coworker and other departments.

Aiding the Restaurant Manager ins and outs and by following orders as stated by Restaurant Manager to ensure proper employment of hotel policy.

Check and monitor all service tools and equipment in detail prior to service so as to ensure that everything is kept orderly and good working condition.

Be responsible for any incident that take place in the service area while on duty and capable to handle any situation tactfully.

Assist the Restaurant Manager to take chinaware and silverware whenever needed.

Handling guest request and guest complaint in a professional manner to ensure guest satisfaction.

Keep updated all promotional events and services in order to sell and market products to guests.

Know the day's menu and daily specials.

Assisting the Restaurant Manager in taking preparation, presentation and recording of training programs, conducting briefings, daily meeting and making SOP's to bring out personal best of individual employee and to ensure efficiency and seamless effort for achieving highest level of guest service.

Conducting briefing every day before starting of working schedule to get updates and take feedback of the staff's individual performance.

Communicate with the guests to take their review so as to make any amendments if necessary. Convey any special request or notify about any difficult guest to the Restaurant Manager to draw the attention of the management.

Inspecting work station and dining area and held responsible for ensuring efficient and smooth operation of service station, buffet service or any events in the dining area and timely delivery of room service as well as good working environment with high standard of cleanliness in those areas.

Working as a medium between production department and other departments to pass information about daily specials, shortages of food items and special dietary requirements for patients with health issues.

Know the Hotel's Fire Safety Procedures and Health & Safety regulations and security measures to ensure the safeguard of guests and hotel property.

Monitor all machines, fittings and equipment to ensure their working condition in terms of safety and security in accordance with Health & Safety regulations. Report to the Restaurant Manager if any repair is needed.

Ensuring improved food quality and highest service standards along with anticipating and fulfilling guests' needs.

Assessing and evaluating the tasks performed by the staffs to ensure service qualities are met. Give suggestions and conduct on-the-job training for the staffs to improve their current performance and develop their working efficiency.

Be responsible for completion of functional activities of various assigned workstation and instruct the staffs of restaurant team for better output.

Review the personnel assigned for cleaning tasks to ensure striking and shining appearance of all of the service areas.

Inform any corrective issues to the Restaurant Manager that are needed to be solved with the waiters, assistant waiters. For example, hiring new employee or terminating any employee.

Having detailed knowledge of Working Schedule and Employee Attendance procedures to review contracts and arrange work schedule hours/week for the staffs.

Performing as an active member through attending meetings, training sessions and all other work-related events and giving opinions and suggestions whenever required.
Financial Responsibilities
A Head Waiter also has to perform some financial responsibilities to ensure correct utilization of hotel resources, generating revenue and proper allocation of service tools and guest amenities and supplies. And to do so, the following duties are to be performed by a Head Waiter:
Keeping record of inventory of supplies and equipment.

Ensuring minimum communication costs.

Charging correctly guest for each relevant special request and service.

Arranging workstation spot checks procedure to ensure accurate storing of items.
Points to Remember: In many restaurants head waiter is referred as "Captain". Generally a senior waiter is heavily referred as captain. So job responsibilities of a senior or head waiter and a captain are more or less same.