Advanced life style and busy schedule often lead people to eat away from home. So to make the catering service smooth and easily available the hotels and restaurants or other catering establishment are continuously working on the development of their catering service. And the waiter or waitress plays a vital role to make catering service successful since he/she is the only person who has to make direct contact with the guest. Hence, a skilled waiter is essential to ensure the success and development of this catering industry as well as for presenting the image of the hotel to retain their reputation.
A waiting staff not only serves food, but also plays role as a salesman of food through merchandising and suggestive selling.
(Recommendation: Must read our "Professional Waiter & Waitress Training Manual" by clicking HERE.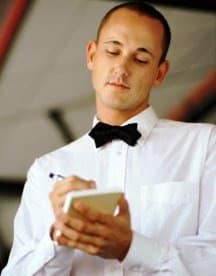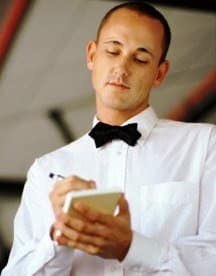 Guests will come to a hotel, restaurant or café when they will be satisfied and highly pleased by courteous approach, qualitative food, and honest suggestion from the available dishes.
Career Progress in Hospitality Sector
The efficiency of the waiter will also help the waiter to build his own career. Many of today's most successful hoteliers, head waiter, maitre d'hôtel, or restaurant managers started their career as a waiter but their hard work, good performance and honesty towards work, training and experience have helped them to come to this position. However, the efficacy of the waiter often depends on the nature of the hotel, the success of the hotel or restaurant or catering establishment.
Apart from the waiting staff, efficient and effective management and production staffs are also necessary to make a catering establishment successful. This catering industry will offer all the waiters and waitresses a career with full of interest and variety, a chance to meet with people from different background and an opportunity to employ their creative thoughts and ideas.
So, every waiter should remember that professional attitude and good performance will not only help the hotel to make their reputation but also will help themselves to get opportunities for promotion.
Topics Covered in this Guide
Working Condition
Conditions of the work for the waiter in the catering industry must be well lighted, carpeted, clean and comfortable since they have to carry food from the kitchen to their serving area. Or if the food has to be carried upstairs or downstairs then the lift or elevator should be non-slippery and cleaned and the waiting staff must be careful so as to avoid any unwanted situation.
The working hours for a waiter may vary according to the establishment. For example, in a hotel the waiting staffs are always assigned on shift basis, on the other hand, in canteens and restaurants, or in department stores or similar establishments, the waiters work from 9 a.m. to 6 p.m. 5 days or 6 days in a week.
The salary or wage of waiters also depends on the nature and quality of the establishment. In canteens or snack bars the waiters are generally appointed with a fixed amount. However, in hotels and restaurants the salary of waiter may be weekly guaranteed sum with the addition of tips.
Even the status of waiter often varies, for example, the waiter may be non-resident or resident. Moreover in many large hotel or restaurant most of waiters live out whereas the waitresses live in.
Number of Staffs
The number of staff and the allocation of duties often vary according to the size and exclusiveness of the restaurant or catering establishment. Generally in any large restaurant of any hotel, a non residential establishment or within industrial catering, there must be one person in charge for handling and managing of whole catering system and for assigning the task among the assistants.
And in a small restaurant the person in charge often termed as restaurant manager, maitre d'hôtel or head waiter and his assistant may all be called as "waiter". However, in most of the largest catering industries, the classification of possible staffs as follows:
Restaurant Manager: Responsible for all the restaurant service and in charge of staffs. A restaurant manager particularly quotes prices for daily menus and also may make arrangement for banquet and private parties in absence of banquet manager.
Head Waiter: A head waiter is in direct charge of either the entire of a small restaurant or part of larger one. The duties a head perform are:
Supervising service

Greeting and seating guests

Take orders from guests

Passing the orders to the station waiters
In large establishments often there are subordinates or assistant head waiters under the head waiter to take phone bookings and to receive guests and direct them to a table.
Station Head Waiter: A station head waiter is responsible for managing a particular section of the restaurant carrying out similar functions in his own area to those of the maitre d'hôtel.
Station Waiter: A station waiter generally is in charge of group of about 5 tables or 20 guests. A station waiter performs the following functions:
Taking guest's orders

Serving the guest

For managing neatly arranged service area

For ensuring proper service of each dish in the right sequence
Junior Station Waiter: Duties performed by junior station waiter are quite similar to that of station waiter but a junior station waiter basically works in a smaller station and often assigned alone.
Assistant Waiter: An assistant waiter may be responsible for various tasks which are as follows:
Assisting the station waiter

For passing food checks into the kitchen

Bringing dishes to side tables

Clearing used guest's items from tables

Returning used plates and dishes to the service area

Attending and aiding the station waiter
Trolley Assistant Waiter: Works as an assistant waiter for taking responsibility of a trolley of hors d'oeuvres or patisserie.
Clearing Assistant Waiter: A clearing assistant waiter is the most junior assistant waiter for clearing soiled guest servicewares as per standard.
Intern: Apprenticeship or internship is very much common and highly anticipated by hospitality world. Generally hotel management students get chance for short term to work as intern in hotel or restaurant. Generally they work as a helper of senior waiters, all types of day to day works are  mostly done by junior waiters. In continental hotels such intern or young waiters are known as piccolo.
Wine Butler or Wine Waiter: A wine butler or wine waiter is assigned to take order for wines, spirits, beers and soft drinks and serves them to guests with or without the help of his assistant wine waiter.
Apart from all these a waiter also plays significant roles in restaurant, for example, as restaurant cashier for making out the bill.
Training Video
Click Here to Watch our free video on Waiter's Role in Catering Business