Caterers are culinary professionals who know how to throw (and manage) a great event. Learn more about catering degrees and career opportunities.
Caterers are the complete package. They are masters in the kitchen, incredibly organized and adept at throwing a great party. Some of these skills may come naturally, but others are learned on the job or in the classroom. This is especially true for those who go into business for themselves, something the Bureau of Labor Statistics notes is common within the events industry. By earning your catering degree, you can hone the skills necessary to not just enter but excel in the catering business.
Catering Programs at a Glance
A skilled caterer is a chef, an event planner and business person all in one, so catering programs must address every single one of these areas. Programs vary from one school to the next, however, so some may emphasize certain skills over others. Some culinary degrees are more cooking-oriented, for instance, while others focus more on the managerial side of the business.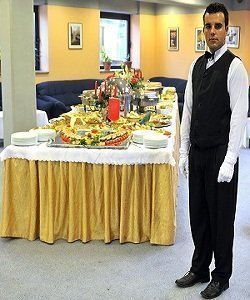 While not all caterers are required to pursue formal training — especially when they are self-employed — many clients prefer to hire those with formal training, as do some restaurants or catering companies to which you may apply. Certificates and associate degrees are the most common catering credentials, though some schools do offer bachelor's degree programs. You may also choose to pursue additional training or certification through a professional catering organization, like the National Association of Catering Executives, the International Caterers Association or the Sustainable Catering Association. Additional food safety certifications, such as the ServSafe Food Handler certificate, may also be helpful.
What to Expect from a Catering Degree Program
Comprehensive catering degree programs help build both culinary and managerial skills, though some may emphasize one end of the spectrum more than the other. Still, most share a similar curriculum including the following types of courses:
Catering management

Event planning

Food safety and sanitation

Food and beverage pairing
Additional coursework can vary with your needs and interests. For instance, a future full-service catering professional would benefit from both pastry and culinary arts classes while catering managers in the making need more business-oriented instruction.
If a dedicated catering program is not available to you, consider pursuing a related discipline — like culinary arts or hospitality management — and then tailor your electives to suit your needs. To gain valuable on-the-job experience, consider applying for an entry-level catering position, an apprenticeship or an internship through a local catering business.
Popular Careers: Life after Catering School
Catering programs offer students a wide breadth of skills that are valuable throughout many areas of the hospitality industry. That means earning a catering degree can open doors to a number of different careers, including the following:
Caterer: A caterer specializes in planning, preparing and serving event-related foods and drinks. Some work for hotels, restaurants or catering businesses, but many are self-employed.
Catering manager: Catering managers organize and oversee catering events and staff, often through a hotel or restaurant offering catering services.
Catering sales manager: Catering sales managers are responsible for identifying and recruiting potential clients, often for hotels, restaurants or larger catering firms. Very business-oriented, these professionals spend less time in the kitchen than caterers or catering managers.
Meeting and event planner: Meeting and event planners coordinate a wide breadth of events, from corporate meetings to weddings and funerals. Like catering sales managers, these professionals spend more time in an office than a kitchen.
While most catering programs can prepare you for work in any of these fields, some are better suited for your goals than others. Consider researching a few programs before choosing the one that best suits your needs.
Click here for Degrees on Catering Management valued all over the world