Don't think that Hotel or Restaurant is only establishment that provides food services. In fact, hospitality industry is huge and there are also many types of catering operations available that offer food & beverage facility. These businesses provide real good value to its surrounding community residents and target customers and at the same time tourists can enjoy their service.
Following businesses are food service providers and considered as part of hospitality industry:
Sports and Recreation Food Services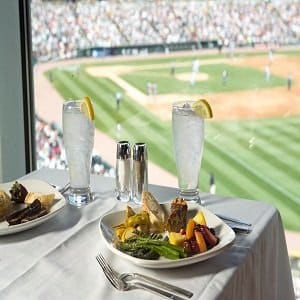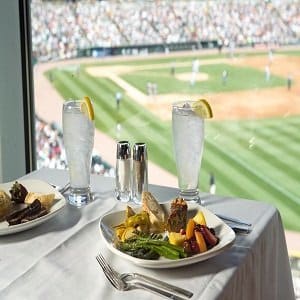 Sports and Recreation Industry offer foodservice to ensure betterment of the athletics and excellence of service towards the audience. Food and beverages served at this industry are offered in two ways for the players and the audience. For example:
Foods and beverages are served at table-side in athletic stadium's playing field for the players at free of cost and

Snack bars and products are sent to audience at their seats in exchange of money.
Private Clubs
Private clubs are always equipped with food service to entertain their members and guests. The nature and standard of food service could vary according to the range of private clubs. Some clubs offer very minimal food service, ex-only snacks and beverage items whereas some clubs offer extravagant food and beverage service, suppose, course meal or expensive food items. Even some private clubs also provide lodging service along with food service for their guests and members.
Following Private organizations are categorized as private clubs:
Country (golf) clubs

City clubs

University clubs

Yacht clubs

Military clubs (have to include more clubs)
Casinos
Apart from gaming opportunities, casinos also offer food services for their visitor as a part of the total entertainment package, sometimes even the casino authority organizes accommodations along with gaming and food service .
Cruise Lines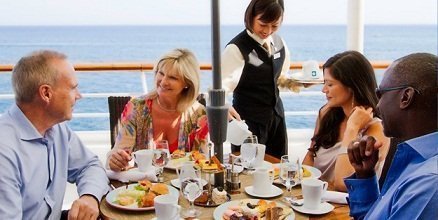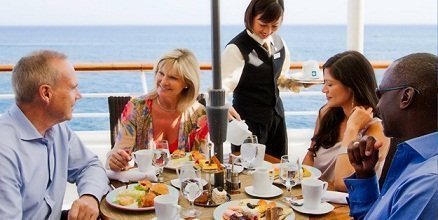 Cruise ships (modern cities in the seas) are basically very broad term in the entertainment industry since these ships are huge in size and very luxurious in nature. Every cruise ship usually offers a wide range of food and beverages services for their guests. Sleeping cabin is also an mandatory part of the service of the cruise ships.
Some of the services that are provided by the cruise ships are as follows:
Fine dining.

Snack bars.

Fast food outlets.

Bar and lounges.
Vending Operations
Vending operations basically provide such services where offering manual food and beverage services are not convenient and easy.
Amusement and Theme Parks
Amusement and Theme parks are very large recreational sites situated at any tourist destinations. Almost every theme park arranges Food and beverage segment as a fundamental part of their recreational business. A Theme park typically offers:
On-site hotels.

Sitting restaurants with extensive menus.

Standby food outlets with limited menus.

Food cart selling desserts.

Beverage items and other food items.
Some of famous and world renowned amusement and theme parks are:
Disneyland (in California) and Disney world

Epoct, and universal Studios (in Florida)
Meeting Management
Large Business Organizations and other Corporate Houses employ meeting planners for arranging meetings, contacting speakers, negotiating with third parties and to select meeting sites. These meeting planners often organize specialized services for their clients, such as arranging meal facilities or giving souvenir to make the event effective and to ensure a successful meeting. Hence, foodservice is also a part of the business associations.
Exhibitors (Trade Shows)
Exhibits are held for the suppliers or distributors or the members of any business organization to trade products and services. Since such exhibits continue for hours so theses trade shows often organize food and beverage outlets in limited numbers for the visitors.
Special Events Management
Hotels/Restaurants and Large casinos are the most integral parts of hospitality industry which offer special event management including food and accommodations services, theatrical performance, and other amusing facilities to attract guests to their business. They usually organize special events for their guests, such as sporting contests, weddings, anniversaries and holidays create opportunities.

That's the end of our today's tutorial. For professional hospitality guide books visit training manual section of our site.