Dear readers,
Hospitality School, Running from 2009, and World's one of the most popular Hotel & Restaurant Training Blogs, is offering 5 Weeks self study F & B Service Waiter & Waitress training course. For next 7 days, you will enjoy the FLAT $400 discount (ORIGINAL PRICE $499). You will never get the opportunity to avail the course at this price:
Avail the SUPER DISCOUNTED offer now at $99 ONLY for next 7 days.

You will not need to wait for 5 weeks. In total the course will be 12 GB Data that equals to 3 DVDs which YOU CAN DOWNLOAD  RIGHT NOW.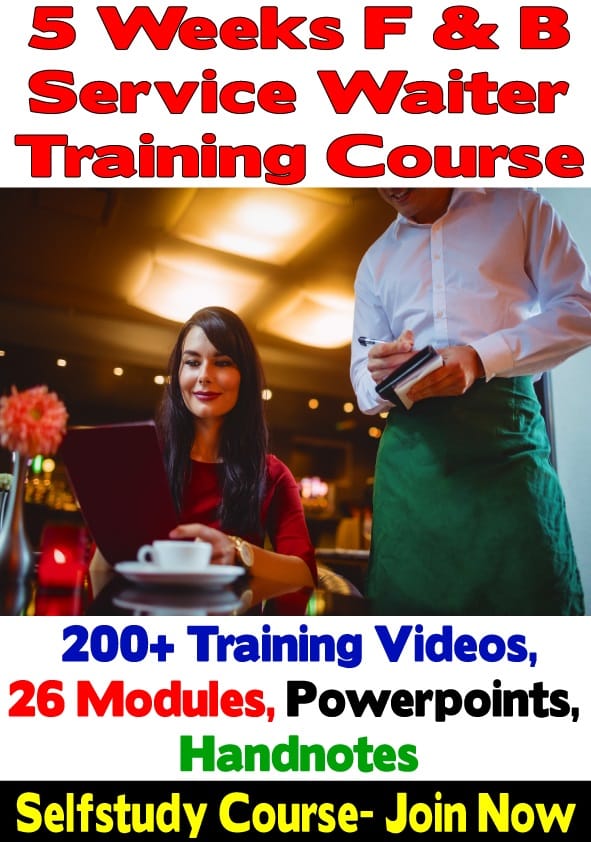 Here is why you should DOWNLOAD the course RIGHT NOW:
Total 26 modules that will help you to learn everything you need to know to be a great Food and Beverage Service expert. From welcoming guest to farewell, you will learn all the techniques to serve your guest in most professional manner.
Over 200 relevant videos clips. Over 10 GB of content that equals to around 3 DVDs of DATA.
Each of the modules is divided into Handnotes in both PDF and Document Format, amazing PowerPoint presentations and videos.
Self explanatory power points that you can use for learning or training purposes.
Handnotes in pdf and document format that you can print or customize according to your preference.
To Download the Course Curriculum: Click HERE
5 Weeks Self Study Course Syllabus
How to Welcome Guest

How to Seat Guest

How to Present Menu

Mise en place

Serviceware (Cutlery, Glassware)

Table Setting A to Z

How to Carry Trays, plates, etc.

Menu Types, Planning, Designing & French Classical Menu
Taking the Drink and Food Order

Different Types of F & B Service Styles

How to Serve Food & Beverage

How to Clean a Table

POS System

Barista Training 1 (Everything you need to know about Coffee)

Barista Training 2 (Expresso and other topics covered)
Different Types of Alcoholic & Non Alcoholic Beverage Details

Wine Knowledge:




1. Wine Types




2. Wine Production




3. How to read wine labels




4. Wine tasting




5. Identify customer needs




6. Pairing wine and food




7. How to serve wine – Everything you should know




8. Handling guest complaints regarding wine

How to serve different alcoholic beverage items like Spirit, Beer, Whisky, Gin, Vodka, Rum, Brandy, Tequila, Liqueur, Bitters, Champagne etc.

How to serve different nonalcoholic beverage items

Cocktail 1

Cocktail 2
Banquet Day 1 – Introduction, Different Types of Functions, Staff Hierarchy, Service Techniques, Possible Banquet Problems in details

Banquet Day 2 – Most Popular Banquet Function Setup Styles, Table Setting Method for Banquet Functions

Banquet Day 3 – A to Z Step by Step Banquet Service Procedure, Complaint Handling Techniques

Buffet Service: Types, Menu, Layout, Portion Control, Buffet Preparation, Buffet Presentation, Service Procedures

Waiter Showmanship Skills: Guéridon service, Carving, Jointing & Filleting, Flambéing
Suggestive Selling, Upselling and Cross Selling

Guest Complaint Handling

Western Dining Etiquette

Food Knowledge

Recap – Watch Videos

Sample – PowerPoint: Module 1