A guest room displaying DND (Do not Disturb) indication is not to be entered. Services wishing to enter the room should leave a calling card indicating the service and an extension number to call. If no contact is received from the guest, the room will be left until the next day unless the safety and security of the guests in the room is in question. If the next day the DND indication remains, access will be handled only by the Duty Manager and Security.
How to Handle DND Rooms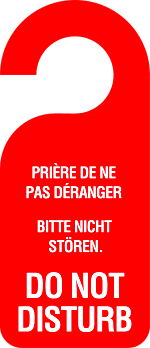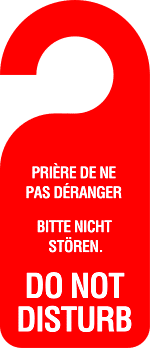 A guest's privacy is paramount importance and should be carefully respected at all times, thus DND rooms should net be entered. However, a guest's safety has to be taken into consideration where there is concern that the guest may be in need of assistance (example: if the hotel knows that the guest is elderly, this may justify room entry, etc.). If any entry against a DND indication occurs, there is high risk of hotel liability result the guest then can allege missing items/theft of belongings.
Before proceeding to serious discussion a quick tip: Must collect our Premium Training Manuals from here:
www.hospitality-school.com/training-manuals
PROCEDURES
Occupied Rooms
If an occupied room displays the "DND/Privacy Please" sign, the guest must not be disturbed.
An appropriate card indicating service offered, time and an extension to call to when the guest is ready to receive that service, should be slipped under the door.
If the guest calls for some kind of service (laundry pick-up, room service, etc.) and the "Privacy Please" sign is lit, the staff must call from the pantry. "Sorry to disturb you Mr./Mrs. ……….  You have requested an ……… iron/ice. However your "Privacy Please" sign is lit, may I come in?"
For morning shift Room Attendants with "DND/Privacy Please" signs still indicated at 15:00, the Floor Supervisor is to allocate other check-out rooms and hand over these DND/Privacy rooms to the PM shift to cover. At 19:00, the Assistant Housekeeper in charge is to make a list of "DND/Privacy Please" rooms, which have still not been entered. The Assistant Housekeeper is then to enter the rooms to assess when/if housekeeping service might be required. If no answer, a clear voicemail should be left.
Air Crew: under no circumstances should Air Crew rooms be called or disturbed unless the rest of that person's crew is known to have already departed.
Next morning at 09:00, the Assistant Housekeeper is to prepare an updated DND list from the previous day and pass to the Duty Manager.
The Duty Manager must phone each room. If there is no reply, accompanied by a security officer and Assistant Housekeeper, the DM should enter the room with caution and make a decision so as to decide whether the room should be serviced or not. Housekeeping should then be advised which rooms are not to be touched and which ones should be serviced.
Check Out Rooms
If a room shows up on the computer as checked out however the "Privacy Please" sign is still lit. The Floor Supervisor is to check with the Front Desk if the guest has definitely left the Hotel.
If the guest has departed, the Floor Supervisor can then enter, with caution and clean the room.
If it is not clear whether the guest has left the Hotel or not, the Floor Supervisor is to telephone the room and check if there is any reply. If the guest answers, they should say "Sorry to have disturbed you Mr. / Mrs. …………  Our records show you have already check out of the room, could I please check at what time you will be leaving the Hotel?"  Front Desk should be advised of the guest departure time.  If there is no reply, the Floor Supervisor should enter the room with caution and arrange for it to be cleaned.
New Trend: DND Signs are Overlooked:
There was a time when hotel authorities do not bother if DND sign is displayed for multiple days. But now this DND things are going to be ditching in some major hotel chains. Since security is a major concern nowadays, so hotel staffs are trained to alert security if DND sign is hanged for more than 24 hours. Now hotel authorities are also changing their policy and added the statement that they have all the right to enter hotel even when DND sign is displayed. Yes in such situation they would knock first or call through telephone but the sign will be overlooked. Even some hotel take one step further, they have instructed or recruited staffs who will investigate rooms where DND sign is displayed for more than 12 hours.