Today we will give you a good overview on hotel public area cleaning procedure. After reading this tutorial or SOP, you should be able to ensure that the Public Area Rest rooms are properly maintained, cleaned, serviced and supplied in accordance with the standards, policies, procedures and guidelines established by your hotel.
Previously we have published a tutorial on how to clean guest restroom and inspect later. Must read that tutorial to know the hotel guest room's toilet clearing procedure step by step. Our today's main focus point is to teach how to clean those restrooms that are publicly available like toilets beside lobby or restaurant restrooms. Please bear in mind that renaming public bathrooms clean is more challenging as many people use those in a very short time.
Hotel Public Bathroom or Toilet or Restroom Cleaning Procedure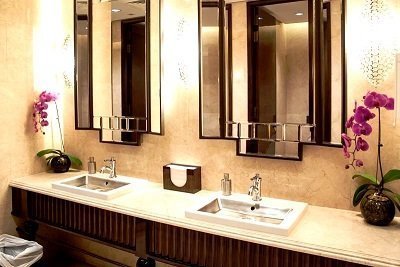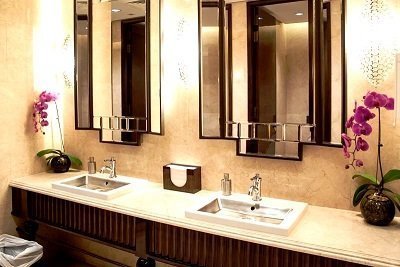 Public Area Attendant
Public area toilets are to be thoroughly cleaned daily during the night shift.

AM & PM Public Area Attendants will continuously maintain the cleaning service and supply all public area rest rooms assigned to him/her according to established standards, procedures and guidelines.

The Public Area Attendant must ensure that all facilities and fixtures are in good working condition. It is his/her responsibility to report immediately any maintenance deficiency to the Housekeeping office and advise the Public Area Supervisor accordingly so he/she can follow-up with Engineering.

The Public Area Attendant must ensure that the toilets have enough toilet paper, towels, liquid hand soap, and other amenities.

The sinks must be kept clean and dry.

The Soap holder must be always washed and dry and the soap changed if necessary.

The ashtrays must be emptied as needed.

The toilet bowls/urinals and fixtures must be kept clean at all times.

The floor must be swept and mopped frequently.

Walls and doors must be wiped and dusted-no smudges.

Must ensure that the supply cabinets under the sinks are clean, neatly stocked and locked.

Must ensure the amenities, if provided, are neatly and attractively displayed according to standard and the brass sign to advertise sanitary items, is polished and displayed.

Must ensure that all fixtures are polished.

Must ensure that the Rest rooms have a fresh smell.

Must ensure that the flowers and plants are fresh and dust free.

Must ensure that chairs/tables are cleaned, dusted and arranged neatly.

Must report immediately any lost and found items to the Housekeeping Office so the Order Taker can advise the Duty Manager in case one asks for it. He/she should bring the loss and found item immediately to the Housekeeping office for proper recording and storage.

The Public Area Attendant must ensure that cleaning supplies and tools are neatly kept in the service area and no tools/equipment are lying around.

The Public Area Attendant must check if the piped-in music is working properly and the volume is right.
Toilet Attendant's Attitude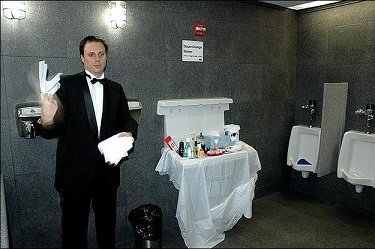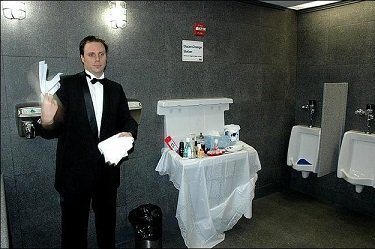 Whenever a Public Area Attendant is assigned to man the public area toilets during peak hours, under no circumstances should this staff directly or indirectly solicit tips.

No placing of coins into ashtrays or other items so client feels obliged to tip. A tip should, if possible be refused. If not feasible, coins or bills should not be left lying around, but be removed immediately.

The attendant must be pleasant, courteous and helpful to all guests/customers who use the toilets.

The attendant must report to the Duty Manager or Security if a customer/guest becomes unruly inside the washroom.

The Public Area Attendant must also report employees who make use of the public rest room designated for guests/clients.
Public Area Supervisor
The Public Area Supervisor must inspect the Public Rest rooms for cleanliness and completeness of supplies.

The Public Area Supervisor must report and follow-up any maintenance deficiencies noted in the public toilets.

The PA Supervisor must check on the grooming and attitude of PA Attendants and implements corrections wherever/whenever it is necessary.

The PA Supervisor must advise the Assistant Housekeeper of any reports concerning guests or employees as reported by the Public Area Attendant so proper action can be taken.
That's all for today. Don't forget to collect our premium training manuals at discounted price from here: https://hospitality-school.com/training-manuals/special-offer