Just imagine, you are a guest in a restaurant and you have entered into a fine dining restaurant but no one is approached to you and leading to seat as well. How do you feel about the hotel or restaurant and its staff! Horrible, isn't it? And you may never like to come again, right? That's why greeting and seating guest properly is very important in hospitality business. It is said that first impression is the last impression. If you, as an hotelier or restaurateur, really want to make a very positive impression on guest's mind, you should really handle greeting and seating of a guest very professionally. In our today's tutorial, we will cover every single details on how to provide proper guest welcome and seating.
How to welcome or Greet Guests in Restaurant
Please read this guide very attentively so that you won't miss any single point. Also we highly recommend you to read these following tutorials as well:
Training Video
Click here: How a Waiter or Waitress or Host or Hostess or Greeter Welcome and Seat Guests at Restaurant
Acknowledge and Welcome Guest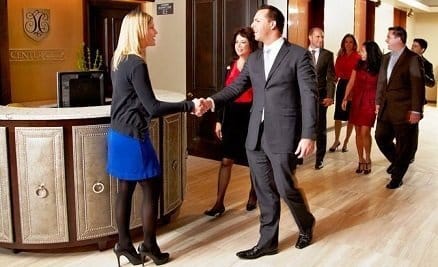 To make guest feel welcome and important, whenever any guest arrives, it is the responsibility of the service staff to approach and meet the guest with a smile, maintain eye contact and with proper body posture greet the guest accordingly at the door. As discussed before, the first employee who gets contact with customer, has the opportunity to make a positive impression on guest. In fine dining, guests are generally welcomed by hosts or hostess or may be even by the owner but in normal cases, a server or waiter or waitress may be the first person who acknowledge and welcome guest. We highly recommend you to click here and read our tutorial: Ultimate Restaurant Hostess Guide – Definition, Job Description, Dress Code, Hostess Stand, Tipping System and Many More
Each and every employee should have the training to greet guest. The employee who greets the guest should use very brief but welcoming phrase to greet guest like "Good Morning/Afternoon/Evening, Sir/Madam …. Welcome to XYZ (Name of Your Restaurant").  Must remember ladies should be greeted first. In some restaurants, guests can leave their belongings like umbrella or overcoat in the reception. If you have such arrangement then politely ask guest about it.
Check Guest Reservation and Ask about Special Need
To be ensured whether guests have any reservation or booking very politely ask "Do you have any reservation?"

If the answer is yes which means guests have reservation, then ask for guests' name by saying "May I have your name please".

Check your reservation book and repeat the reservation back to guest by saying "Certainly Mr. or Ms. or Mrs. XYZ (Name of the Guest). You have booked for XYZ (Number of persons) persons" or "Certainly Mr. John (Name of the guest). Your table for 4 persons is ready."

If there is one guest who comes without reservation (which is known as walk in guest. Read our Tutorial: What is Walk in Guest in Hotel.) then instead of saying "Are you alone, Sir/Madam" you could ask "Table for one person?"

If you have enough free table then ask (if appropriate): "Do you have any preference sir like sitting in a smoking or non-smoking area or near the window etc."

Ask about special need. For example there is a child in the group then ask guest whether the baby needs any high chair or not.
Handle Difficult Situations
Special Situation-1: A guest or group of guests may come without any reservation. In that case, greeter or host could say "Please allow me few seconds sir. Let me check if there is any table available or not." Now if there is free table then the host could easily make guest seated there but what does happen if every tables are occupied? If none available then you have to handle the situation tactfully. If you have bar facilities or if your restaurant is in a hotel then you may say "Sir, I am very sorry. All the tables are occupied. Would you mind wait in our bar or in the lobby so that I can call you as soon as any of the table is free". In such way, you just prevent your restaurant from losing a very potential guest and also promoting the revenue of bar or any other business.
Special Situation-2: This is very difficult situation to handle – a guest has booked a table but the table is not ready or free. It happens because you are running a very busy restaurant and the guest comes earlier or later than the promised time. Even if it is not your fault fully, you should apologize first for the embarrassment and offer your guest to wait in the way we mentioned in situation 1.
Special Situation-3: It may happen that guest doesn't like your table. For example, guest comes with his or her partner and may prefer a corner but you book a table in the middle since guest doesn't mention such. In that case apologize first for the inconvenience and offer him or her a solution in this way "Sir/Madam, please take your sit in this table. I would move you to your desire table as soon as it is available."
How to Seat Guests at Restaurant
How to arrange seating capacities
Common sense is the best tool to determine where to seat guests.

Allocate table according to the number of guests or size of the party. For a group or large family, seat guests in a large round table or if appropriate join 2 tables together and for couple, seat in a deuce. Deuce is a hotel or restaurant term which means a table with 2 sitting space.

Smoking is a very big issue. In many countries or states, smoking in public areas or establishments like hotel or restaurant is strongly prohibited. So according to the guest's preference, allow seat in smoking or non-smoking areas.

Young couples trend to choose corner or near window to have romantic moment.

Elderly or disabled guests should be seated near entrance so that he or she would not need to walk much.

Loud, noisy parties could be arranged in private rooms or at least in the back so that other guest don't feel discomfort.

Above all, if guests wish to get seated in particular areas and if situation permits then try your best to offer that.
Lead Guest to the Table
Maintain eye contact throughout, keep smiling and escort the guest to the table by saying "This way please Mr./Mrs./Ms… or Sir/Madam

Show the way by walking in front of the guest

Do not walk too fast. Maintain very small distant, not more than one meter away from guest and look back at the guest rapidly.

While you would reach the table, say: "Will this table be all right for you, Mr./Mrs./Ms.…. or Sir/Madam"
Help the Guest while Seating
In a courteous manner pull the chair out so that there would be just enough space for the guest to enter.

Lady guest should be seated first with best view of the restaurant, then the gentleman.

While helping lady guest to be seated (if applicable) stand behind the chair, push with two hands on the chair shoulder and keep the right toe at the base of the chair so that guest can seat comfortably.

Help the kid to get into pull high chairs.
Before Leaving the Table
At this stage the hostess or host or greeter should leave the table at this stage and return to the reception desk to welcome and continue seating procedure for other guests.

Server may be busy in other table. Before leaving the table, host or greeter should let the guest know that server has been informed and will come very shortly.

A very good gesture from a server should be come to the table and say "I am very sorry Sir/Madam, We are very busy at the moment. I will be with you in XYZ (required waiting time) minutes"

Prior to leaving the table, wish the guest (by name) and say "Have a pleasant meal Mr. /Mrs. / Ms." Or Sir/Madam."

At this stage, a service staff like waiter or server will take over the table to complete next steps.
Final Remarks
Be friendly but very polite and courteous all the time. Read our tutorials: How to be a courteous to your guest as hotel or restaurant staff and 

Polite Expressions that you should use in hotel or restaurant

Always speak with a clear and confident tone.

Keep smiling throughout so that guest feel comfortable.

Instead of keep saying Sir or Madam all the time, address guest by their name at least twice in the whole conversation. You can learn guest's name from various sources like: reservation book/record or by introducing yourself and asking the guest directly like "Good Morning Sir. I am John, your host and you are ….?"

Guest with reservation should always be given more preference than walk-in guests.
That's all for today. We are very much optimistic that nowhere you would find such detail tutorial or guideline on how to greet or welcome and seat a guest. Please go ahead and share this tutorial in your Facebook or in other social media and keep visiting this blog regularly. Last but not least, click HERE to watch our exclusive training videos.
Training Video
Click Here to Watch Our Free Video on How a Waiter or Host should Greet or Welcome and Seat Guest at Restaurant