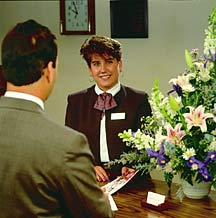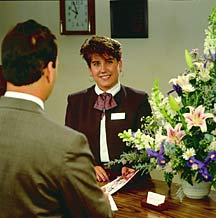 Scene: Mr. Smith (S) comes to front desk of the hotel for registration. From the conversation between Mr. Smith and the Front Desk Agent or Receptionist (R), we will try to understand practically how registration is done.
R: Good evening sir. How may I help you?
S: Yah…Actually few days ago I booked a room with a twin bed and bath. I forgot the confirmation number you gave me over phone. I am Adam Smith. Can you please check the room?
R: Just a moment, Mr. Smith. I am checking the arrival list…sorry for keeping you waiting…Yes, I  get it. There is a room booked for Mr. Adam Smith on this date.
S: Yes that is me.
R: Ok. Sir, could I please see your passport please. (Now the receptionist can either see the passport and give back or take a photocopy of first 3 pages and give back). Thanks a lot sir. Would you be kind enough to fill the registration form please?
S: Yes. Why not? (Filling the form). I guess I have finished. Is it all right?
R: Yes (Checking the form). Thank you very much Mr. Smith. Sir, may I ask you, how do you love to pay?
S: I love to pay cash. Is it ok?

R: That is so nice of you. Here is the key of room no 512. Please keep it up and the bellboy will proceed you up to the room. (handover the key). Have a really nice evening sir. I hope you will enjoy your stay here.
S: Thank you.
That's all. We hope this training dialogue will help you to understand how in real life guest registration happens.