The employment outlook overall is excellent for our fast-growing industry. Since new restaurants and hotels are being opened up, people are looking for ways to have fun in their leisure time and thus, the opportunities are growing for the workers. The government employment projections are predicting that the management positions in food service, lodging, sports, tourism and recreation would grow by twice in the coming 10 years as compared to overall rate of the employment growth in our economy. More new jobs in such sectors are going to get added by year 2016. While the careers in hospitality and travel are quite varied, still there is a thing that they both share: Jobs in this particular field heavily focus on customer service. Ultimate goal for the bartender at a rather small restaurant as well as the CEO of successful hotel chain is to just make sure that their customer is satisfied. Hospitality and travel professionals find it very enjoyable to work with the individuals and making sure that their expectations are always met. The reason behind it is that the happy guests always lead to great profits for the organizations and so everyone wins. There are several areas of hospitality and travel where the individuals can work.  Mentioned below are a few categories of this career along with the current trends and themes.
Travel And Tourism
The travel industry of U.S. received more than the amount of $645 billion in the previous year which includes the fares of international passengers from international and domestic travelers. Traveling helps a lot of people to create beautiful memories, improve their lives and enhance the overall well-being. The opportunities rising from this sector would continue to grow as more and more individuals travel for pleasure and business purposes. The jobs are available for helping plan for such travel, such as all those in the tour operations and travel agencies, but the positions exist for all those people as well who wish to explore this world as the outdoor trip leaders, tour guides and directors of the visitor centers. Their expertise is used for enlightening others regarding new things and places. The employees enjoy the benefits of reduced or free lodging and travel most often in this sector. This is the biggest perk of working this field.
Lodging And Hotels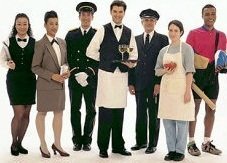 There are more than 48,000 resorts and hotels in United States. This comes to around 4,500,000 rooms for guest which are available and can be easily sold on any given night, and a number of job opportunities, especially when a person factors in the international properties. Lodging basically includes budget and motels properties, bed-and breakfasts, full-service hotels, campgrounds, guest houses and more. The positions are often broken down for reflecting the service (including chefs, waiter staff, counselors, fitness workers, and concierges), the administrative and office support (desk clerks), and the finance and management (general managers, human resources, and controllers). Career opportunities are available at the corporate/brand level as well (such as Hyatt company) or at the unit level (individual hotels). People can apply for specific training and talents for focusing on hospitality industry, like skill in marketing or architecture, or they can explore the various departments like sales, rooms or food and beverage to rise to the management in this field. Work days in the lodging and hotels establishments are nontraditional and long to reflect operating hours, regardless of job. The staff must be there for the night shifts for accommodating the emergency needs and late arrivals. To have a much successful hotel career, starting at bottom expert advice, with summer or part-time jobs for gaining experience. The positions for entry-level do not require the substantive education, which makes such options available for all those without the degree of a bachelors. However, those who study the hotel management can easily rise within the hierarchy of hotel and have a strong impact on how the hotels are operated and run. Excellent resources are provided at the website www.ahla.com by The American Hotel & Lodging Association.
Specialty Resorts, Recreation and Cruise Ships
Every year, more and more passengers take soothing cruise holidays, spending billions of the dollars for going to sea. According to Cruise Lines International Association, in the next 3 years, 51 million of the North Americans plan to cruise. Approximately to date, 19.9% of the total population in U.S. has already cruised. The cruise ships provide good opportunities of employment for those who wish to travel for fixed time periods. Most contracts for the cruise jobs are of six months or a year, so a great commitment is not really required. If you want to meet the passengers and staffs and love people from around the world, cruise jobs can be a lifetime experience. Depending on your talents and special skills, jobs are available serving, performing, babysitting, organizing and supervising. The industry of recreation includes establishments that help in providing the activities that people can enjoy in their leisure time. This segment of hospitality and travel includes amusement and theme parks along with the skiing, gambling and golf facilities. The recreation industry overall is characterized by many part-time and seasonal jobs with relatively young workers. Around 40% of the workers, according to Bureau of Labor Statistics, have not taken a formal education beyond their high school. While the earnings are low at such level relatively, others who have chosen this career can rise to the management. Specialty resorts usually centers around particular activity like golf, horseback riding, skiing or tennis. These environments are very ideal for those who have a good taste for adventure and unique abilities, teaching their leading and craft groups.
Culinary Arts And Restaurants
According to National Restaurant Association, there were 935,000 or more restaurants in U.S. in 2007 employing around 12.8 million workers which made food service, a very large private sector employer. Drinking places and food services include all kinds of restaurants, from the fine dining establishments to fast-food chains. They also include caterers, cafeteria, food service contractors and bars that operate food services at the places like sports arenas, hospitals and school. As drink and food are often the famous cornerstones of our social entertainment and interaction, this diverse sector actually creates many job opportunities. If a person is passionate about wine and food, he can be around at all the times as a restaurant manager, caterer, chef, maître d', sommelier and for other roles.
Gaming And Casinos
Gaming and Casinos comprise another important sector of hospitality industry providing various job opportunities. According to Bureau of Labor Statistics, gaming is no longer confined to New Jersey and Nevada but it is not becoming legalized in various states for increasing the revenues. A good portion of such growth in the upcoming years would come from the "racinos" and new Indian casinos, which are actually pari-mutuel racetracks offering casino games. The research which is conducted by National Gambling Impact Study Commission also confirmed that the casino gaming helps in creating jobs and reducing level of unemployment where it is legalized. An exciting and fast pace atmosphere surrounds the casinos which make them all the more attractive places for working. Opportunities are growing especially in the casinos with hotels which provide the hospitality jobs with full spectrum.
Communications And Other
You can apply the experience to all the hospitality sectors with good skills in communications. Restaurants, resorts, casinos, hotels and tourism based organizations are in the need of advertising executives, writers and public relations specialists for bringing in the visitors to promote the services. An event planner coordinates the programs and the professors teach the new generation of the leaders in this field.
Conclusion
As the technology and globalization has made this world a much smaller place, the careers in hospitality and travel grow as the people want to have high expectations and watch the world with level of the service that they would be receiving while doing so. All those who have a service attitude, flexibility, enjoyment of people, commitment and dedication, a career in hospitality and travel can be the best way to keep growing, experiencing and learning different cultures in their lifetime.
** If you miss the first part see here: Tourism & Hospitality Industry at a Glance (Part 1) **