In this special 2 part series we will discuss some special cleaning equipment which are used heavily in hotel by housekeeping department. Previously you get some good introduction about some common cleaning agents used in hotel. From this tutorial you will learn what sorts of equipment are needed for cleaning purpose, how to use those and their functions and utility.
List of Hotel Cleaning Equipment Used by Housekeeping Department
Hotel Cleaning Equipment Training Video
We have prepared a training video on this topic. Just click here: Cleaning Equipment Used by Hotel Housekeeping or watch from here:
Use of Vacuum Cleaner
Vacuum cleaner is the most common equipment for cleaning which is widely used in housekeeping department of hotel. Basically they are applicable and suitable for all kind of surfaces but it is suggested for large carpeted area.
Vacuum cleaner is handy equipment affix with nozzles and attachment. Vacuum cleaner can be primarily categorized into two types. Such as:
The upright vacuum (operate on a combined suction)

The floor vacuum ( cylindrical or spherical that works on solely suction)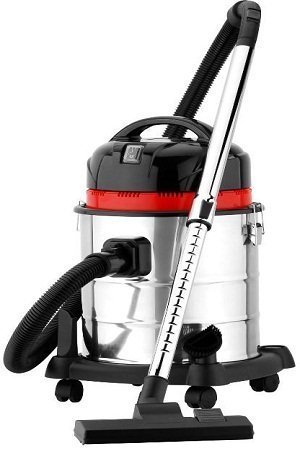 The upright vacuum cleaner is also further categorized into several areas which are as follows:
(I) The beater bars vacuums cleaner (removes dirt and stir up carpet piles)
(II) Brush vacuums cleaner (removes carpet's sticky glue from floor)
(III) Pile lifter vacuum cleaner (repairs carpet piles with strong suction and separate brush motors)
To clean each corner and edge perfectly, the housekeeper often use canister model vacuum cleaner. It has a tank which is raised on castors and helpful to hold on the operators back. There is another effective vacuum cleaner that is dustette come with brush and suction which is small and light and used for cleaning curtains, upholstery and mattresses.
However, while selecting the vacuum cleaner the hotel or the housekeeper usually seek for 3 criterion. For example:
Rapidity to remove dirt

Demand less labor power

Prevent dust from raising
It is very much important to apply the vacuum cleaner according to its functionality. There are certain instructions for using the vacuum cleaner which must be followed by every housekeeper to get the best result of cleaning are as follows:
The vacuum cleaner should be applied in cross ways to let the suction to properly agitate the dust and sand during cleaning the carpet.

To avoid any loose join from coiling wire, the wire of power socket should be connect straight.

 To maintain the efficiency of the suction and nozzle small sharp objects (such as, pins or needles) should be removed by hand.

The dust bag of vacuum cleaner should be cleaned thoroughly on a regular basis as empty bag ensure greater suction. The bag should be emptied out into a newspaper or paper bag.

All brush attachments must be set aside from dust, cotton crumb and hair.
Use of Wet Vacuums
Wet vacuum is used to absorb water from floors and to rinse the soiled area with the help of suction and water sprayer. Wet vacuum come with squeeze attachment which works great in floor cleaning, striping and polishing. It also can be used in cleaning wet carpets. Wet vacuums cleaner have collection tank which store the water to absorb water from floor.
Wet vacuum are available in several shapes and sizes. Some canister models can be strapped on the back of the cleaner while others can be pulled into castors.
Some wet vacuums may be pressed as a cart and are weighty enough for large water suction need off floors. Conventional vacuum cleaner must never be applied in cleaning wet floors.
Use of Wet Extractions
Wet extractions have suction and water injections which are used to wash and suck water from surface particularly from the car pests and floors. Wet extractors are basically two types. Such as:
Lighter transportable tank version model

Heavy duty push cart variety
Some extractors are able to remove the carpet's dirt and can be efficient for draperies and upholstery. Moreover, some other wet extractors come with such feature which makes it capable to work like a normal vacuum cleaner.
To get the perfect cleaning the housekeeper first uses injection to spray water and detergent on the surface and then uses suction to suck the water in built-in tank of the wet extractor.
Use of Mops
Mops are easy way to clean dust from floors. Most of the mops come in thick or loose woven cotton cloth. To get the perfect cleaning the housekeeper dip the mops in fresh or clean water and squeeze before wiping the floors. Before applying it on another room of the property, the water must be changed with fresh water. After completion of cleaning, the mop should be washed with foamy water or detergents and dried properly. Use of bleaching powder in mop during washing can spoil the product.
There also dust mops are available which are regularly used to remove dust and small particles of soil from the floor. Daily dusting is beneficial to protect the floor's finish by taking away small rough particles.
Use of Rotary Floor Machines
Rotary floor machines are used for multipurpose (for example, shampoo, polish, scrub). Just by changing one attachment it can be applicable in both floors and carpets. For instance, this cleaner can be used in carpets by replacing the bonnet block to bonnet brush. The rotary machine have built-in tray for dissolving detergent and tanks for water absorption and supply. Rotary machines are available in different speeds ranging from less than 175 rpm (for carpets) to 1500 rpm (burnishing, polishing etc)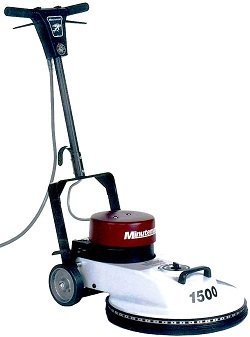 Rotary machines are fitted with pad for the following purposes:
Rotary spin pad cleaning

Bonnet pad shampoos

Mist pad cleaning

Buffing

Burnishing

Stripping

Scrubbing

Refinishing of floors
Various pads are available for rotary machines with specific purpose uses. For example individual pads for stripping, burnishing, scrubbing, spray cleaning and polishing.
Scrubbers work to remove any sort of sticky glue from floor. Mechanical scrubbers are applied on the big uncarpeted area which is washed thoroughly with water and detergent. Mechanical polishes are gently applied to large polished wood and vinyl floor (clean and mud free) surfaces. However this equipment must be used by professional only. Improper use can bring reverse effect to the surfaces.
That's all for today. We will discuss more cleaning equipment in the next part of this tutorial. Keep visiting this free hotel management training blog daily and recommend your friends and colleagues as well.
Next Part: Hotel Cleaning Equipment Used by Housekeeping (Part-2)