A good housekeeping department should occupy a well-equipped and furnished space for performing their operations. The house-keeping department is considered is an important part of hotel for providing requirements and services to be offered for the guest rooms.
Training Video
Click here to watch the training video from YouTube: What is Linen Room in Hotel – Learn Meaning, Position, Inventory, Linen Keeper Job description
In large hotels, the house-keeping department basically comprises of several areas to smoothen guest service for example, linen and uniform room, laundry equipment rooms, flower arrangement room, tailoring room, upholstery repair room and so on. However the small hotel or large hotels, every hotel has to occupy adequate space for storage of supplies and exchange of soiled and fresh linens as linen room is considered as the base of hotel for performing operational activity.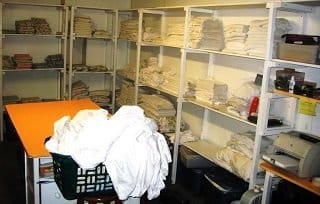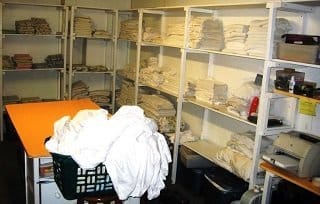 Hotel Linen Room
The linen room performs as a storage point and distribution center for issuing clean linen. The linen room is generally handled by the supervisor of housekeeping department. Linen rooms are basically two types:
A) Centralized Linen Room where all linens are maintained in small manner at central point (ex- resort's linen room)
B) Decentralized Linen Room from where supports and facilities are provided to floor pantries for issuing  floor linen as par stock (ex- large hotel's linen room)
Linen quantity could be varied according to the size of the property and amount of investment. Huge investment is necessary in order to increase the amount of linen due to excess cost of linen.
Linen room is often adjusted with a linen store where stocks of new linens are maintained to refill those in circulation if they are lost or damaged. The space for storing is allocated based on the size and type of hotel operation and the linen coverage. While designing the storage space of linen,certain factors must be considered by the property, for example, the type of shelves that is required, method of storage, hygiene and safety factors.
Housekeeping department should occupy that number of linens which are required to equip all rooms and restaurants at one time or in circulation. Generally, a par stock is applied on each floor to satisfy linen requirements.
All soiled linen must be replaced with fresh or clean linen. If any hotel does not involve any in house laundry arrangement then outside firm is assigned for washing the hotel's linen. This service is provided through trolleys, chutes, collapsible wire carts, canvas bags, skips.
An in house laundry could provide a set of fresh linen within 24 hours while outsourced laundries may take 48 hours. Clean linens are generally provided in the morning hours and guest laundries in the evening hours.
However, the linen room is responsible for performing some specific duties which is executed by the supervisor or linen keeper are as follows:
Maintenance of all hotel linens including restaurant and guest rooms.

According to par stock measurement, send them for laundry.

Collection of clean linen from laundry.

Count up the linen quantity to ensure that the amount of laundered linen tallies with the amount of soiled linen sent.

Inspection of the quality of wash, i.e. cleanliness of dirt or stains, no damages, no loss of shape or color, properly ironed etc.

Count up linen in order to make a record and issue.

Collect dirty floor linen and issue clean linen from floor wise which is work is usually done twice a day.

Responsible for guest's garments against loss or damage and also for timely delivery.
However, in most hotels housekeeping maintain a circulation of par stock of 5. Such as-
Make 1 change in each cycle

Make 1 change in hotel laundry

Make 1 change in floor linens room

Make 1 change in linen room

For safety purpose, as optional, make 1 change in the housekeeping store
This circulation of par stock should be followed by the housekeeper to fulfill requirement. In every hotel, the housekeepers are bound to provide fresh linen if new guest has arrived or room has sold. However, the change policy of soiled or dirty linen could differ according to the nature of the property. For example, in large hotels soiled linens are changed every day but in small or economical hotels the housekeeper may change the dirty linen every alternate day or every three days.
The damaged linen inventory should be taken for verification in every month and the status of linen should be taken or evaluate in every three month. Damaged items are repaired by stitching or mending. Fated linen often converted into useful items such as duster.  Condemned articles also should be recorded in the stock records.
Though white color linen is common for all hotels, but in most properties different colored linens are used for different restaurants outlet which often increase the duties of a housekeeping supervisor as each color linen demand own par stock.
To make hotel linens durable proper maintenance is must. The housekeeper or linen keeper should handle linens with great care, such as packing or storing of linen in canvas bags, prevention of stains or dirt from getting in by regular cleaning are some important steps. Colorful linen also should be handled carefully to maintain its original shine.
The linen room should not be open for all so as to prevent misuse and pilferage. And of course linen is flammable so precaution must be taken including strong restriction of smoking.