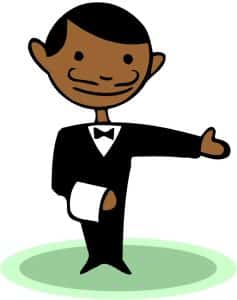 Before allowing guest to come and enjoy your service for your betterment you should check everything. This is called as pre-service checking. A good manager or experienced waiter gives much attention and value to check before starting servicing. This reduces possibilities of causing mistakes, rising complaints by guests and ensure smooth service standard with full professionalism. Here are some strategies you should focus:
1: Check the side station:
Make sure you have all the necessary cutleries and silverwares in the side station.

Replace any unnecessary items and bring required items if needed.

Check silverwares with great attention. Check whether it is free of spots,  clean, glazing  and workable or not

Make sure the drawers of the side station are ok.
2: Check the glassware on the table:
Look at cracked, spotted and chipped glass. If found replace immediately.

Make sure all the glasses are shining.

Be sure you set correct glassware on the table for appropriate service.
3: Check napkins on the table:
Make sure correct napkin folding has been done by the waiters.

Don't make such napkin folding which does not match with your theme of the restaurant and occasion. For example fancy folding styles should not be used in formal meetings but can be used in happy occasions like kid's birthday.

Refold napkins that are not folded properly.

Replace torn, dirty napkins.
4: Check Salt Peeper shakers:
Experience hoteliers always refill the salt shaker with some pieces of uncooked rice. This is because uncooked rice can quickly absorb moist on the shaker and thus it helps easy dropping of the salt from the shaker.

One of the most frequent complaints arise by the guest is for improper shakers. So before service ensure it is clean and free of spots, cracks etc.

Always wash shakers according to the cleaning schedule. Don't use water if you use wooden shakers.
5: Check the table cloth:
Make sure you use appropriate size, color and standard table cloth.

Make sure it hangs consistently on all sides.

Replace dirty cloths. Always maintain cleaning schedule.

Check cloths for holes, stains, spots.
6: Check table & chair:
Shaky chair and table are the causes of making gusts feels disturbed. Before placing any chair or table for guest sit on the chair and check the table to be ensured that all are ok. If anyone shakes immediately replace it or call the engineering department.

Sometimes seats of the chairs become dirty for guest. Be sure it is clean.

Be sure there is no dust on any table or chair. Must clean all of those properly and most importantly regularly.

Place each chair in such a way that edge of the chair remain even with the edge of the table.

Keep proper sitting arrangement for kids and disable guests.
7: Check the sitting arrangement:
Make sure all tables are set on same style.

Make sure all chair and table are on equal height, color and standard.

Make sure there is proper gap between each table and chair with another one so that guests and service stuffs can easily move.

Try to Make best use of your allocated area.
8: Mis-en-place:
Polish cutlery using silver polish.

Make sure there are sufficient amount of plate and other items to handle emergency situation.

Ensure there is enough bread and butter, coffee powder.
9: Mis-en-scene:
Make sure there is good number of stocked plates and other items to be used in emergency.

Check your AC. Often guest complains about it.

Switch on all lights to check for fused bulbs.

Sort menu cards properly.

Ensure all promotional materials are available.

Remove all wilted flowers and replace them with fresh ones.
10: Check daily specials:
Always consult with your chef first to know what is today's special. Captain or head waiter should brief his subordinates properly.

If you are not sure about ingredients or style of cooking of the special item then try to learn from the chef. Often guest ask questions about it.