Learn about travel and tourism degree programs, including what degrees and classes are offered, and read up on careers open to travel and tourism graduates.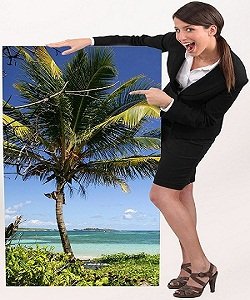 Large hotels include swimming pools and gyms so that guests can exercise and relax, restaurants and coffee shops for meals and snacks, business centers and conference rooms for getting work done, ballrooms for extravagant festivities and, of course, suites and regular guest rooms affording comfort and privacy and all the amenities of home, even in the most exotic locales.
Aspiring hotel managers can appreciate the complexity of a hotel operation, but they also recognize that a hotel – even the most extravagant – is just one node in the global tourism ecosystem. For this reason, many students interested in hospitality careers benefit from the big-picture perspective provided by a travel and tourism management degree program.
Topics Covered in this Guide
Travel and Tourism Management Degrees: the Basics
Travel and tourism management degrees are offered at the undergraduate and graduate level at a wide variety of institutions, from community colleges to traditional four-year universities and online programs. These schools offer certificates in different aspects of tourism management, as well as associate, bachelor's and advanced degrees.
The specific focus of a tourism management program differs from school to school, but most curricula are broad-based, so that students can get a big-picture understanding of all the pieces that create the world's tourism economy. Courses might include culinary studies and food-service management, hotel management classes and business-oriented classes with a focus on tourism, such as ways to market a hotel or tourist destination.
Other subjects might include the following:
Governmental regulation of travel and tourism.

International cultures.

Languages.

Operations of specific tourism-related industries, businesses and institutions, such as airlines, cruise ships, convention centers, theme parks and resorts..
Study abroad is frequently a central component of a tourism management program, as are internships or externships. In these real-world immersion programs, students are sometimes required to rotate through a number of different positions to gain an understanding and appreciation of the different job functions that must be coordinated to run a successful facility or put on a successful event.
Careers for Travel and Tourism Management Graduates
With the broad-based knowledge and skills acquired through a tourism management program, grads may be competitive for many jobs in the hospitality sector, including hotel manager, food service manager, event planner, manager of a cruise or theme park, or administrator at a tourism bureau or other travel-related organization.
Most lodging managers work in a traveler accommodation setting like a hotel or motel, according to the Bureau of Labor Statistics, these managers earned a 2011 mean annual wage of $54,310. However, these managers also find employment in settings such as recreational camps, administrative offices and casinos and other gambling establishments. Lodging managers who worked in certain management roles earned a BLS-reported 2011 mean annual wage of $75,310.
The BLS predicts that competition will increase for jobs at upscale and luxury hotels, and says that candidates with a college degree in a related management field should have an advantage when it comes to landing these sought-after positions. Wherever they work, lodging managers coordinate with the daily operations of a hotel, oversee staff and interact with guests, ensuring that customer service meets expectations and that facilities are in good shape.
Other tourism management grads go into meeting, convention or event planning positions. These professionals earned a 2010 median annual wage of $43,030, if they worked for a hotel or motel. The median annual wage rose to $49,730 for those employed by a business, professional, labor or political organization, according to the BLS.