Since in hotel industry  rapid food & beverage handling all the time is a common practice, so hygiene & sanitation is one of the main topics for perfect hoteliers. Whether you are a server or waiter or a cook or anyone in the hotel, while you are handling food, these key points should be kept in mind: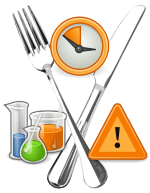 Wash your hand frequently, especially after touching your hair or skin, handshake with others, sneezing, coughing, visiting the wash room, handling raw food items, using soiled tableware etc.

Never smoke while working. It is strictly prohibited.


Never serve such food which fallen in the floor or you assume to be unhygienic.

As much as possible, avoid touching dishes, cups, glassware, flatware and other items should be handled with precaution. If possible,use gloves.

Keep the service plate clean.

Don't wear jewellery.

Always cut your nails.

Maintain a decent hair style.

Must follow

grooming & hygiene guidelines for servers in hotel.
These tips will be very much helpful for any one who comes close to food, touches food, prepares food and serves food. Food is one of the most easiest sources of contamination. When food or beverage is your integral part of business then you need to be vary much conscious in this area.