Russian service, which is known as "Service à la russe" that means service in Russian Style, is originated from the era of Tsars of Russia who believed in ceremony and ritual. Though this type of service is gradually reducing its popularity but still people prefer Russian service in case of great functions and state banquets. Russian service is also referred as "platter service" since foods are positioned in well-decorated silver platters.
To get more F& B SOP & tutorials, read our Exclusive Food & Beverage Service Training Manual. Click HERE
Training Video
Click here to Watch: Russian Food Beverage Service – Meaning, Table Setting, Key Features, Service Preparation
Since Russian service originally came from the French food and beverage service style, so this service is quite similar to French service in many respects including the table setting. Such as: This service is formal and stylish and guests receive great attention and personalized service. However, Russian service was greatly modified that it became a distinct service style.
Features of Russian Food & Beverage Service Style



The key features of Russian service which make it distinct style of service are given below:
This service is followed specially in the best international restaurants and hotels, mostly in banquet operation where selection of foods are same for all guests.

In Russian service, servers place all food items on silver platters attractively when all food preparation is done in the kitchen and present the platter to guests for approvals, and serves the food from the left side. Only dishing and presentation are made on the table.

Unlike French service, this service required only one server and less labor-intensive and considered as faster service.

Russian service does not necessitate any extra space for special equipment (ex-gu´eridon) and it is an inexpensive service.

The manager is usually responsible for controlling labor and product costs.

In Russian service, the server always have to make sure that the food presentation remains good till he serves the last guest.

Highly skilled or experienced and professionally trained staff members are to be assigned for serving Russian service.

Though Russian service requires less space, but can be perfect for seated service of large groups eating the same meal.

Portions of foods are picked up from Russian Service. 

Russian service utilizes the use of heavy silver serviceware and larger numbers of platters while serving to the guests.
Table Setting Procedures of Russian Food & Beverage Service Style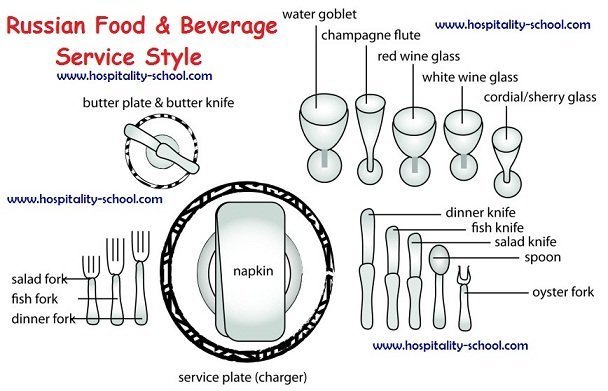 The table setting procedures for Russian service is similar to the table setting procedures of French service except this service is little bit informal and flexible comparing to the French service.
Bread and butter plates, ashtray and water glasses are often placed at the table if it is required. However, finger bowls are not typically served in Russian service or unless the situation demands.
Preparation and Serving of Food in Russian F & B Service
The preparing and serving of foods in Russian service are given below in step by step procedures:
In Russian service, the food production staffs are responsible for preparing foods in the kitchen and organizing the foods delightfully on the service platters and deliver it to the servers for serving the foods to the guests.

All cooking, completion of food preparation and carving are done in the kitchen except the dishing which is done at the tableside.

Empty soup bowls are placed on a show plate or base plate at the table in front of the guests.

The server carry soups and sauces in tureens or in small, individual bowls and place them on the table. Portioning of the soup is done with a ladle into the soup bowl.

After placing the heated plates from the right side according to the clockwise direction, the servers bring the platters of food from the kitchen and introduce food to the guest standing to left side of each guest by holding the platters using left hand.

The servers dish up the desired portion on the guest's plate using a large spoon and fork from the right hand side of the guests following the clockwise direction. In Russian service a servers use the spoon to serve vegetables and other items as per guidance.

The servers have to be skilled in balancing the items on the platters since they have to serve food to the guests from the platters standing beside each guest even sometimes keeping the foods only on the palm.

After serving the guests, the servers return back to the remaining food to the kitchen.

Hot food is to be served hot and cold food is to be served cold. The servers have to take some necessary precautions especially when serving hot foods so as to avoid any accidents while serving the guests.

At the end of the meal, coffee is served with cups and saucers and poured for guests. Cream and sugar will be added if guest asks for them.

After the guests have finished all their dishes, the servers clear the soiled dishes from the table as per standard